What You Don't See on the Days I Push Through the Pain With a Smile
---
I recently posted what you are about to read on my Facebook page and was told by a friend that I was brave for sharing what I did. So I decided to come here to share with all of you.
I wrote about what it's like to be "disabled," but not show it on the outside. How no one truly knows what it's like to push through, put makeup on to look like you feel "normal"… and then what it's like a few hours later, just from doing simple things like getting ourselves together.
People don't usually see what happens next. We do our best to put on our "happy faces," to do things with our family, and then we pay for it later.
Sunday was a perfect example for me. My four nieces' birthday party. It was a party at our home, so I didn't even have to leave the house. I got up, took the medication that gives me about one hour to do things at about a 60+ percent pain level and then it wears off and I go back to being at a 95-99 percent pain level.
I continue to push myself on special occasions, so I can do things with my family and try to hide my pain as best as I can. I kept leaving the party to go inside and lay down until about six hours passed from the first time I took my medicine. Then I took another to get another hour to be able to move at 60 percent pain level. (And I can only take two per day, so after that it's downhill for the rest of the day.)
That's what every single day is like, but most days I am laying down 98 percent of the day so I don't get to the point that I did on Sunday. I normally don't show people what it looks like, but maybe it should be shown.
These photos show what being disabled and pushing through looks like, and what it looks like by the end of the day…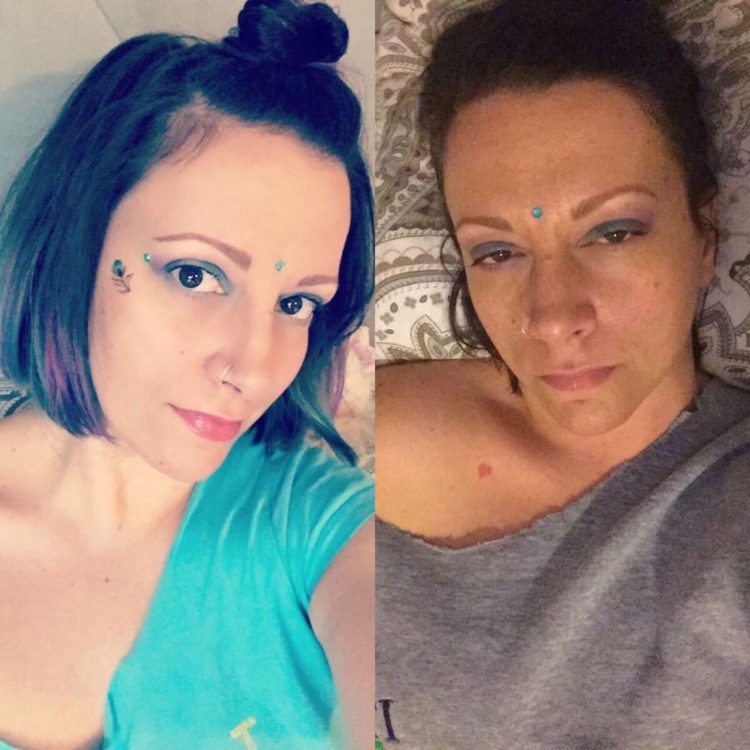 This is what a spine disease and fibromyalgia look like.
The parts people don't see.
The parts I hide so I can try to be normal for a day, or because I don't want my disability to be all that I talk about.
If you have someone in your life who struggles with an "invisible" illness, just remember that they probably do their best to look or act "normal," and may try not to show what pain looks like.
They don't always show it on the outside, but they are struggling and even simple things can set us back for the rest of the day, several days later and even sometimes for a week after.
What we need is support. Emotional support, if nothing else.
We already know our limits. But when people (even family) see a smiling face, or a face with some makeup on, they immediately start judging or, even worse, asking for us to do things we know will cause us to be crying from the pain later.
Let us be the ones to offer our help.
Let us be the ones to tell you what we can do.
If we say yes because we want to please the people we love, then we hurt ourselves.
If we say no, we disappoint them and we feel guilty.
All we need is for you to understand. Understand and be there for us.
A pretty face can only hide so much pain.
We want to hear your story. Become a Mighty contributor here.