November 5, 2017
What This Picture of Me and My Horse Doesn't Tell You
---
"Teach your children to love horses and they'll never have money to do anything else." A truer sentence has rarely been spoken, and it's a common joke among my barn. But an even truer sentence would be: "To earn the love of a horse is to have a soulmate."
This picture shows the bond between my horse and I. She is so steady, well-behaved and loving, yet respectful. A seasoned horse owner might look at this and cringe, worrying my mare could spook and suddenly whip her head up.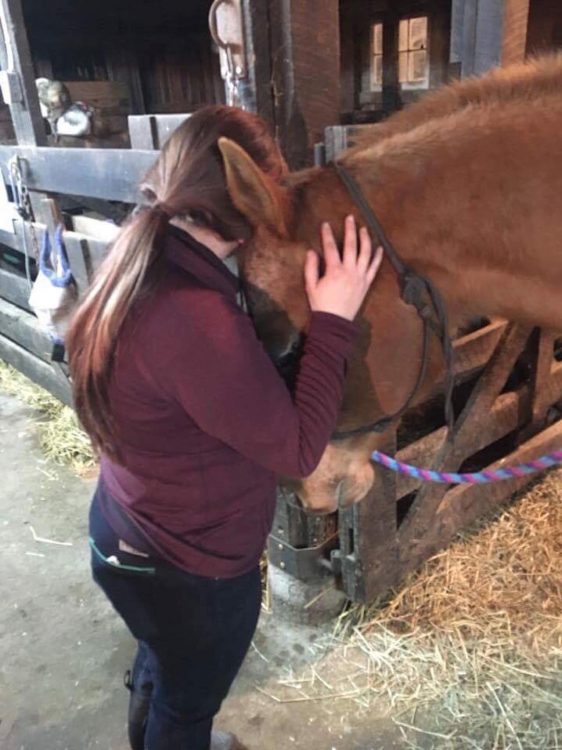 What's not shown is that this is the first time in over two months I had pulled my horse out of the pasture and groomed her thoroughly. I had only gone and patted her neck a few times in those months. What's not shown is the inner turmoil of my depression.
These are the first clean clothes I had worn that week, my hair had been unwashed for days and there's a rats nest the size of Texas in my ponytail. You do not see the late assignments or the fact that it took two hours of mental preparation and a friend to get me to this point. You don't see my face because I did not want my tears to show.
In this moment, forever frozen in time, my sweet soulmate horse let me rest on her and told me that despite my struggles, I was her person. I was her favorite. I was her soulmate. Despite my depression and panic attacks, she understood, still loved me and knew I needed her.
She offered her head to me. She allowed me to rest my head on her and to support my weight with her own, eyes half closed and at peace. She gave a bit of herself to help me through that bump.
These are things not shown in a seemingly normal part of my life. These are the words the picture doesn't tell.
We want to hear your story. Become a Mighty contributor here.
Lead photo via contributor