12 Incredible Artists With Down Syndrome
---
When my daughter was born with Down syndrome, I had many questions about the possibilities for her future. She was only a few months old when someone shared a link to an auction for a painting by Michael Wasserman, an artist with Down syndrome. His art was captivating, and somehow it felt like a symbol of great possibilities for my daughter.
A few years later, I connected with a Polish author Joanna Puciata. I was surprised to find she had a sister with Down syndrome, which we both felt was a sign our friendship was meant to be. She invited me to an art exhibit where we could meet in person and I could look at her sister's art. Her paintings were full of emotion; I felt Kasia Puciata's sadness through the pictures she painted and saw great beauty in the way she shared her feelings with each brush stroke. I am now the proud owner of two of her original paintings.
Often, the way artists experience life comes across in their pieces. People with Down syndrome have a unique way of looking at life, and their artistic expressions reflect those experiences.
Many of the artists with Down syndrome below have had their work recognized by experts in the field, allowing them to showcase their art around the world.
The Mighty is proud to introduce you to these 12 amazing artists with Down syndrome:
1. Kasia Puciata (1961-2004)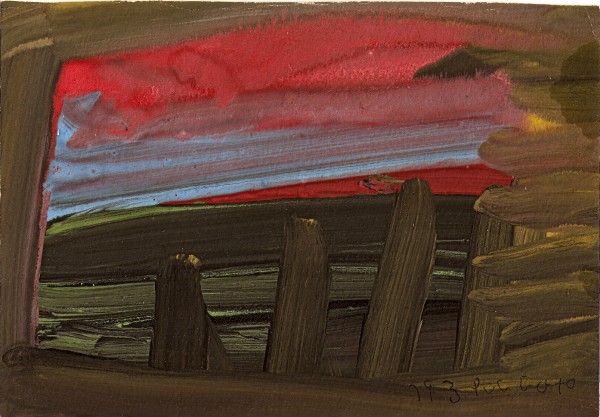 When Puciata was born in Poland, the country's culture was not well prepared to handle disability. Some people were ashamed to have her family over or requested Puciata stay home. Others advised putting her in a foster home, as not to "ruin" the family's good image. In time, neighbors came to accept Puciata. After her father's death, Puciata turned from a happy and outgoing child to someone who had to search her inner world to shine some light. Her paintings are a reflection of her deep soul and a result of two years of silence, followed by desperation to share her loss with the world. A breakthrough happened when a well known art critic saw some of her paintings and declared Puciata a talented Polish artist. Puciata's art has been displayed at the Wojciech Wróbel Gallery and the Polish Art Museum in Chicago. Her art has been featured in art exhibits in France and Germany, too. The mayor of Warsaw was at the opening of one of Puciata's most recent exhibits. Hoda Kotb was awarded one of Puciata's painting during  the National Down Syndrome Society's Spring luncheon in 2013.
To learn more about Kasia Puciata's art and life, visit Vague Memories.
2. Alan Tellez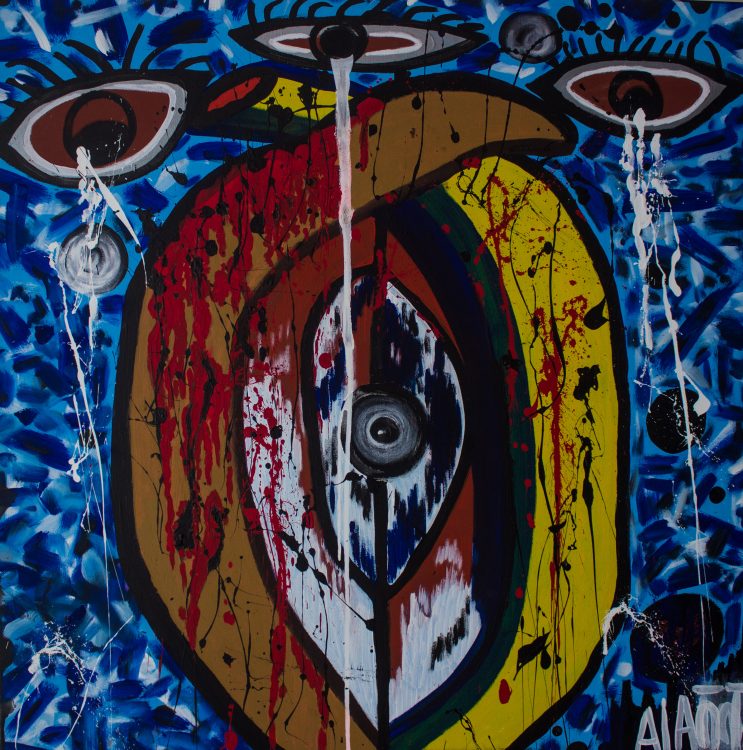 Tellez is a Mexican artist who began his career when he was 17 years old. He studied at the Instituto Municipal de Bellas Artes, Mexico's world recognized art institute, where he attended workshops and private lessons from Ángela Uscanga Tiburcio. His first art exhibit took place in 2010. In 2011, art curator Ricardo Camacho recognized his talent and introduced him to José Luis Cuevas, who invited him to exhibit his art in several museums in Mexico City and Toluca alongside other famous Mexican artists. He recently had an exhibit in New York City. His art is abstract, inspired by his favorite painters: Joan Miro and Picasso. Recently, Tellez has focused on painting faces as a desire to show how everyone is different and special in their own way. Each one of his paintings has direct meaning to his life. Tellez also partners with children's rights organizations. He is a global Down syndrome ambassador and has spoken at the United Nations.
To learn more about Alan Tellez' art visit AlanTellez.com.
3. Christian Royal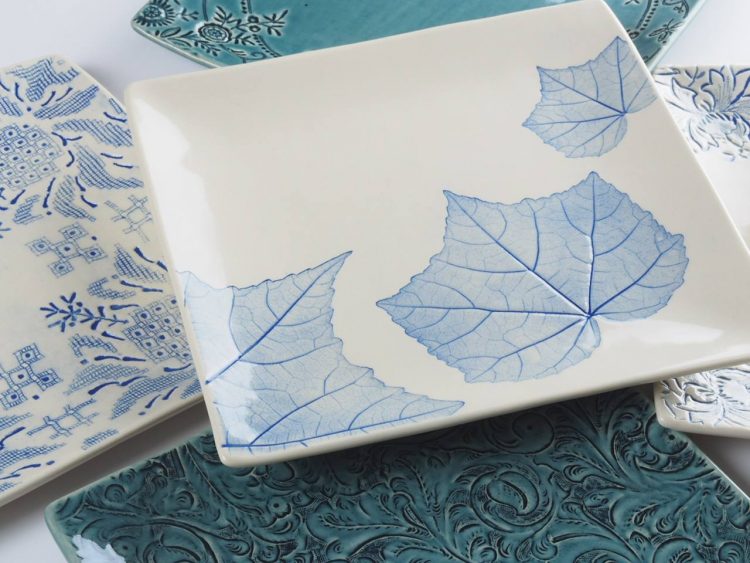 In his teen years, Royal showed an interest and aptitude for working with clay. He began making pottery as part of his homeschooling program. Since his first lesson with Kris Neal of Fire And Earth Pottery, he's increasingly focused on pottery. John and Jan Myers, professional potters, offered to teach Royal the methods and techniques they have developed over 30 years. The Myers' teaching enabled Royal to produce a style of pottery that captures simplicity and charm in its essence. Christian Royal Pottery is high-fired stoneware handmade using slab-building techniques. The stoneware incorporates the natural splendor of leaves or the artistry of beautiful laces, which are shaped into flowing designs and functional forms. While some of the pieces may be similar, none are identical due to the process.
To purchase and view Christian Royal's pottery, visit Christian Royal Pottery.
4. Judith Scott (1943-2005)
Judith Scott was born in Cincinatti, Ohio. It was unknown at the time that she was deaf and therefore considered as having a "profound intellectual disability." At the age of 7, she was sent to a state institution where she lived in isolation for 30 years. Her twin sister later arranged for Scott to be released to her care and they moved to California where Scott joined the Creative Growth program. Scott was a visual artist, independent and self-directed. In the 18 years Scott made her work she never repeated a form or color scheme. Crafting armatures of bamboo slats and discarded materials, Scott diligently wrapped each work with lengths of knotted cloth or yarn. She was introduced to fiber art in 1987 by artist Sylvia Seventy at Creative Growth and produced a remarkable, breathtaking body of mixed media sculptures. Roger Cardinal and John MacGregor, internationally known scholars and experts in the field, have both designated Scott an "outsider artist," as her sculptures reflect little cultural input and are highly individualistic, reflecting Scott's own unique personal vision. Scott's work is in the permanent collections of the Museum of Modern Art in New York; the San Francisco Museum of Modern Art; Collection de l'Art Brut in Switzerland; The American Folk Art Museum in New York; and the Museum of Everything in London. Most recently, from October 2014 through March 2015, The Brooklyn Museum in New York, exhibited the first comprehensive retrospective of her work.
To learn more about Judith Scott, visit Creative Growth.
5. Bernadette Resha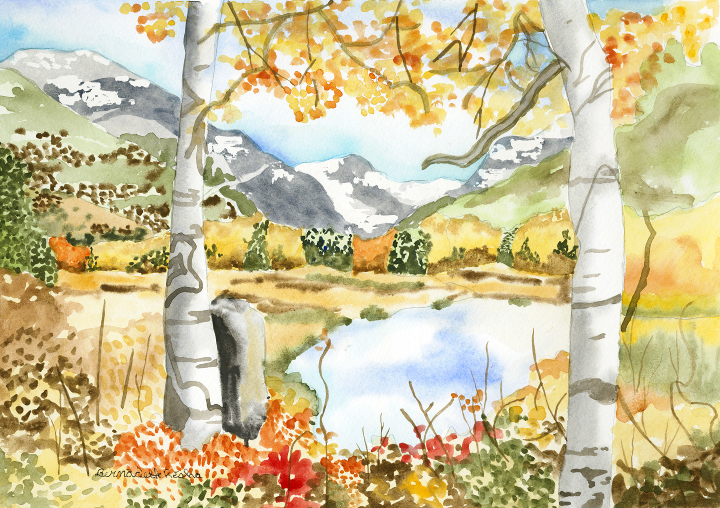 Born in Nashville, Resha has received worldwide recognition. Her exposure to the art world and culture started as a child when she attended as many art galleries, museums, concert halls and plays as her time would allow. From an early age she was encouraged to draw and color in her own style as a form of expression and therapy. This has resulted in a body of work which documents an artist developing a style entirely her own. With an artist grandmother and a mother fully committed to allowing her to use this medium of self-expression for as far as she would care to take it, Resha now has exhibits in numerous art galleries, art and craft shows and attends many conventions throughout the United States showing and selling her work. "My goals are to increase my skills. I want to improve on painting three dimensional, lighting and form, shape and shadows, and to learn how to blend colors," she writes on her website.
To view and purchase Berndette Resha's art, visit Bernadette Resha.
6. Ashlee Jane Birckhead

Birckhead was born and raised in northeastern North Carolina near Edenton, a beautiful waterfront historical town. She lives with her parents, Thomas and Susan Birckhead. Birckhead developed a strong interest in the visual arts at an early age and began to paint professionally in 2001. Birckhead is quiet and shy by nature, and art has been the key to a challenging but meaningful life. Her mother is a artist and art educator, so art was a natural path. Animals are one of Birckhead's favorite subjects. She loves to sketch and create modern abstract designs and paint her favorite ideas on canvases. Birckhead likes to draw animals with a black Sharpie followed by watercolors. She also paints with acrylics on canvas. Birckhead has exhibited in Phoenix; Detroit; seven times in New York City; and Long Island with the Down syndrome group, Alexander's Angels; Virginia Beach, Virginia; Roanoke, Virginia; and all over her home state. In March, she will be a featured artist at her local Chowan Arts Council, in Edenton. Birckhead told The Mighty: "I like painting because it's my life. I'm very crafty. I like all the details I do with my animals and abstracts. Abstracts are original ideas that fall right out of my head and it's fun to paint all the crazy colors and designs. I like being a famous artist and making new friends who enjoy my art."
To see more of Ashlee Birckhead's art, visit her Facebook page, Ashlee's Art.
7. Megan Hawk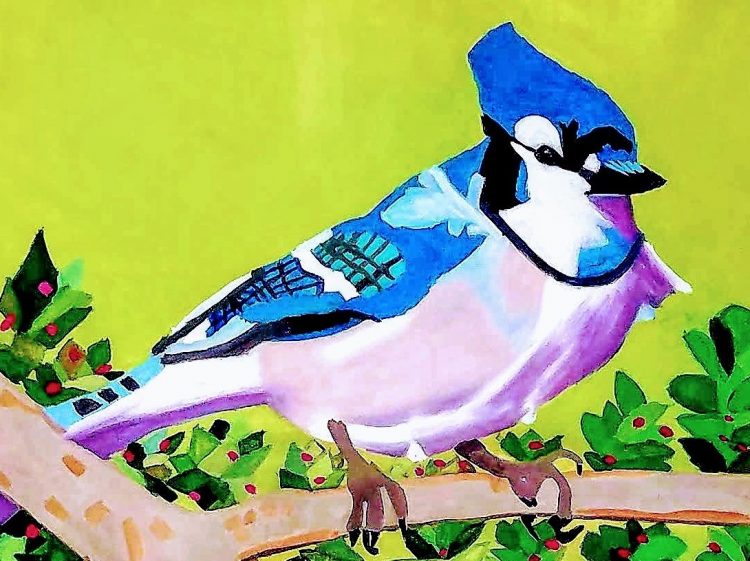 After graduating from high school, Hawk enrolled in a painting course through Down Syndrome of Louisville's College Connections Program. There she met teacher Charlotte Link, who discovered her talent. Now, years after that program, Hawk attends Link's studio once a week where she paints for hours at a time. Hawk prefers to paint animals, and she uses beautiful colors to bring them to life. Some of Hawk's paintings can be seen in the office of her local Down Syndrome Association of Louisville. She has exhibited her paintings at the DSA Gala. Hawk's first painting sale was to a local news anchor. One of Hawk's paintings was auctioned in a fundraiser for $1,100 at the Louisville Down Syndrome Association.
To see more of Megan Hawk's art, visit her album on Down syndrome on The Mighty Facebook page.
8. Michael Wasserman

Until he was 39, Wasserman always chose black. If black paint, markers or pencils were unavailable to him, he had no interest in art. Shortly before his 40th birthday in 2001, Wasserman dove into color. In the course of one week, he painted eight pieces using acrylic paint and paper. With every brush stroke, Wasserman brushed his soul, and colors flowed onto his paper. Wasserman's first works in color were displayed by the St. Louis Arc. Soon after, Wasserman was invited to participate in an art auction. Wasserman's paintings have sold for up to $400. From time to time, Wasserman still auctions his painting on his Facebook page. Winning bidders donate 100 percent of their winning bids to a nonprofit working to enhance quality of life for people living with intellectual or developmental disabilities. The winning bidder keeps the painting, the nonprofit keeps the donation and Wasserman has the pleasure of knowing he is paying it forward. In November 2017, Wasserman was featured in a six-page article in Runner's World magazine to honor a group he inspired: "I Run for Michael."
To see more of Michael Wasserman's work, visit his Facebook page.
9. Michael Johnson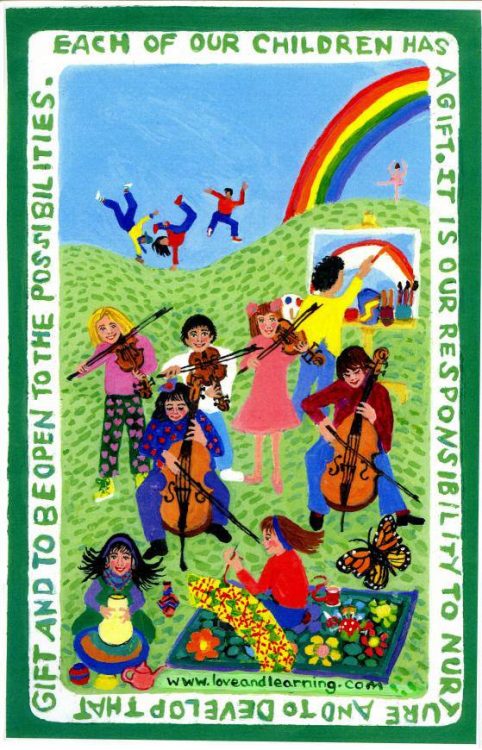 Michael Johnson paints watercolors, acrylics and oil paintings. He shares an art studio and he paints almost every day. After dinner Johnson can often be found working at his mail order business: filling orders, writing letters and packing his notecards, paintings and catalogs to be shipped to his customers the next day.
Learn more about Michael Johnson and how to purchase his work at Love and Learning. Michael also has a Facebook page.
10. Sam Doran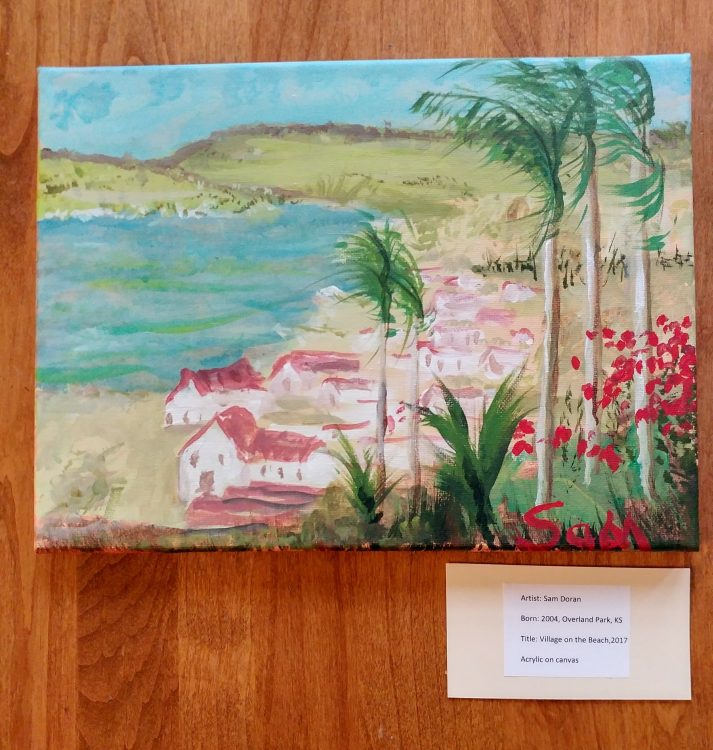 Sam Doran is a 14-year-old who is interested in music, art and participating in Special Olympics. His talent for painting was discovered while participating in a fundraiser for the Down Syndrome Guild of Greater Kansas City. KCDSG asked teens with Down syndrome to create artwork at Pinot's Palette in NKC for an auction to benefit the organization. Rather than pick the usual items off the wall to paint, he wanted to paint a "Project Runway" model. The resulting painting was great. He next painted a picture of his sister's dog as a gift for her. For his paintings, he selects a subject matter and searches for an image on the web or in magazines. Then Doran and his mother sit down to paint. His mom mixes paints, encourages and points out details, but Doran is the creative artist.
You can see Sam Doran's paintings at the KCDSG Facebook page or his online art  gallery.
11. Sarina Rosalie Favazza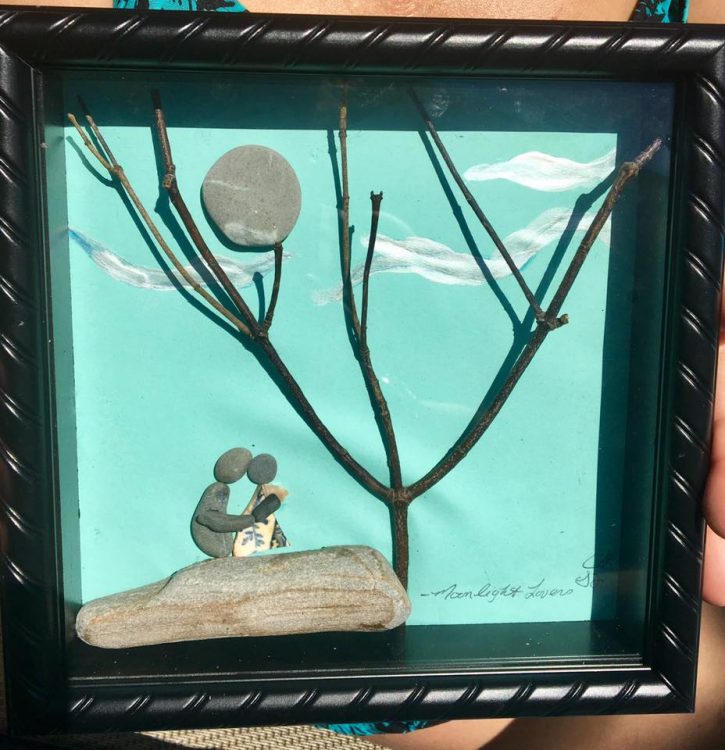 Sarina Rosalie Favazza is a 50-year-old woman who started an art business with her sister. Sorelle Sirena LLC means "Mermaid Sisters" in Italian. These Italian-American sisters come from an artistic family originating in Gloucester, Massachusetts, a haven for artist and writers alike. For more than 13 years, Favazza bagged groceries, a job she loved and enjoyed, but she wanted to express herself through her art — to be heard and seen in such a way she hadn't been able to in her past jobs. She attended art classes on different mediums. Her creative side blossomed along with her self-esteem, self-worth and self-awareness. She has sold over 30 paintings and creations since she started. Favazza paints with acrylics and makes "Sea Stone Art," which she created with her sister in 2017. She enjoys putting the pieces together like puzzles and creates beautiful pieces of art out of nature. She is a main artist in the business, with her sister helping frame and book gigs. Favazza has sold her art all over the country.
Learn more about Sarina Rosalie Favazza and how to purchase her work at Sorelle Sirena.
12. Allie Guard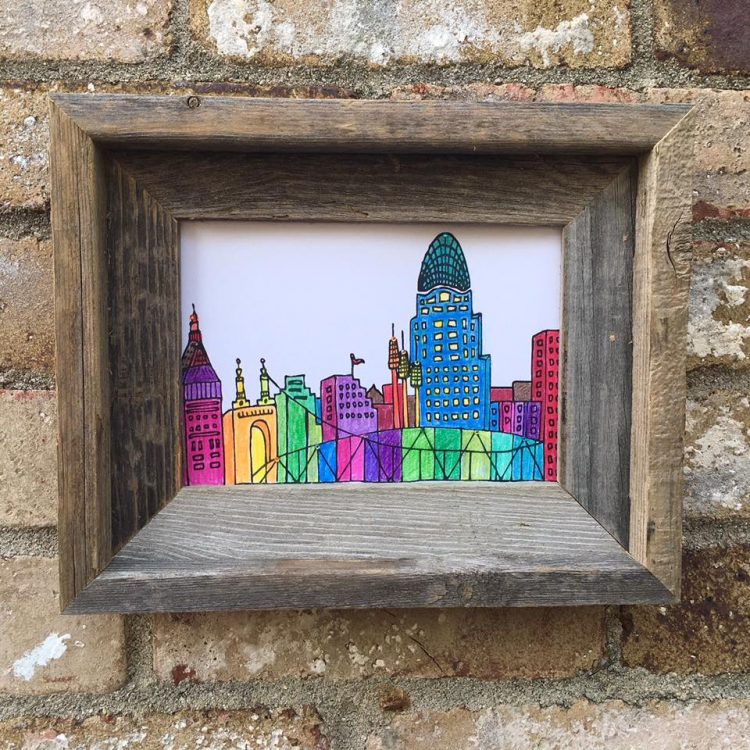 "Allie Art" is the colorful creation of Guard, a young woman from Cincinnati who is drawn to the magic of color. Using colored pencils, she fills intricate patterns with bright hues to create graphic landscapes, each with unique qualities of movement and emotion. After completing a design, the artwork is either framed for display, turned into wearable art in jewelry and accessories or added to usable items such as book marks, key rings, ID badge reels and bottle stoppers. Guard's mother, Sharon, helps her in the process. All pieces are one-of-a-kind.​​
To view or purchase Allie Guard's art, visit Allie's Art.
Alexander's Angels, and organization for people with Down syndrome, hosts a yearly exhibit for artists with Down syndrome called DOWNrightART.
Banner images by Megan Hawk, Alan Tellez and Bernadette Resha