Autism Moms Know Safety Offers Free Safety Kits for Caregivers of Kids Who Wander
---
Natasha Barber's decision to form Autism Moms Know Safety and provide free safety-promoting kids to parents of children on the autism spectrum was born out of necessity.
The first time Barber's son, Joshua, wandered was in 2011, when he was only 5 years old. Joshua was drawn to the lake that bordered the family's backyard.
Barber was fortunate to see Joshua bolt out the door as he headed toward the lake, unable to swim. Barber caught him just in time and pulled him out. That same day she made sure to install error proof locks to keep her son safe at home.
In 2015, Barber's son took off again, this time from his before- and after- care program. Joshua left the premises and ran out onto a 50 mph road.
Following this incident with her son, Barber attended a safety forum where she recognized her fears were shared by many other parents."The day I met a mom who lost her son to wandering, was the day that sparked the creation of the safety kits," Barber told The Mighty, "I felt the need to reach out to parents and provide a free physical resource so that this awful experience didn't repeat itself for another mom."
Barber started Autism Moms Know Safety (AMKS) in July of 2015. With the help of illustrator Rayah Jaymes. She developed AMKS Safety and Resource Kits in August of 2017, a free resource for parents and caregivers. For these kits, Barber contacted companies she had purchased safety products from and asked them to contribute to the kits. Some of the companies who agreed to participate include: If I Need Help, RoadID, and Angel Sense.
The AMKS safety kits are packed with safety samples, coupons for products and safety solutions Barber has successfully implemented in her home, school and vehicles. Kits are available for free to any caregiver of a child who is nonverbal, has tendencies to wander and does not have the ability to recognize danger or stay in a safe environment.
Kits include bumper stickers, interactive matching boards, coupons and free samples, including bracelets, stop signs and safety clips.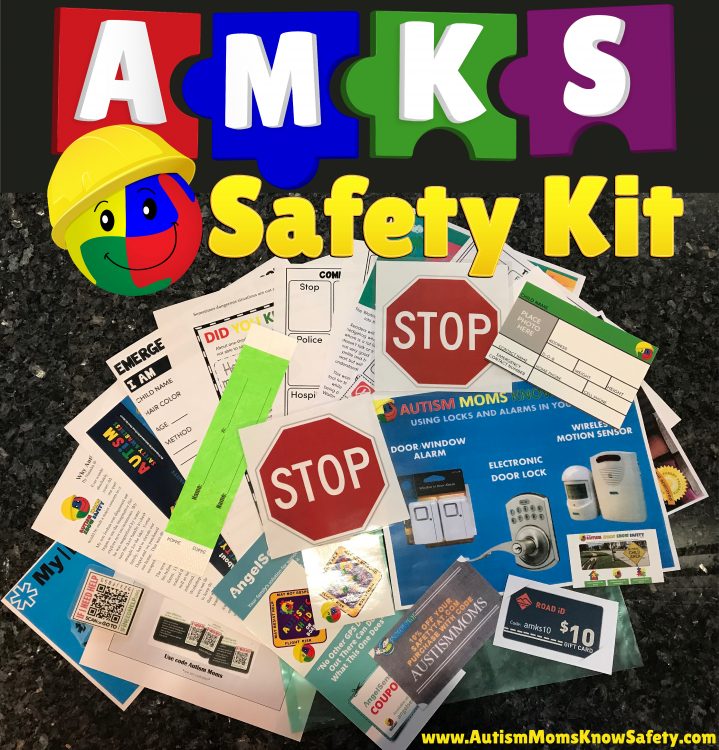 AMKS is based in the U.S. but has sent kits to Canada, Philippines, Ireland, U.K. and Australia.
Kits are available based on AMKS' funding and resources. In January, the group received $1,000 from Centria Healthcare to create and deliver 250 kits to parents of children with autism spectrum disorder.
Those interested in receiving a free kit can apply at Autism Moms Knows Safety.