May 9, 2018
The Impact One Teacher Had on My Son With Autism
---
Editor's Note
This story has been published with permission from the author's son.
I have over 10,042 photos on my phone. I would guess about 9,900 of those are of my kids.
If I were to pick one photo that symbolized my dream for Ryan and all autistic individuals, it would be this one: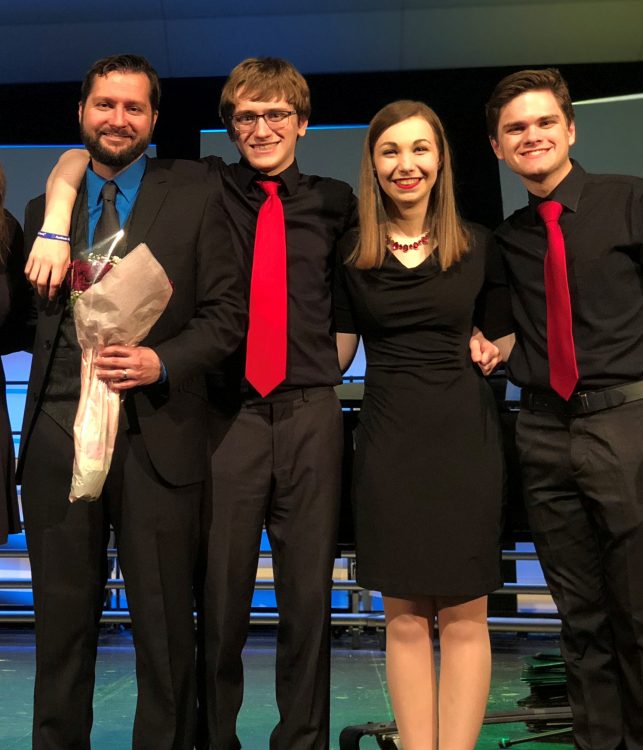 No doubt. Hands down.
This photo will never strike your heart the way it strikes mine. This photo won't tell you the story it tells me. This photo won't be imprinted in your brain for eternity. You won't ever see all that I see in this photo, but I believe there is much you can see.
You can see the backdrop of a stage where my son shines. You can see his natural, huge, unforced, beautiful smile. You can see his relaxed posture and his arm slung across the shoulders of a man he adores, respects and trusts. You can see joy.
What I see are two people who are passionate about music. I see a student who was given a chance by a teacher, and a teacher who took a chance on a student. I see a teacher who taught a student and a student who taught a teacher. I see a student who found the courage to soar because he trusted a teacher to not let him fall. I see a connection that every student, regardless of abilities or disabilities, wants to have — deserves to have — and a connection every teacher should aspire to give.
What I hope we all can see is mutual respect, mutual understanding and mutual admiration between two fabulous human beings, who although they may be more different than they are alike, have made a lasting impact on one another that will endure a lifetime.
(Not seen in this photo is an incredibly grateful mom.)