14 Pillows That Help People With Ehlers-Danlos Syndrome Sleep Better
---
When your Ehlers-Danlos syndrome causes your joints to be hypermobile and you live with both pain and fatigue, sleep can become incredibly problematic. It's not as easy as simply lying down and falling asleep after a few minutes. It takes time to get comfortable and position your body in a way that's best for you. A lot of the time, this involves maneuvering pillows around in a specific way or falling asleep using a certain type of pillow.
Sleep becomes especially hard for those with EDS who also deal with chronic fatigue. Not being able to sleep well is something those with EDS have to deal with on a regular basis, which makes the need for the best pillows an absolute must.
While most people would think finding the right pillow isn't that difficult of a task, those in the Ehlers-Danlos syndrome community know it's more difficult than it appears. Sometimes you're not just looking for a pillow for your head. Instead, you're looking for a pillow for your knees, your shoulders or maybe even your entire body.
We wanted to find out more about what type of pillows people with EDS are using, so we went to our Mighty community for guidance. That being said, EDS is a complex diagnosis with multiple subtypes. While one pillow might work great for someone in this community, it potentially might not work for someone else who has Ehlers-Danlos syndrome. It's important to ask your doctor about which pillow may be best for you, but hopefully this list can provide inspiration for when you go shopping.
Here's what our community recommended:
1. U-Shaped Pregnancy Pillows
Sleeping can be complicated for those with EDS and it can be hard to find a pillow that works for all the positions you potentially want to sleep in. One night, you might need to focus on your knees. The next, you might have to change how you sleep for your shoulders to be comfortable. Pregnancy pillows, especially U-shaped ones, are known for supporting your entire body, regardless of how you want to sleep that night. These pillows cradle you and can be maneuvered to fit your specific body's needs.
"The extra large U-shaped pregnancy pillows," suggested Lisa MamaBear Lightfoot. "It doesn't matter how you sleep or sit, these pillows can be adjusted to meet your needs. I have a 9-foot one for downstairs on the sofa and a huge 15-foot one in my bed. In my defense, I am 6 foot and 1 inch and I have a super king size bed so plenty of room for me, the pillow and my hubby. I wouldn't be without them ever again."
"A pregnancy U-shaped pillow has really changed things for me. I don't toss and turn as much, so it saves me from constant subluxation," said Samantha C. Yonts.
"Full body/pregnancy pillows are fantastic as they support your whole body and reduce the amount of subluxations during the night," said Ash Leigh.
Buy the QUEEN ROSE 55″ Pregnancy Pillow- U Shaped Body Pillow above for $47.99 from Amazon.
2. Pillow Pets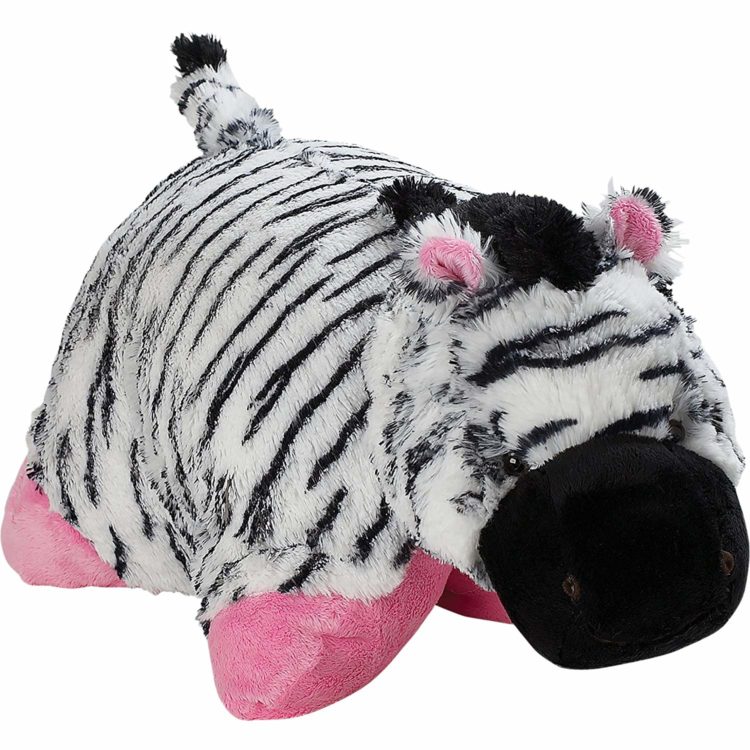 Pillow pets are stuffed animals that also turn into pillows in the blink of an eye. These adorable toys were never advertised as being great for sleeping, but for a lot of people with EDS, these pillows are a game changer. They can be rolled up into stuffed animal form or spread out to become a pillow. The size and flexibility of the product makes it a great pillow to use to support other parts of your body besides your head, such as your knee or hip. This could also be a great pillow to pack for car rides.
"I love my pillow pet!" said Katrina Givens. "[I have] folded [it] up behind my neck, flat behind my shoulder, shoved under my hip, folded between my knees, poor guy's been everywhere. And they are great to travel with!"
Also suggested by Amy Marie.
Buy the Pillow Pets Signature, Zippity Zebra, 18″ Stuffed Animal Plush Toy pictured above for $24.95 from Amazon. 
3. Memory Foam Pillows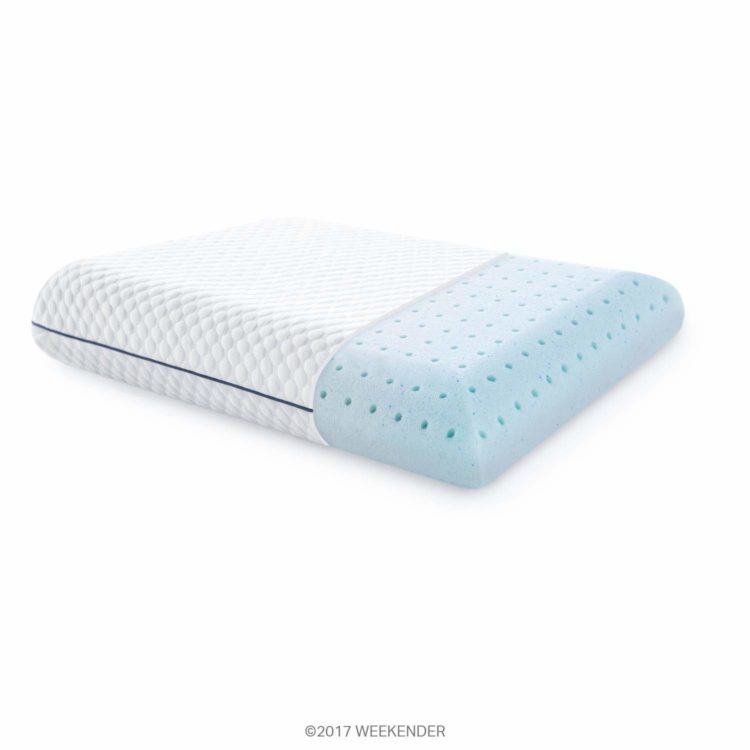 Memory foam pillows are a general go-to for anyone who has problems with getting a good night's sleep. Of course, sleep is a much more complex concern for those living with EDS and sleeping through the night isn't always the easiest of tasks. A memory foam pillow tends to alleviate the pressure on your upper body, making the idea of sleep not as daunting. It's a great pillow to start with if you have general pain in your neck or shoulders.
"Memory foam and a down pillow on top, supportive and comfortable," said Charlie Tarantola.
Buy the WEEKENDER Ventilated Gel Memory Foam Pillow (Standard Size) above for $32.99 from Amazon. 
4. Bamboo Pillows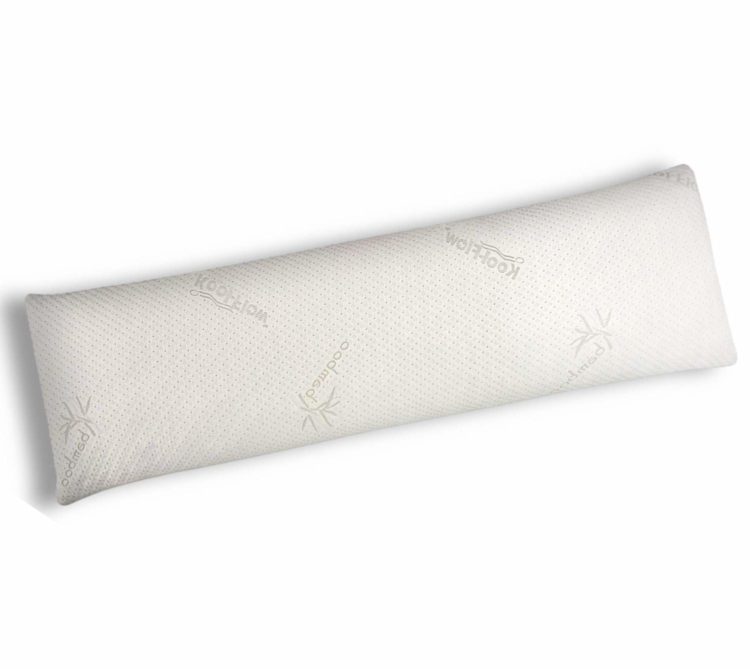 Most of the time, bamboo pillows are essentially just a memory foam pillow with a small amount of bamboo incorporated into it. Bamboo pillows have been known to help with neck pain and alignment, something that a large part of the EDS community deals with. Not only that, but neck issues can also lead to headaches for those in this community, so a pillow that combats neck pain can change be life-changing.
"A Bamboo Magic Pillow! This is the only pillow that is both comfortable and keeps my neck from locking up/dislocating," said Aimee Van Vlack.
Also suggested by Brittney Buck.
Buy the Xtreme Comforts Luxury Bamboo Shredded Memory Foam Full Size Body Pillow pictured above for $69.99 from Amazon.
5. Wedge Pillows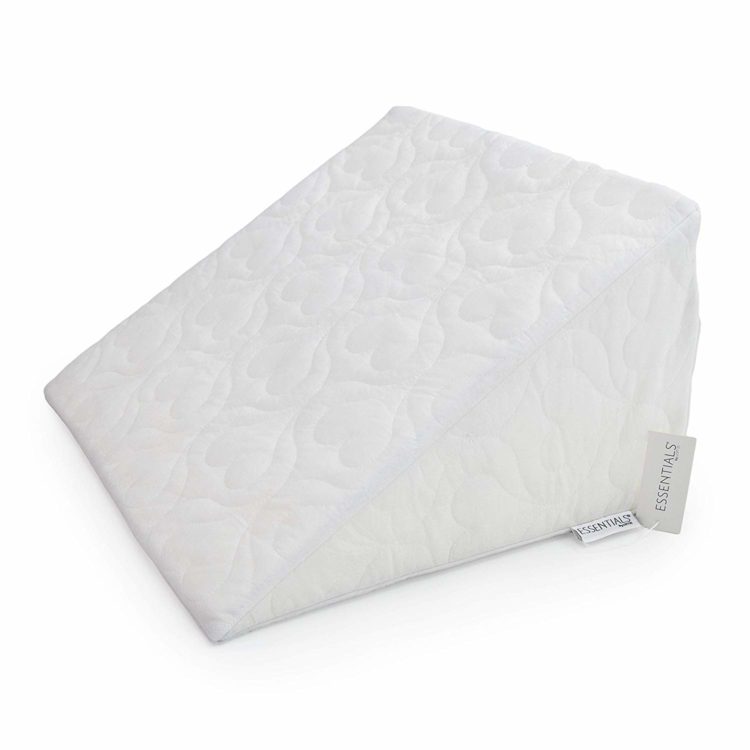 Joint dislocations are something a lot of those with hypermobile EDS have to be conscious about. Of course, it's difficult to do that when you're sleeping, so a lot of the community use wedge pillows to help with that. This pillow can be put wherever you need it to give you support and immobilize specific body parts.
"The wedge pillow with a hole in it by MedCline, so I can sleep on my side without dislocating my shoulder or having nerve pain in my arm," suggested Carrie R. Medina. "It also helps my POTS symptoms, being slightly elevated. Combined with a thin body pillow between my legs, it's amazing!"
Get the Loft 25 Flex Foam Support Bed Wedge above for £14.97  from Amazon UK.
6. Latex Pillows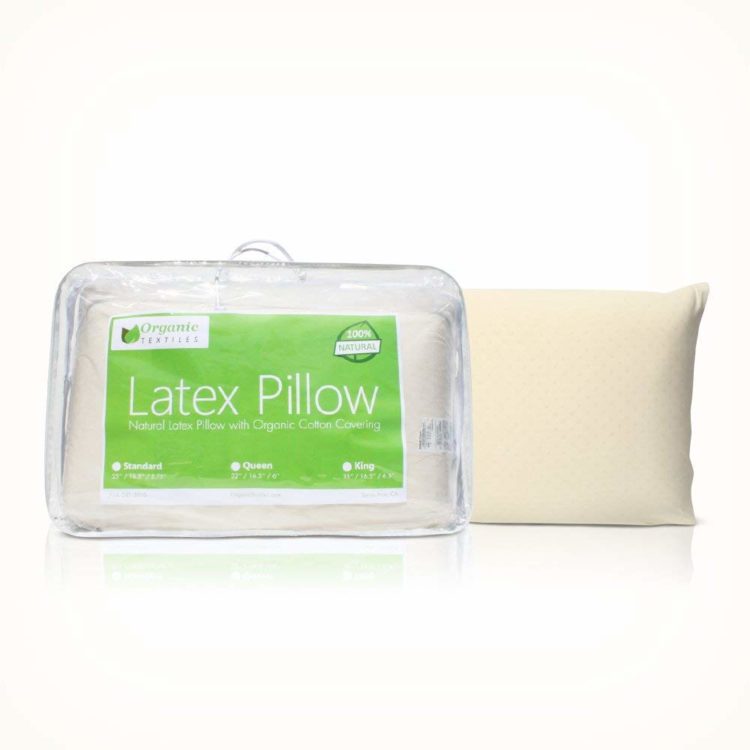 Too tough of a pillow can actually do more damage than good to some living with EDS. Latex pillows are very similar to memory foam pillows, but are known for being softer and gentler for sleep. It's the easier version of a memory foam pillow and will do wonders for anyone who might need less rather than more.
"Latex filled – amazing, like sleeping on a cloud," said Karen Eivrah. "It's expensive, but worth every, single, penny. I invested in two and it's the best money I've ever spent."
Buy the OrganicTextiles All Natural Latex Pillow (Standard Size) for $49.95 from Amazon.
7. Cervical Traction Pillows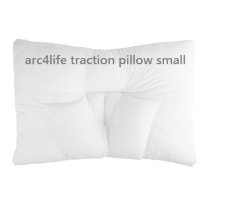 Moving can sometimes trigger a subluxation, a common occurrence for those who have EDS. If you tend to move during the night or are an avid dreamer, something that keeps your head in place might benefit you. Cervical pillows can keep your head in the same position and can give your head and neck some much needed support in the process.
"This cervical pillow has been a game changer, it cradles your skull and is even good for side sleeping. I only use the traction side once in a while to feel relief but sleep on the flatter side," said Zanne Bam. "I also keep a pillow under my knees to take pressure off my lower back. When side sleeping I use a large pillow (or husband) to hug to keep my shoulders in place, along with a pillow between my knees to keep my hips from dislocating. I sleep in wrist braces as well. Gotta stay packed in tight to keep from literally falling apart in my sleep."
Buy the Arc4Life Cervical Neck Traction Pillow For Sleeping for $108.79 from Amazon.
8. Body Pillows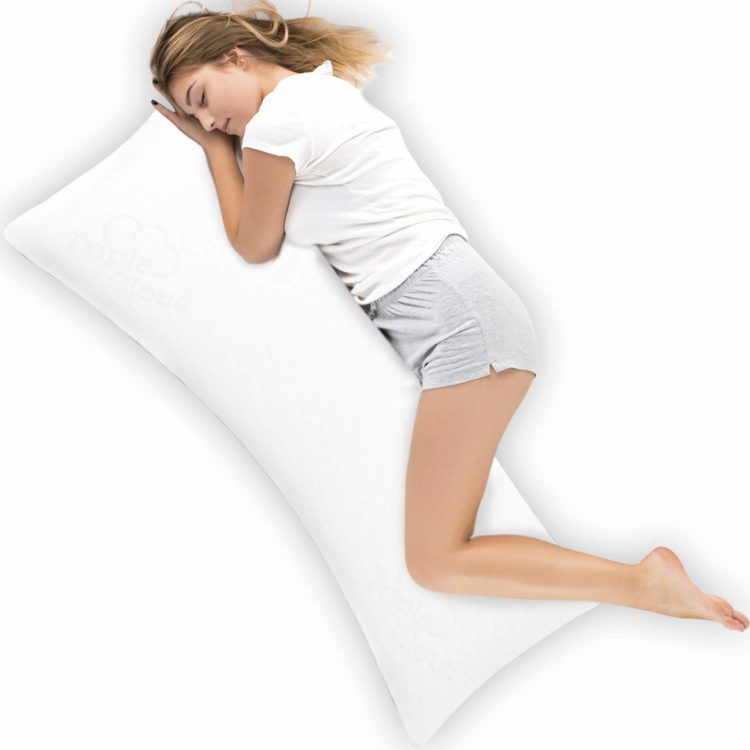 Wrapping yourself around a pillow might benefit your hips, knees, back and so many other parts of your body. When you have EDS, support is a must and body pillows have been known to help with just that. A benefit of a body pillow too is that you can use it however you want. You're able to maneuver your body around it in whatever way works best for you.
"Memory foam body pillow!" said Samm Davidson. "I have three and prop them up on either side of me, then one for the couch. It keeps my knees and hips aligned while sleeping. Without it I can't move the next day."
"One of the whole body pillows," suggested Erika Davies-Budgen. "They save my life. I either wrap myself around it, or sleep on it if my whole body needs extra support."
Buy the Triple Cloud Body Pillow above for $45.95 from Amazon.
9. Contour Pillows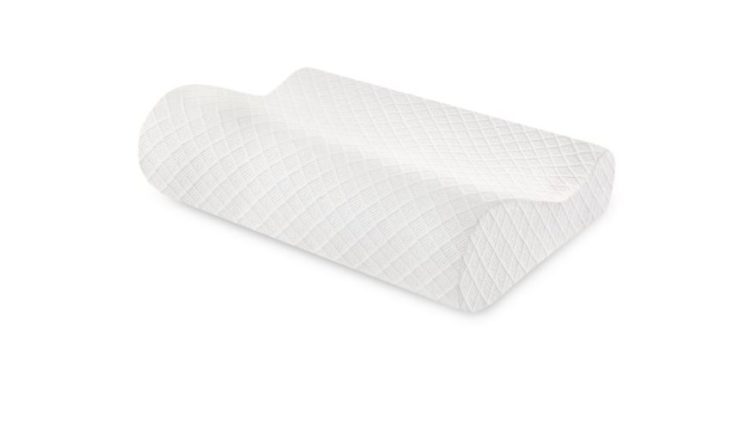 Muscle tension headaches are a common occurrence for some of those living with Ehlers-Danlos syndrome. Contour pillows are specifically meant to target and relieve muscle tension. A lot of people in the EDS community enjoy these pillows if they sleep on their side and it tends to help those who need neck support as well.
"The whole family uses these, great for neck support," said Sarah Douglas. "You can use the big side or the small side. We all use the small side."
Buy the Therapedic Classic Contour Bed Pillow for $19.99 from Bed Bath & Beyond. 
10. 'Fidget Spinner' Pillows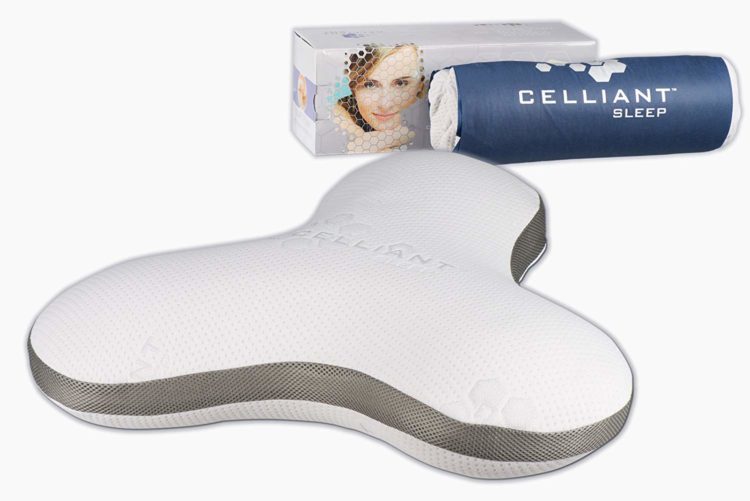 Known as a boomerang or "fidget spinner" type pillow, this three-pointed pillow is nothing that you have probably seen before. The grooves and angles of the pillow help with neck pain relief. It can also be used to fit perfectly underneath your shoulder.
"This fidget spinner pillow has been a life saver when it comes to sleeping with as little neck pain as possible," said Deanna Mraz. "I wish I could find more because it needs to be replaced, but I can't find another one like this anywhere. Anything similar is the wrong shape."
Buy the VISCO LOVE Celliant Sleep Boomerang (Bachelor's) Memory Foam Pillow above for $39.99 from Amazon. 
11. Knee Pillows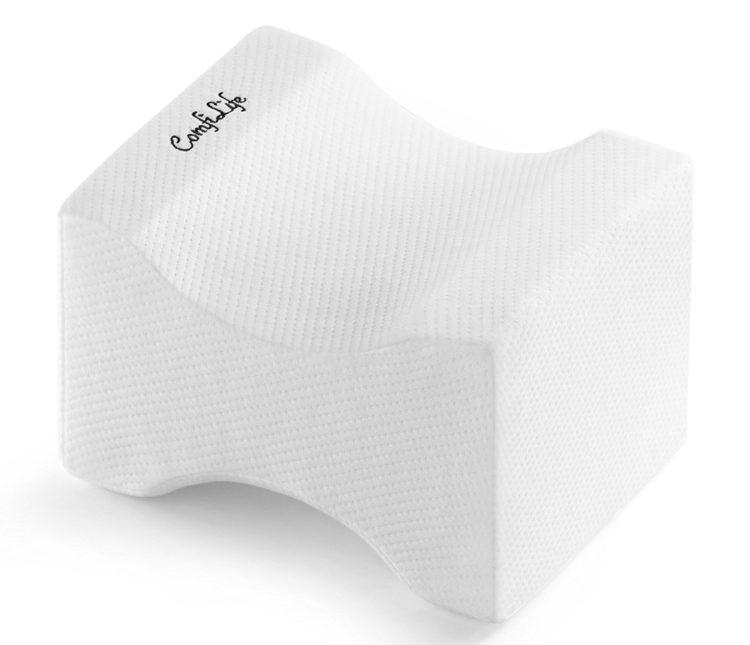 Knees aren't always the most stable part of the body for those living with Ehlers-Danlos syndrome. When you're sleeping at night, one of your major concerns might be what to do about your knees. Luckily, there are actually pillows out there meant for people who need support around their knees. These pillows fit comfortably around a person's knees and give a great amount of support.
Recommended by Kim Cap.
Buy the ComfiLife Orthopedic Knee Pillow above for $29.95 from Amazon.
12. Orthopedic Pillows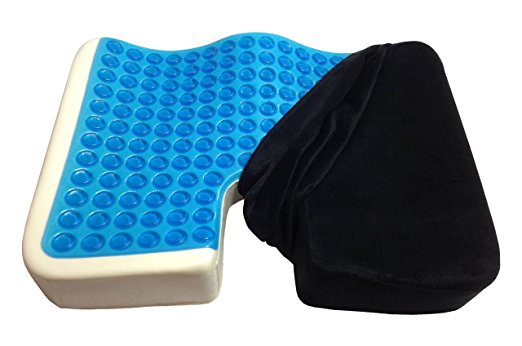 Hypermobile EDS can cause issues with the back, specifically with the spine. Not only that, but scoliosis can occur in those who have kyphoscoliotic EDS (kEDS). Orthopedic pillows benefit those who are wanting to have a healthier spine and need help managing their back and spine pain. It also helps with the alignment of your back and keeping yourself supported throughout the night.
"An orthopedic pillow for tailbone support. It helps me keep my back in alignment in the car," said Mary Ann.
Buy the Kieba Coccyx Seat Cushion, Cool Gel Memory Foam Large Orthopedic Tailbone Pillow above for $23.95 from Amazon.
13. Traditional Down Pillows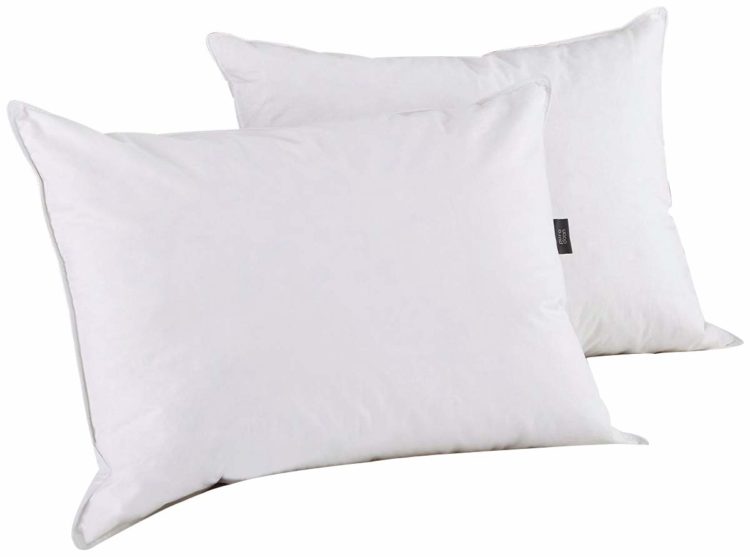 A traditional soft down pillow can do wonders too. A lot of those with EDS enjoy the squishy aspect of a down pillow as it helps conform to wherever you need it to be. It's great for side-sleepers to use in between legs and can give a cushion for your back.
Suggested by Freta Smith Villanueva and Cindi Johnson-Jacobs.
Buy the puredown White Goose Feather and Down Pillows (2-pack) pictured above for £49.99 from Amazon UK. 
14. Soft Blanket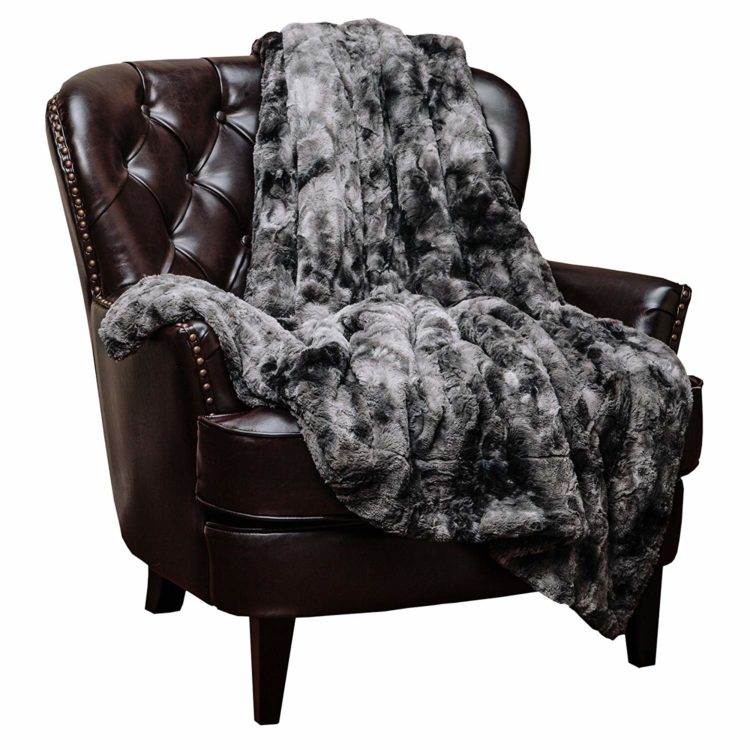 Sometimes, pillows are just not worth it for those living with EDS. It can be easier to use a blanket instead. A soft blanket can conform easily and can be wrapped in whatever way you want it to be. Plus, blankets are much more gentle for those who can't handle too much pressure.
"I use a blanket folded up," said Emily Katelin Weinel. "All pillows I've tried make my neck hurt in the morning. It is super comfortable for me using the blanket."
"No pillow, [I] use a fluffy blanket," said Ashley Vandersteen.
Buy the Chanasya Faux Fur Throw Blanket for $29.98 from Amazon.
What pillows help you sleep better with Ehlers-Danlos syndrome? Let us know in the comments below.