To the Women Who Delivered My Daughter's Down Syndrome Diagnosis
---
To our amazing midwife and the nurses who helped bring Chloe Jaye into the world:
Thank you! It only seems fitting that each year we write to say thank you! Thank you for loving our family, our little girl and all of the families after ours. Thank you for giving Chloe the respect and admiration she deserved from the moment she came into this world. Thank you for giving us hope, encouragement and peace through your Down syndrome diagnosis delivery. Thank you  for your professionalism as you navigated around our feelings and emotions. Thank you for doting over our Chloe Jaye as you administered oxygen and gave her a bath. Thank you for shouting her worth through immense giggles, words of affirmation and obvious love and admiration.
Thank you ladies. You will forever and always hold a special place in our hearts.
You may wonder why we feel the need to thank you as we were just doing your job. We find it almost impossible to not think of you every year around this time, her birthday. We also find it impossible  to not think of you when we hear the stories of our friends who were given a diagnosis at birth that was so vastly unlike ours. You ladies made a world of difference to our family that  morning and it is because of you that we were able to celebrate our child and not mourn her Down syndrome diagnosis. Birth diagnosis stories are often shared in our circles and so many people have complete devastation in their voices when they tell us their doctor not only said the wretched words, "I'm sorry"  but also made them feel like their child wasn't meant for this world. When we get to tell our story, we get to tell how you delivered the news. We get to tell about the joy, the smiles, the love, and the "oohs and aahhhs" that penetrated our hospital walls. We get to tell a completely different narrative and give others hope that there are professionals who do not belittle our babies but celebrate their lives! That is why we thank you and we will continue to thank you as long as we are able.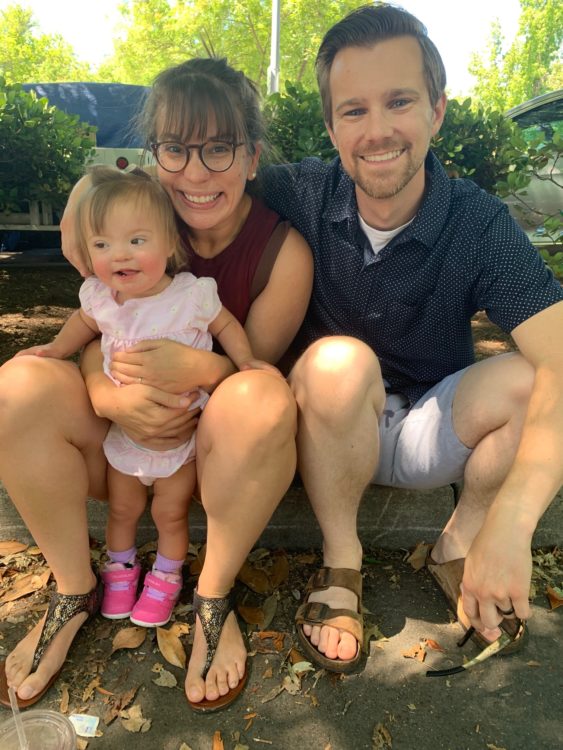 On to the good stuff… Chloe.
Chloe Jaye is our little spitfire who is so vibrant and so full of life. Her personality shines through the minute she enters a room. She welcomes all with a smile, a hug or a giggle that'll make you melt. She loves people deeply and continues to surprise us with her ability to know when somebody needs a hug. She's smart too! She's an awesome manipulator and finds ways to solve problems that impresses even her therapists. She has a favorite doll, she loves books, has mastered the moves to several children's songs and has recognized that the little pink remote turns on the TV. She loves to swing and go higher than we feel comfortable pushing her. Chloe has a best friend named Joey, she can cruise across the couch and pull to stand on the living room coffee table. She loves visiting the library, loves pizza and peas and she loves her grandparents even more! She is truly a blessing in our lives and has a purpose for being on this earth.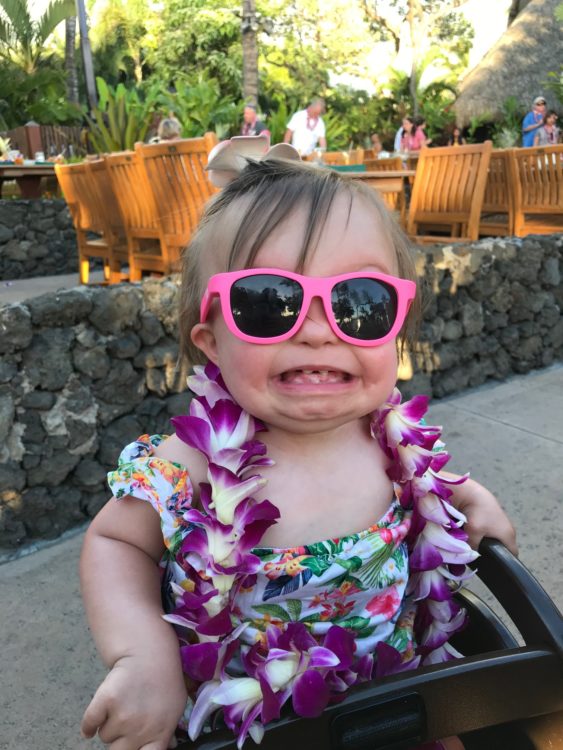 Chloe is perfectly Chloe and will always be such. She will always have value and always have worth and it is because of your beautiful diagnosis delivery that we have declared that truth from day one! Thank you so much for who you are and the way you told us about the one extra chromosome that would change our lives for the better.
Love,
Nick, Caitlin and Chloe