My Thoughts on the Pixar Short 'Loop' as an Adult on the Autism Spectrum
---
I just watched the new animated short "Loop," which features Pixar's first-ever nonverbal autistic character.
The short, which was released on January 10, 2020, is summarized by Pixar as "two kids (Marcus and Renee who is a young autistic girl) at canoe camp who find themselves adrift on a lake, unable to move forward until they find a new way to connect and see the world through each other's eyes." This is the second Pixar film to feature autism; a previously released short, Float, also has an autism metaphor that everyone should see.
Spoilers ahead
Challenges arise when Marcus takes Renee to a place that causes her to have a meltdown. She paddles, trying to get away from the loud noises, and ends up throwing her phone into the lake. When the meltdown occurs, Marcus immediately tries to grab her to try to help her. He then realizes he should wait for her to come to him. He leaves a leaf near her (which he saw she enjoyed earlier in the lake) which she grabs after her meltdown subsides. While calming herself with the leaf, she communicates with Marcus before they go back on the lake. The end scene shows Renee's phone in a bowl of rice (to help dry it out) with a text from Marcus asking if they can go back on the lake again soon.
Here are some reasons "Loop" resonated with me…
They featured a girl and someone of color
In many TV shows and movies, the protagonist on the autism spectrum is a white male (as seen in "Parenthood," "Extremely Loud and Incredibly Close," "The Good Doctor," "Rain Man" and "Atypical"). One of the first films I remember with a character who was on the spectrum and of color was Walter Hill (played by Dexter Darden) in the film I got to be the autism consultant for, "Joyful Noise."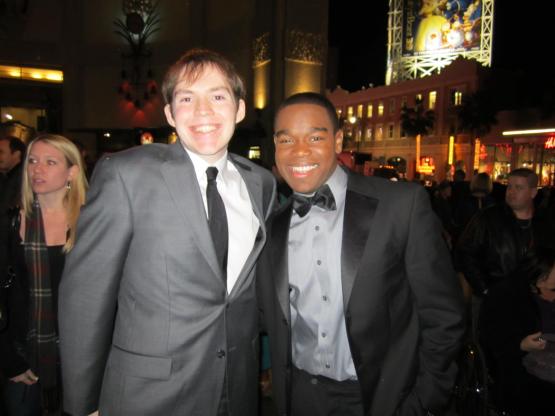 Different ways of communicating
Augmented communication can help those with nonverbal autism communicate with others. In the short, Renee has a device with a few pictures on it to indicate things she may need to do (such as going to the bathroom). This breaks down a stereotype that those who can't speak can't communicate. I was nonverbal and didn't start talking until I was around 3. I know my parents would have loved to have technology back in the early 1990s like we have now to help with my communication.
Sensory overload
Sometimes I see sensory overload being overshadowed in our community, and I truly wish it wasn't. While autism is defined as a social and communication disorder, one of the other most common characteristics is sensory challenges. In the short, we get to see this from Renee's perspective during situations such as the boat rocking back and forth and when her phone gets too loud. Growing up, my biggest challenges were sensory-related as I lived in a big city where there was often a ton of sensory stimuli. I'm glad this was addressed, because sometimes it felt like it wasn't addressed when I was a kid.
I applaud Pixar for producing this short. I hope "Loop" will continue the conversation about autism, and lead to more studios featuring the entire autism spectrum in TV and film projects.