I used to be jealous of those "soccer moms" running their children back and forth to games and practices. I used to get mad as hell when I'd hear them complain about a soccer tournament taking up their entire weekend. I used to smile but then cry behind closed doors when I watched their children play. I used to turn green with envy that they had children so able and willing to play, and then shed secret guilt-filled tears because I wished my child was like theirs.
But not anymore.
It's taken me three years since my son's autism diagnosis to realize that I am a "soccer mom" too, my child just doesn't play soccer.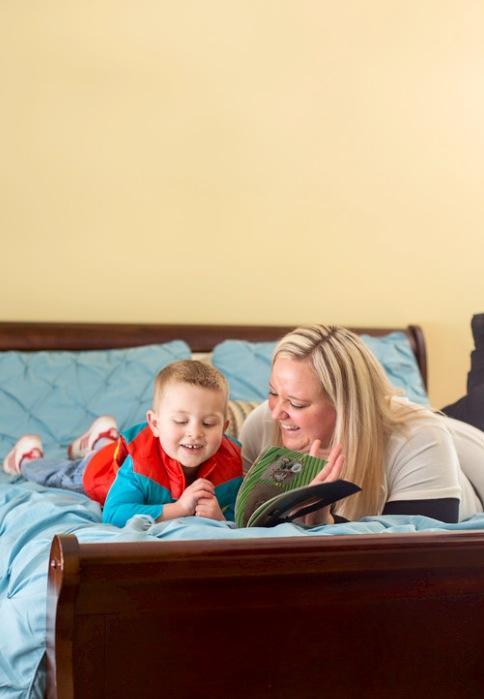 You see, I do drive my child to and from practices several times a week, but we call our practices "therapy." My child also has days where he gives it his all at practice, and he also has days where his head just doesn't seem to be in the game. And just like your child, when my child's name is called, he stands up and we both know it's game time.
My son's field may look different than the grassy knoll your child plays on, but it's really not that different at all. My child's "goals" may not be between posts dug into the ground, but I promise you he has them (he has many of them), and I promise you he tries his hardest to score. His boundaries may not be drawn onto the ground with white paint, but he knows they're there and he knows when he's reached them. And yes, he even has a sideline too, when he has caused a "penalty" or just needs a little time out to rest and recuperate.
I do get to cheer for my child, and you know what? He also has "fans" cheering for him too. Therapists, friends, other parents and even the receptionist give him an enthusiastic high five when he excels at something he's worked so hard in achieving. When he scores a "goal" everybody stands, everybody claps and everybody can feel the excitement fill the air. Every "goal" is like winning the World Cup. If even just for a minute, I know my child feels like the star player.
No, I don't get to sit on a set of bleachers or in fold-up chairs along a sideline, but I always get a front row seat. Just like you, I'm the first one there and the last one to leave.
My son also has a "coach," and even though the correct medical term may be "therapist," they have similar jobs. Just like you, I don't always agree with his methods. I get upset when I think he's pushing my child too hard. I get mad at him when I see my child getting upset and he refuses to let him quit. I may even raise my voice at him, walk towards him and point my finger in anger. But just like you, I know he's only trying to help.
And just like you soccer mom, I also know the agony of defeat.
I know what it's like to watch your child practice for hours on end, only to see little or no improvement in his skills. I feel the same way you do when you see your child drive the ball down the field towards the goal with nothing standing in his way and a wide open net for him to shoot at. I too hold my breath in anticipation, muscles frozen, and feel like the entire world is moving in slow motion as I watch my child get so close to scoring, only to have his shot miss or get deflected by an outside force.
I also know (all too well) what it feels like to hold my child as he cries, tell him "don't give up, you're doing an awesome job" and wipe away tears when frustration and anger consume us both.
I'm proud of my child every day just for trying. I'm proud of my child for pushing himself past his limits, but most of all, just like you, I'm proud to be called his mom.
So you see, soccer mom, we really aren't that different at all.
Our children may play on different fields and they may strive for a different set of goals, but that doesn't make them any less of a child. And it doesn't make me any less of a parent. 
It took me three years to realize that the world is filled with "soccer moms" all driving their children back and forth, cheering them on, wiping their tears and feeling the triumph of a win and the agony of a defeat.
Yes, I'm a soccer mom too. I just don't have the bumper sticker or the sweatshirt that says so.