The Time I Held My Daughter, Sang and Cried at a Disney World Breakfast Buffet
---
The story begins in Disney World at the all-you-can-eat breakfast buffet (DWAYCEBB). How we got there is another story involving the finest colleagues you could work with, but that's for another time.
It was a normal breakfast. I know the DWAYCEBB isn't normal, but the breakfast experience itself was normal for us. I was trying to eat, stop Caleb hitting people with Scar and avoid the Mickey waffles Ellie Mae was sharing. I wasn't managing any of it.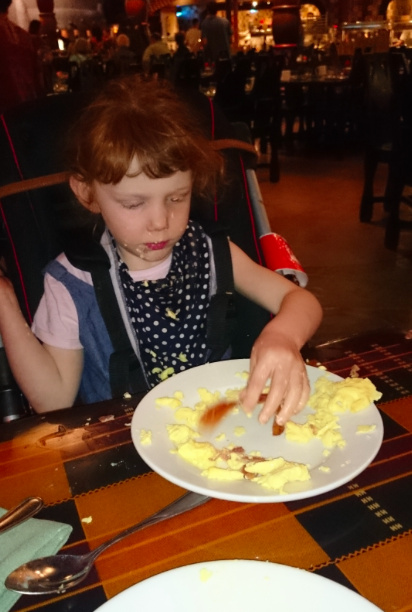 Ellie Mae was upset. That's not unusual, she's often uncomfortable and upset. She can't scream and shout, and I'm sure if she could, we'd never hear the end, but she was crying. It was enough to disturb those near us, not to impact the whole restaurant.
Lynsey comforted her but nothing was working and Caleb was restless. The biggest issue with Caleb's mealtimes is his consistency. He only eats sausages, he's consistent, unless he's decided only to eat stuffing. This week he is eating potato waffles; I have no idea why. So for breakfast he's having "tea" because waffles are "tea." I think that's all understandable.
He won't eat sausages with potato waffles, and he has to be watching "Planes" on his tablet and the TV or he wont eat either.
Unless he's watching "Ice Age" that day.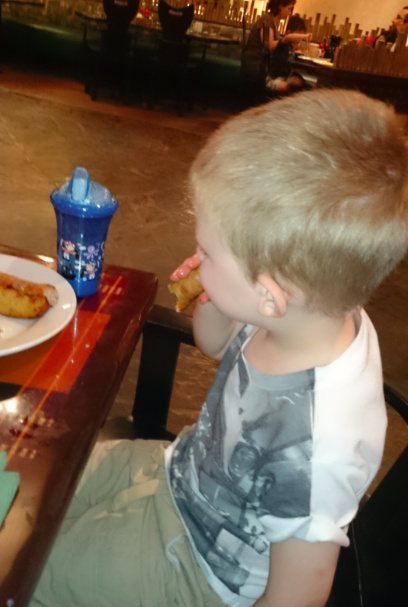 The point is when enjoying the DWAYCEBB, Caleb isn't the company you want. Once he's finished his sausage, the meal's over, and you'd better be ready to go.
Lynsey took Caleb to get changed for swimming and I comforted Ellie Mae. Caleb likes swimming, unless he's decided he doesn't.
I love singing with the kids. Our house isn't filled with traditional kid's songs. They've picked up a few at preschool but a bedtime sing-song is more likely to feature Bruce Springsteen or Taylor Swift.
I'm thrilled Caleb has developed my love of Springsteen. When I first introduced him, "Booce" became Caleb's word for music. I could sing anything if I said it was Booce, (unless it was "The Lion King"; Caleb knows everything from "The Lion King"). Over time he has developed some understanding and he now notices if I try to fool him with some Lyle Lovett.
Ellie Mae is not bothered, but she enjoys a sing-song and I love singing to her.
So we're in Disney World, she's upset, and I sang her a song:
"I came by your house the other day, your mother said you went away"
And then I realized that's what happened; she went away. She walked to school on her first day, but five weeks later we took her in a wheelchair. She could count with you to 20 but then couldn't get past three. Then she forgot our names.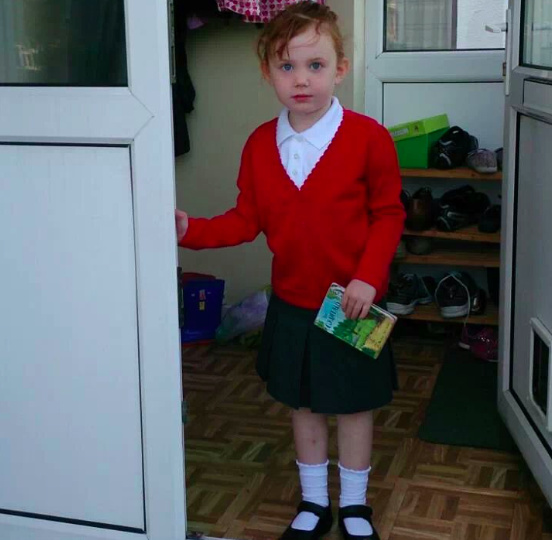 So I'm in the DWAYCEBB, Ellie Mae on my lap, singing a song and crying because she went away and there was nothing I could do. I doubt crying is common at the buffet. Maybe some regulars shed a tear at closing, but it's probably not a frequent thing.
But this morning, she recognized me. We sat on the sofa watching "My Friends Tigger & Pooh: Super Duper Super Sleuths," which is what we watch if we're up before Caleb. I put my nose to her nose and said, "Morning, gorgeous." She looked at me and put her hands on my head. That's a cuddle from Ellie Mae.  She's always been the most loving girl and she loves a cuddle.
She spat out, "Da!" and that's enough for me. Who wants a chatterbox for a child?
This post originally appeared on Cycle to the Circle.
The Mighty is asking the following: Can you describe the moment someone changed the way you think about a disability or disease? If you'd like to participate, please send a blog post to community@themighty.com. Please include a photo for the piece, a photo of yourself and 1-2 sentence bio.
Want to end the stigma around disability? Like us on Facebook.
And sign up for what we hope will be your favorite thing to read at night.