Instagram Adds Automatic and Customizable Alternative Text for Those With Visual Impairment
---
Instagram is making its highly visual platform more accessible for people who are blind or have visual impairments. The photo-sharing social media app is adding automatic alternative text to photos.
Alternative text allows app users to hear descriptions of the photos with their screen readers. Instagram said in a statement the feature will use object recognition software that can "read" what's in a photo to create the descriptions.
"These are just first steps toward creating a more accessible Instagram," the social media platform added.
If you would like to incorporate a more detailed description of your photos, you can customize the alternative text as well. Before sharing a photo, open the advanced settings, located on the page where you write the photo caption, and add the alt text.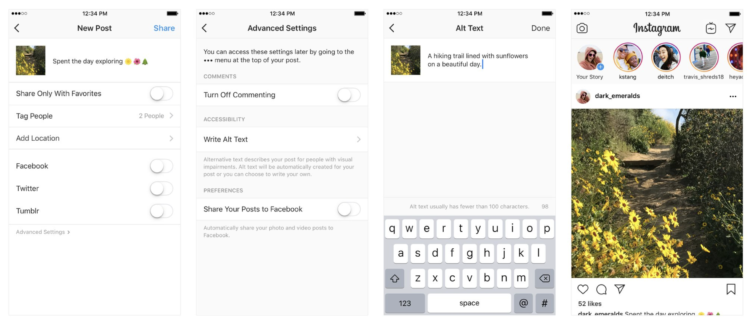 Alternative text will be available on all images under profiles, home feeds and the explore tabs of the app. Recently, some social media influencers and others have begun adding alternative text to their captions without the use of an automatic system.
Other influencers have started to make their content more accessible and inclusive to those with disabilities. Karamo Brown from "Queer Eye" started captioning his videos on Instagram for those who are deaf or hard of hearing.
"I've noticed that when it comes to supporting people living with disabilities, we often don't think how we can show up or support them unless they are in our family or are a close friend," Brown said about adding captions to his videos. "So I'm committing to making small changes in my life to support my disabled brothers and sisters."
While those who need alternative text for photos won't necessarily need captions for videos, there are ways to add them. If you have an iPhone and would like to turn on closed captioning for videos, you can go to "Subtitles and Captioning" under your accessibility settings. For Androids, go to your accessibility settings and turn on captions. If you're interested in adding captions to your videos check out Video Caption Maker on iOS or Apple's Clips.