Sometimes I forget who I am.
I don't mean that in some sort of grand, metaphorical sense. I mean I will sometimes forget what I care about or lose the thread of narrative in my life. I'll wonder if I'm still the same person I was yesterday. Sometimes it feels like I'm not really me, as though my mind has shimmered out of my body and hovers just a few inches over my head.
I have borderline personality disorder, and one of the traits is having an unstable self-image. That means you have a hard time telling what your core traits are. It's frustrating and confusing. I can never tell if I'm actually intelligent or just good at school (until people remind me over and over again). I have no idea if I'm a good friend or a good person, and I cannot for the life of me imagine how I might appear to other people. Not only is it disorienting and frustrating, it also means I'm constantly second-guessing my own abilities and traits. If my boyfriend doesn't remind me he loves me on a regular basis, sometimes I just forget. It can be incredibly annoying.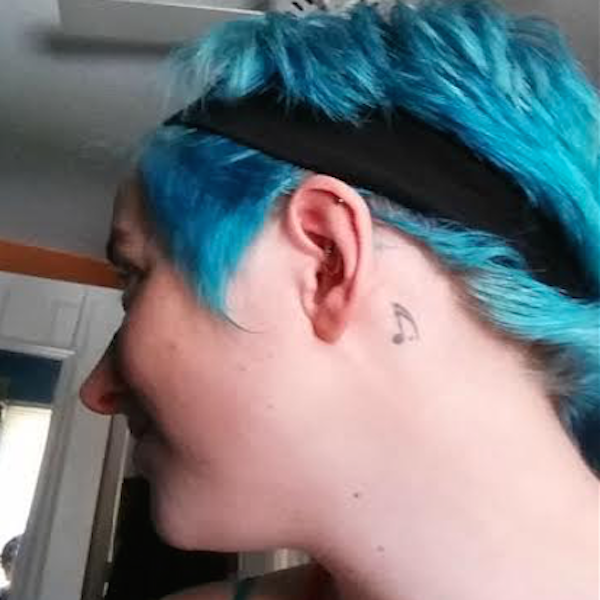 In the movie "Memento," the main character wakes up each day with no memory of his life. He doesn't know who he is or what he wants. In order to remind himself, he tattoos himself with all the important information in his life. It sounds like a silly plot device, but without realizing it, it's how I started to remind myself of who I am.
I got my first tattoo when I was 18. It's a tiny music note behind my ear. I was in a bad place when I got it, falling into my first bout of serious depression. Changing my body was my way of feeling in control. And it wasn't just a music note — I got a dotted sixteenth note. I played piano for 13 years and always loved syncopation the most. It's what made the music interesting and quirky. That's what I wanted to be. I always have. Now I don't play music, but I love the way I feel when someone asks me about the note. I remember I love being offbeat.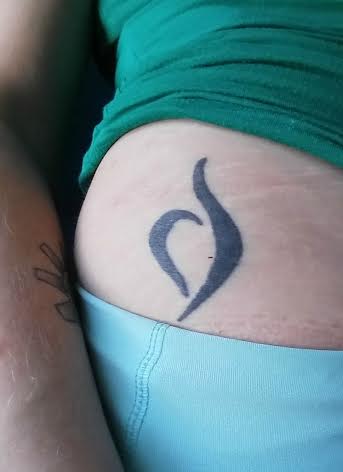 My second tattoo came after I had fallen deep into an eating disorder and started to come out the other side. It's the eating disorder recovery symbol, hidden on my hip where only I see it. During the early stages of treatment, I could barely hold on to simple facts about myself. It seemed as if minute to minute my priorities would change. One moment it would be so clear I needed to lose weight, and the next there would be a sudden realization I needed to be healthy. These facts flicked in and out of my mind so quickly I couldn't tell what was real and what wasn't. When the needles first bit into my skin, it was a certainty I couldn't go back from. I still regularly look at it or touch it when I'm in the midst of a fight with myself. It helps remind me even if today I want to starve myself, tomorrow and the next day and the next day I do want to be alive and healthy.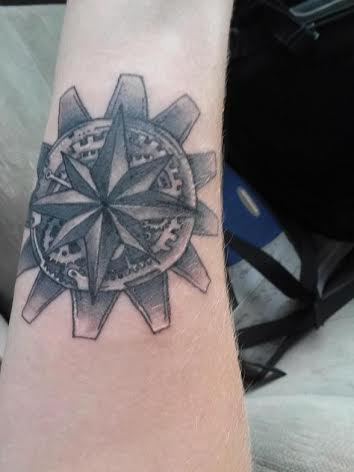 My third tattoo is all thanks to my therapist. You see I'm a perfectionist, someone who wants all the answers. But I also tend to forget every good thing I've ever done, which means many of my days are spent striving to "earn my keep" in some metaphorical sense. I always want to reach the destination, the answer, the "right" thing or version of myself. So instead my therapist made me imagine myself as an explorer, someone whose job it is to simply go look, try out new things, see what it's like but then come home. The image stuck with me. That's why I have a compass on my arm. I look down and think, "I'm going to explore this idea today," instead of "I'm going to figure this out today."
I don't know if I would forget all these things if I didn't have tattoos, but I do know having them permanently marked on my body makes them easier for me to internalize. It helps me remember who I am. It helps me build up an identity instead of ripping myself apart every day to try to build a different, better, somehow perfect version of myself. I feel as if I'm writing my own self every time I get a new one. It's physical, forever and real in a way my internal monologue will never be. My tattoos are part of my treatment and part of my recovery. It might seem unconventional, but many methods of self-care are, and this one works for me.
Follow this journey on We Got So Far to Go.