Please Don't Call Me 'Differently Abled'
---
Just another day, just another picture in my newsfeed. I sigh and avoid hitting the "share" button, as usual. I'm tempted to keep scrolling, but there's something stopping me.
I am differently abled.
Those words don't sit quite well with me, so I've decided to write these words instead.
Don't get me wrong, I respect your right to identify yourself as you please. Use whatever works, whatever gets you through the day. I just don't see myself as differently abled. I see myself as disabled, and that's OK. Here's why.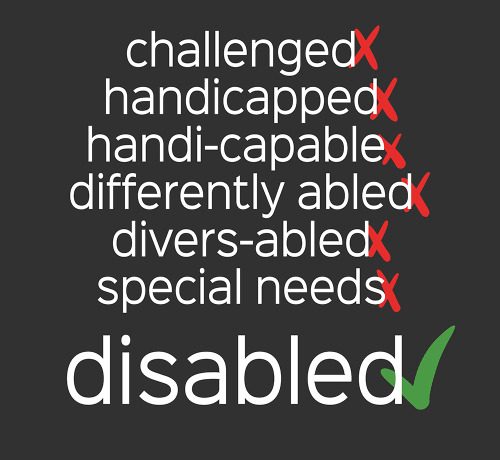 I am not a superhero.
I think all this focus on ability can warp expectations. Perfectly able people can be perfectly average, but we're not usually extended the same courtesy. Society has told us that below-average physical prowess should be accompanied by above-average intellectual genius. We're raised to overcompensate. We're told to shine a light on our strengths in the hope of leaving the weaknesses unseen. I tried, but all throughout my childhood my disability was ever-present, alongside mounting pressure and increasing anxiety. Why? Because I was human.
I am still focusing on my abilities.
It's my disability that makes me different, not my abilities. My abilities match up with those of my peers. As for things that I do well, I don't do them well for somebody with a disability. I do them well by any standard. I think you can defeat the purpose of focusing on ability by bringing disability into the equation again. I acquired my strengths the same way as everyone else, and I'm proud of that. The only thing different about my abilities is that they're more pronounced. And they're more obvious not because I have a disability, but because I have a talent.
I don't want you to worry.

I hate to think of my friends wondering what to say. I don't like the idea of people thinking they're going to upset me by being honest. I am disabled, I live with a disability, I have a disability. That is all true. Do you want to know what else is true? My best friend isn't the guy who calls me differently abled. He's the guy who calls cerebral palsy "cereal pansy" and encourages me to mow down pedestrians on my mobility scooter.

I am not giving up.
A huge part of this journey involves acknowledgment. I've figured out that hiding your flaws does not make you flawless. Asking for help does not make you helpless. Realizing you can't get up stairs doesn't mean you need to sit on the bottom step feeling sorry for yourself. It means you need to find an elevator.
I have bigger fish to fry.
During my lifetime, I've heard almost every name under the sun, so I've managed to develop a fairly thick skin. As such, being called disabled is downright pleasant. As someone with quite a high IQ, it's certainly more desirable than being called "retarded" by some stranger in the street. As someone who underwent major spinal surgery to eliminate the tightness in my legs, it's certainly better than being called "spastic" by some guy who doesn't know my medical history.

I see myself as I am, nothing more, nothing less.
The Mighty is asking the following: What's an opinion within the community surrounding your disability and/or disease (or a loved one's) that doesn't resonate with you? If you'd like to participate, please send a blog post to community@themighty.com. Please include a photo for the piece, a photo of yourself and 1-2 sentence bio. Check out our Submit a Story page for more about our submission guidelines.