What I Wish For Most This Christmas as Someone With Severe Myalgic Encephalomyelitis
---
I still remember the excitement of making a Christmas wish list as a child. I would scour my magazines for the latest toys and painstakingly handwrite a letter to Santa with my chosen cut-outs pasted next to my list. Some days later, I would receive a postcard from Santa himself, assuring me I would have the best Christmas I could ever hope for!
Making a wish list as an adult with a chronic illness is slightly different to my childhood memories. Living with severe myalgic encephalomyelitis (ME) means my list is less toy-heavy and more focused on the experiences that would improve my life. Here's my wish list for this Christmas, as someone with severe ME:
1. A drawer full of spoons
For the chronically ill person or "spoonie," spoons represent the amount of energy you have allocated for one day. A particularly bad day might be low on spoons, or if you have spoons in abundance, you can achieve more than you hoped for. A commonly expressed wish in the chronic illness community is for a drawer full of spoons, and that is what I would like to bestow this Christmas on myself and all spoonies.
2. Love and support
Christmas is a time to celebrate with loved ones, but it can be a hard reminder for those lacking support systems. Many spoonies find that friends and family drop out of their lives, unable or unwilling to deal with the reality of living with a chronic illness. Although people have left my life since falling ill, I am lucky enough to now be surrounded by those who love and care for me. I wish the same for every person with a chronic illness this year. Everyone deserves love and respect, especially those with a chronic illness.
3. A helpful GP
General practitioners and other medical professionals act as the gatekeepers to treatment for the chronically ill. At best, they can open the doors to appropriate medical intervention and a better life, but when they are unwilling to help, they can have a devastating impact on the lives of their patients. Having an unusual illness, there are not many medical professionals who can shed light on my situation, and the thought of actual treatment is a far-off dream. I hope and pray one day that ME will have more respect in the medical community and that doctors everywhere will better understand the needs of their patients.
4. Mobility aids aplenty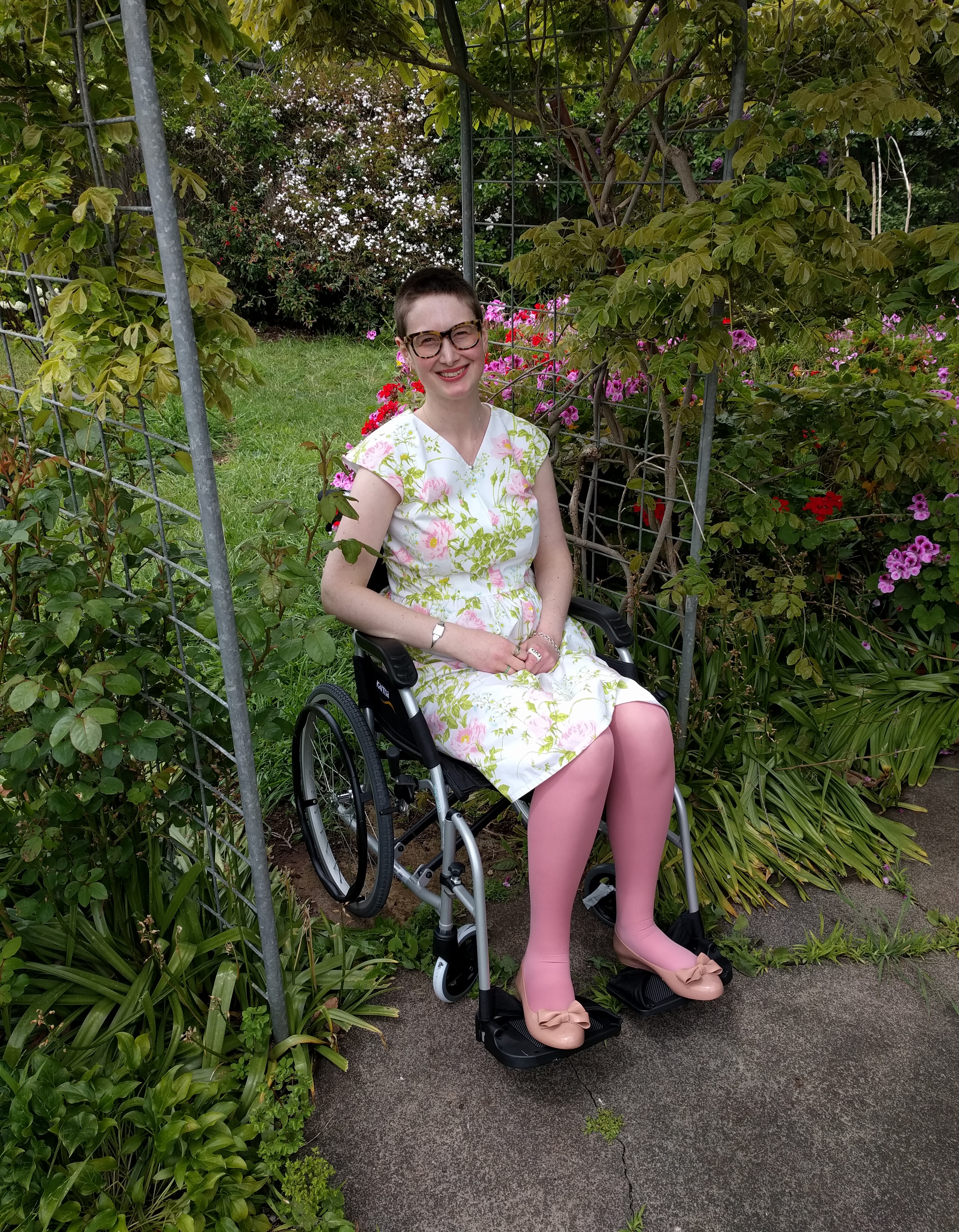 Above: the author in her wheelchair
Shower chair? Check. Wheelchair? You betcha. Folding chair? Next on my list. Mobility aids can tangibly improve the lives of the disabled and chronically ill. I know I would not be able to shower myself without my handy shower chair or visit large stores without my wheelchair. There are so many fantastic aids out there, which are increasingly adopting fashionable designs so we spoonies can look good as well as do more. My only problem is choosing just one for my list!
5. A supportive community
No man is an island, or so John Donne wrote. It is human nature to rely on each other, even more so when you have a chronic illness. But unfortunately it so often seems that the community at large – our lawmakers, community organizations and government employees – do not work to support those most at need and instead actively work against them. I have been attacked over the phone by a council worker who tried her utmost to deny me the home help I so desperately required. Workers at disability organizations, who should be offering me help instead tell me I am not "disabled" enough to access their services. The chronically ill will never thrive in a society which denies them the help they need to get by. I believe all of the goals on my wish list could be achieved if disability support had pride of place in public policy.
I wish all the spoonies out there a very merry Christmas and that you receive all you have on your wish list and more.
We want to hear your story. Become a Mighty contributor here.
Thinkstock image up top by Gokcemim