ME/CFS Patients and Allies Are Rallying Worldwide to Demand Better Treatment
---
The "millions missing" from life due to myalgic encephalomyelitis/chronic fatigue syndrome (ME/CFS) are coming together worldwide to fight for their future, and you can help.
To recognize ME/CFS Awareness Day, people with ME/CFS and their allies will hold public demonstrations and participate in a social media campaign on May 12 to raise awareness of the seriousness of the condition and call on government health officials to finally begin dedicating real strategy and funds to research and treatment.
The event, a global campaign of advocacy organization #MEAction, is called #MillionsMissing. The hashtag represents the estimated 15 to 30 million people around the world who have ME/CFS and are prevented from living full lives due to symptoms like extreme mental and physical fatigue, post-exertional malaise, pain, immune dysfunction and sensory sensitivity. The disease has no FDA-approved treatments or cure.
Now in its third year, #MillionsMissing is a collaboration between #MEAction and Stacy Hodges, a patient from North Carolina who came to the organization with the idea to do a protest in Washington, D.C. In 2016, protests were held in 24 cities. This year, there are more than 95 public events planned around the world, including the U.S., U.K., Australia, New Zealand, Mexico, Canada, Japan and more. (Click here to find a demonstration near you.)
Ben HsuBorger, a community organizer with #MEAction, told The Mighty the grassroots nature of #MillionsMissing means each public event will be a little different. However, event organizers are encouraged to use the #MillionsMissing logo and T-shirts as well as the shoe imagery and display the event has become known for. Pairs of shoes are placed on the ground to symbolize the person with ME/CFS who isn't able to participate in his or her life due to the disease. (If you aren't able to attend an event in person, click here for a list of demonstrations that are accepting shoes, or tags for shoes, via mail.)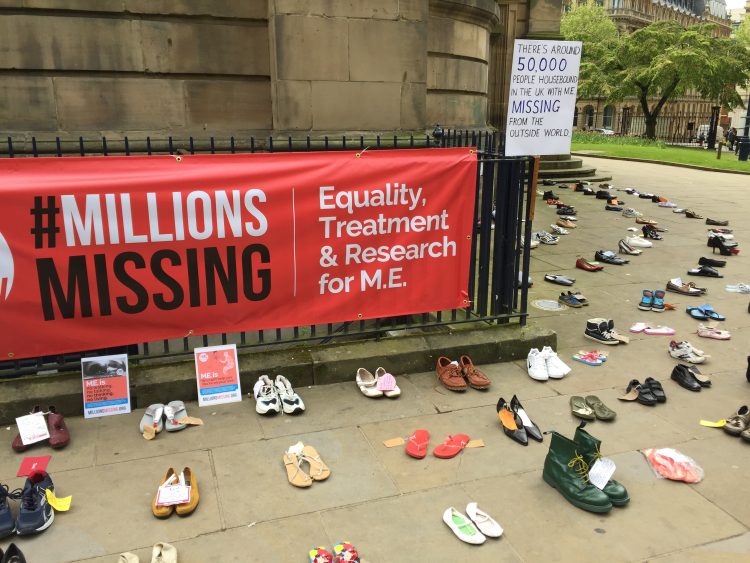 HsuBorger said in past years, the event's messaging would include a list of demands for comprehensive change in a variety of health and government agencies. This year, the group is focusing its advocacy efforts on specific agencies. In the U.S., demonstrators are calling on the National Institutes of Health (NIH), specifically NIH Director Francis Collins, to commit significant funding towards a diagnostic test, clinical trials and FDA-approved treatment.
In the U.K., demonstrators are targeting Jeremy Hunt, secretary of state for health and social care, to invest in biomedical research for ME and have the government stop recommending graded exercise therapy (which has been proven to be ineffective and even harmful) as a treatment. In Australia, demonstrators are asking the Royal Australian College of General Practitioners to stop recommending graded exercise therapy and add ME/CFS to the National Disability Insurance Scheme.
"We want to see the government with a comprehensive strategic timeline. So far we've seen incremental changes here and there but they don't add up into a larger picture," HsuBorger said. "We're trying to be much more specific and targeted in our action and to call out particular officials."
As anyone with ME/CFS knows, the condition often prevents people from leaving home and attending events like the #MillionsMissing demonstrations. People are encouraged to participate virtually — particularly on social media, by sharing their photos and stories using the #MillionsMissing and #CanYouSeeMENow hashtags.
People with chronic illnesses besides ME/CFS, like fibromyalgia, Lyme disease, Ehlers-Danlos syndrome and more are also encouraged to support #MillionsMissing, since research into ME/CFS could help lead to discoveries and connections between other diseases since many share common symptoms and characteristics. Jennifer Brea, director of the ME/CFS documentary "Unrest," told The Mighty people with other illnesses are also invited to show up simply to support those with ME/CFS — and the ME/CFS community will support them in return.
"We – as people with disabilities and chronic illnesses – should be allies to one another, facing so much of the same stigma, barriers and history of indifference," Brea said. "We will be so much stronger if we are together."
In addition to political action, the campaign seeks to rebrand the disease. People with ME/CFS often note that the more common term for the condition, chronic fatigue syndrome, leads to confusion and skepticism of how serious the disease really is. HsuBorger said the #MillionsMissing theme gives people a narrative to plug into and a way to share what the experience has really meant for them.
"In past years, someone called me up from Massachusetts and didn't know how to do social media, so they emailed a picture of their shoes on their front porch and asked me to post it on Twitter for them. That speaks to the depths of people feeling invisible and isolated and how encouraged they feel to be part of something larger," HsuBorger said. "The #MillionsMissing is so people don't have to say, 'I have this disease no one really understands, that's misunderstood and underfunded.' They can say, 'I'm one of the millions missing.'"
To participate in #MillionsMissing, whether by creating or attending a public or private event, participating virtually or volunteering, visit the #MillionsMissing website and register your action. #MEAction will use your registration to track how many people are participating across the world and can help connect you with others in your area. The website also includes resources like posters, fact sheets, petitions and an online store.
For more information about #MEAction and ways to advocate for ME/CFS year-round, visit the #MEAction website.
Photos courtesy of #MEAction