12 Disabled Artisans Whose Creations Make Perfect Gifts
---
A year has passed since I wrote my last Mighty Gift Guide and in that time, I've spoken to numerous makers and small business owners about the weirdness that has been 2021. At the start of the COVID-19 pandemic when many countries went into lockdown, there seemed to be an increased appreciation for shopping small and local, but as we moved out of lockdowns and physical shops started to reopen, that support has most definitely wavered.
As a chronically ill small business owner, I know, first-hand, how crucial the success of my business is to me. Sure, many small business owners can say that, but for so many of us living with a disability or illness (whether that be physical or mental) our businesses came about because we were unable to find a job in the more "traditional" way.
Physical health limitations aside, I've spent the past 10 years unable to leave the house alone due to complex post-traumatic stress disorder (C-PTSD) and obsessive-compulsive disorder (OCD) and, as such, my partner (who also acts as my carer) accompanies me everywhere I go. (Imagine trying to find a job alongside your carer.) Factor in my regular flare-ups with endometriosis and fibromyalgia, it was quite honestly an impossible task trying to find an employer who would cater to my needs, which is why I decided the only way I'd be able to find a job was if I created one for myself.
Without my small business, I'd be back to where I was just a few years ago: trying to survive on minimal government benefits and in a constant battle with those who provide those benefits because they weren't willing to understand the apparent complexities of my needs.
My story isn't unique. Most chronically ill small business owners I know share a very similar story — one of passion, yes, but also of absolute necessity. These small businesses are a way of surviving a society that doesn't accommodate disabled and neurodivergent folk. They are how we pay our medical bills, education, food, and rent.
So with all that in mind, let me introduce you to 12 chronically ill/neurodivergent small business owners who are working their arses off trying to provide for themselves and their families, and grow a business, while also managing their conditions.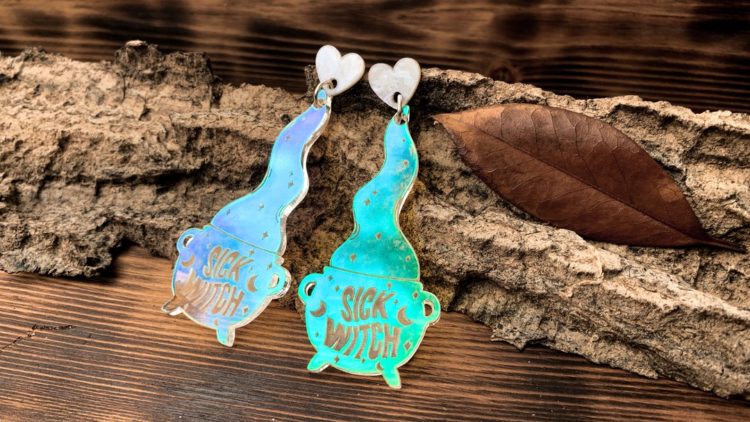 Confession: In the process of writing this article, I may have got sidetracked by these BREW-tiful earrings and snuck away to purchase a pair for myself. Who can blame me though?! These shiny, iridescent Sick Witch Cauldron Earrings are the ultimate magical gift for your chronic coven.
Owner and creator of Killrbangz, Marie (she/her), is a disabled maker of acrylic jewelry. Her business journey began after she was forced to leave multiple jobs in the motorbike industry and domestic violence services due to declining health after a motorbike accident.
Marie, who lives with Ehlers-Danlos syndrome (EDS), told me that using her illustrative skills felt like an accessible way to start her own business. Her designs cover a range of themes, from vintage style to B-movies, western and biker style to gothic architecture and desert landscapes. With a love for the "bad girl" movie icon, Marie's goal is to inspire confidence with her designs and empower the wearer.
Being able to work from home (especially during the winter months) is crucial as Marie lives with nerve damage along her left side, which impairs her mobility and causes extreme sensitivity to temperature. Working from home allows Marie to make jewelry with her comforts and aids around her.
Marie also lives with postural orthostatic tachycardia syndrome (POTS), mast cell activation syndrome, asthma and (likely) CRPS. She's an all-around badass chronically ill babe who fights for inclusivity for the disability community.
Keep up with Marie over on her Instagram.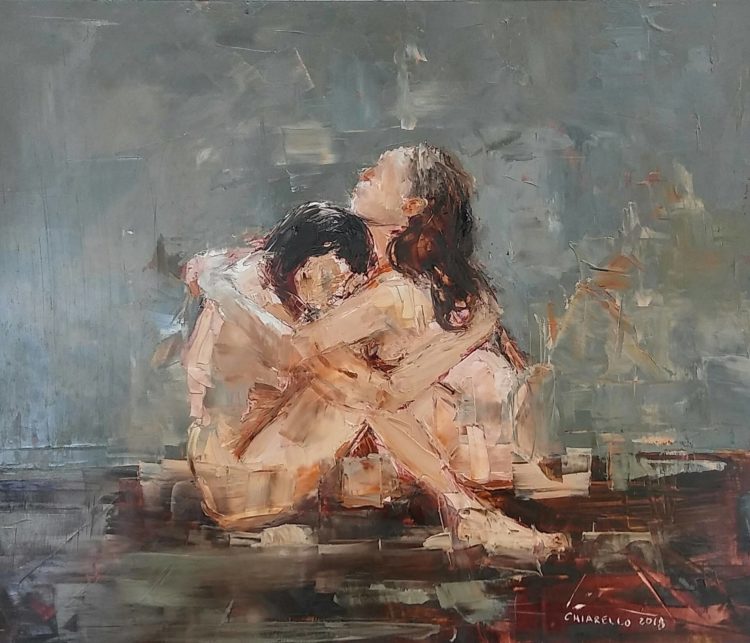 I was absolutely mesmerized by Nameless Art's paintings and honestly struggled to choose which to feature. Ultimately, the raw emotion and tenderness of "Hold" gripped me from the moment I saw it and I felt it would have a profound place on The Mighty as so many in this community live with depression and, I think, can relate to the darkness (but also hope) within the brushstrokes of this painting. Personally speaking, I joined The Mighty because I craved connection with others who understood my darkness — I think "Hold" tells a similar story.
The artist, Jamie (she/her), who lives with borderline personality disorder (BPD) told me of her 20-year struggle with the American mental health system (many of those years being due to a misdiagnosis of bipolar disorder — an unfortunately all-too-common occurrence). Jamie has sold her work on the streets of New Orleans for the past 18 years now and wishes severe mental disorders, like BPD, were more openly acknowledged. While checking out Jamie's work, I also came across her blog where she writes candidly on themes of depression, capitalism, and more.
Follow Jamie's work on Instagram.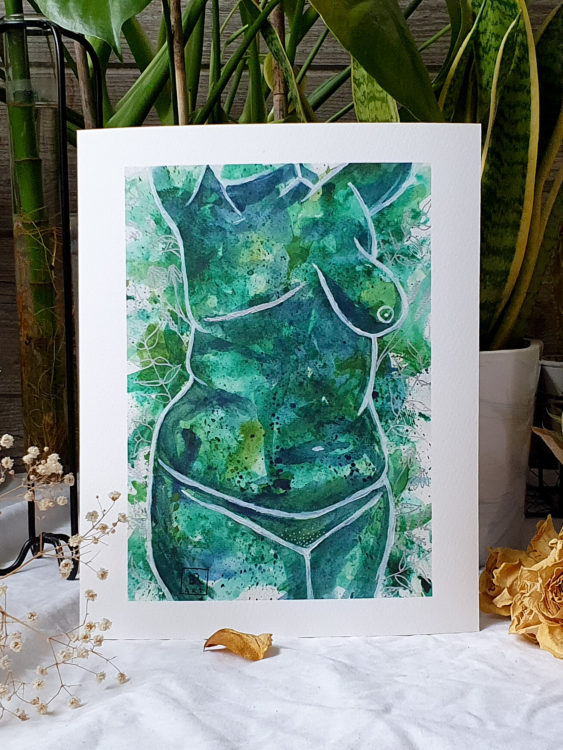 I was most definitely spoiled for choice when it came to choosing what to include from Rayn's (they/them) store. Not only do they sell original work, but they offer rich reproductions on heavyweight fine art paper for those who can't afford the originals. Rayn also sells their work as postcards and stickers, which I thought would make really beautiful stocking fillers for friends and family.
When I asked Rayn what "Conquer" meant to them, they told me that they painted it to sit alongside their Beautiful Bodies collection — a collection that explores beauty in bodies of all shapes, sizes, and abilities along with what those bodies have experienced.
"Conquer captures a body with a scar from a partial mastectomy highlighted in silver ink to draw attention to something that is often an insecurity for people who have experienced it. I wanted to show it as a beautiful thing instead of something to be ashamed of."
Rayn is an autistic artist who also has a tic disorder. They create body-positive artwork for all bodies, paint portraits, and custom pet portraits.
Follow their work on Instagram.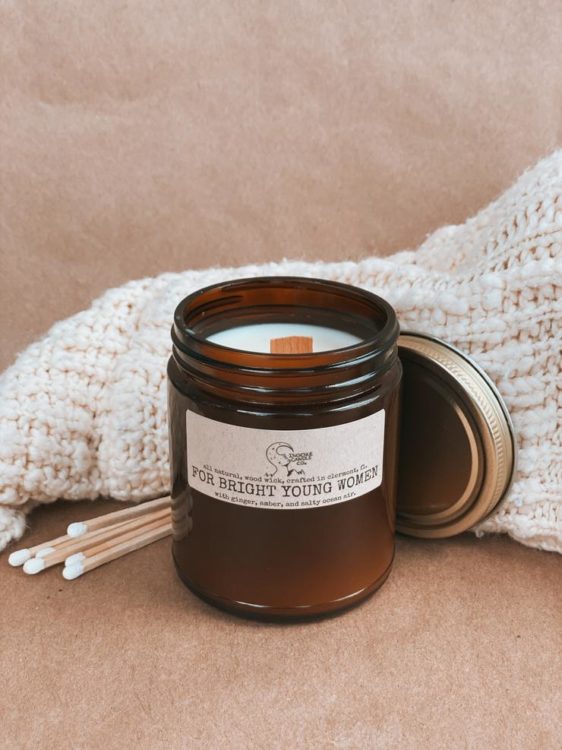 Inspired by Disney's The Little Mermaid, this 9-ounce, 100% soy wax wooden wick candle would make a sweet gift "For Bright, Young Women."

Maker and business owner Jayden (she/her) creates candles and fragrances inspired by fictional characters or historical figures, primarily from Disney and Star Wars. Jayden created her business earlier this year as a way of financially supporting herself while taking a leave of absence from work to refocus on her mental health after being diagnosed with bipolar disorder, obsessive-compulsive personality disorder (OCPD), and post-traumatic stress disorder (PTSD).
Check out Jayden's Instagram page to keep up with her latest fragrances and candles.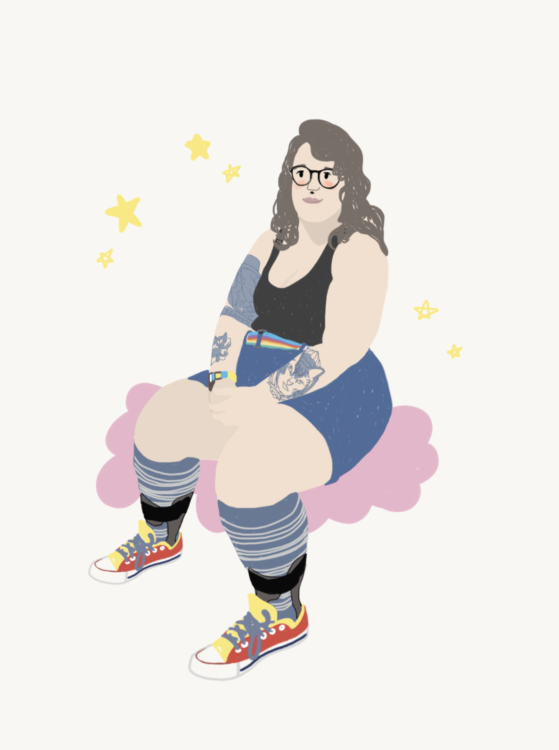 Why not treat your loved ones to a personalized digital illustration this holiday season? Ray (they/he) of Brain Fog Designs creates colorful custom portraits of people and pets. Their work has a fun, modern vibe, and they kindly offer a sliding scale (at the time of writing this article) for those facing financial hardship.
Ray is an autistic, queer wheelchair user, living with attention-deficit/hyperactivity disorder (ADHD) and undiagnosed chronic pain. They started their business this year as they are unable to work, and told me that digital art is something they can do from their bed.
Ray's portraits make a perfect gift any time of the year, especially in the rush of the holidays when the post is delayed due to stress on postal services since they offer printed or digital versions of your commissioned portrait.
Follow Ray's work and keep up with when commissions open on Instagram.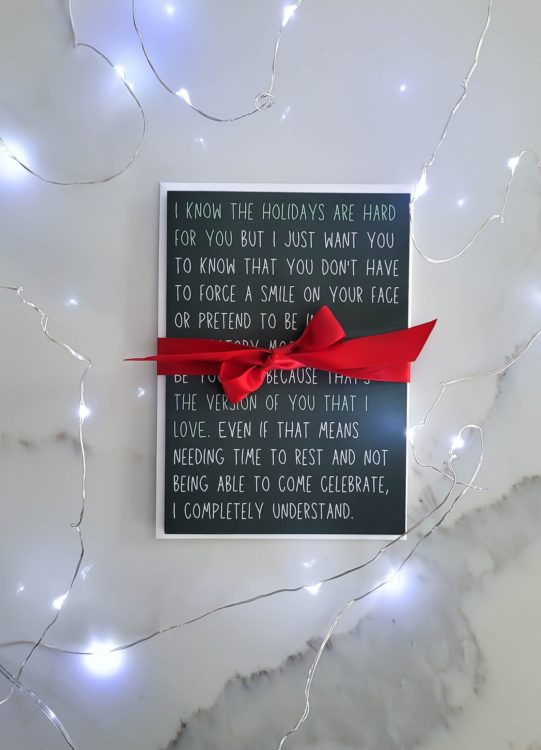 This Understanding Chronic Illness card is honestly my ultimate greeting card! If, like me, you find the holidays difficult (whether that is due to depression, trauma, or chronic illness), receiving a card like this offers both understanding and validation of our pain. The holidays can be immensely difficult and just knowing your friend "gets it" and doesn't have any expectations of you can make a world of difference.
If you're reading this and you have a chronically ill friend or relative, trust me: get them this card!
Sara (she/her) who lives with fibromyalgia, depression, and anxiety, started her blog, Fabulous and Fatigued, two and a half years ago in order to help raise awareness on how life-limiting chronic illnesses can be.
When I asked Sara why she started her business, she said: "Over the years, I have had the realization that there aren't any greeting cards that speak to the chronic illness experience — not everyone can 'get well soon' and a 'fuck cancer' card doesn't speak to the millions of people with other chronic conditions. In addition, most people struggle to find the right words when talking to a loved one about their illness. Even if they have the best intentions in mind, their words can be hurtful instead of being supportive."
I absolutely love Sara's mission and I am so thankful to discover a maker who creates honest, meaningful cards that can be shared with disabled and chronically ill loved ones.
Check out Sara's Instagram for chronic illness talk and to follow her creative journey.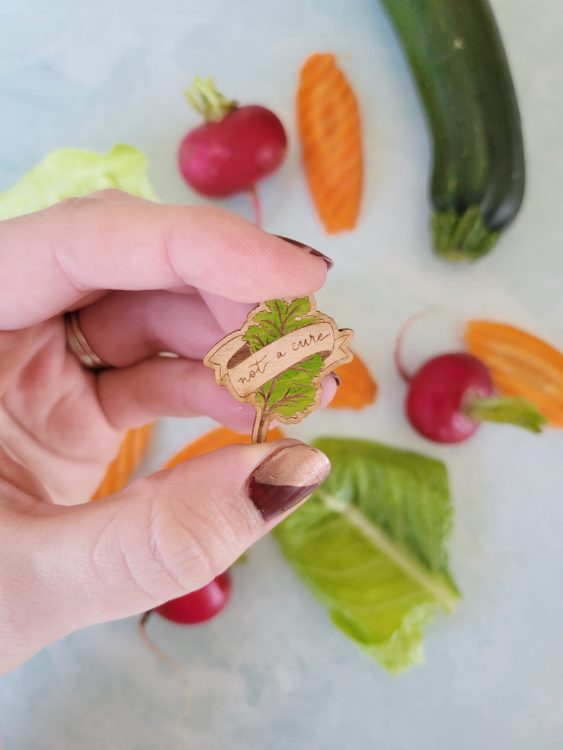 I can't count the number of times I've been told or read that X diet can cure my chronic illnesses. And sure, yoga has its benefits — last year's lockdown boredom saw me buy the thickest yoga mat I could find because an exercise supposed to reduce pain should not create more pain — but it is not a cure. And after several failed attempts of trying to like kale, I found a way to sneak it into my diet, but hey… I'm still chronically ill!
This "Not A Cure" kale pin from Unstrung Studios is the sassy but truthful gift your chronically ill friends will appreciate this year.
Megan (she/her) from Unstrung Studios is a disabled artist who specializes in illustrating illnesses using botany and anatomy. Her business started as a way to cope with her diagnosis of POTS, chronic migraine, EDS, and other undiagnosed autoimmune issues. Her work is primarily woodburned, but after experiencing some neurological issues, she has been exploring pen, ink, and color pencil, too.
Keep up to date with her work and journey via her Instagram.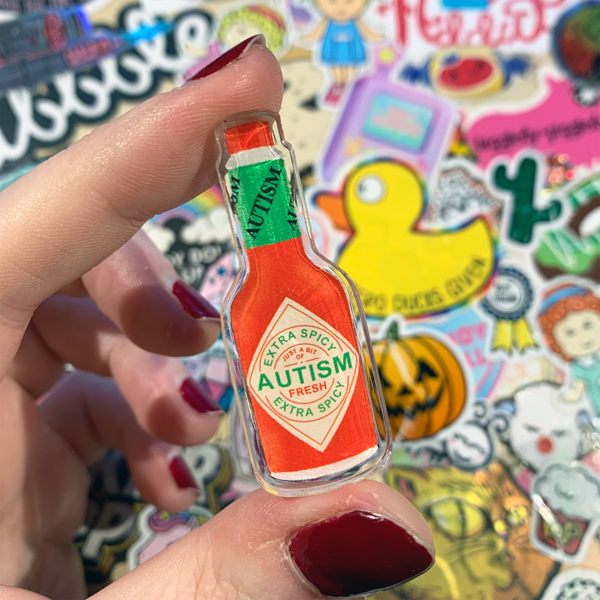 Inspired by the recent rise of "Spicy Autism" memes, this genius pin is the lighthearted gift your autistic friends need this holiday season.
Jade (she/her), who lives with autism herself, works as a full-time artist and designer, while also running her own online brand Candy Doll Club, selling pins, accessories, and more, which feature her own designs. She talks openly and regularly on social media about her experiences with autism, ADHD, depression, anxiety, and self-harm.
Follow Jade's Instagram for more of her journey and creations.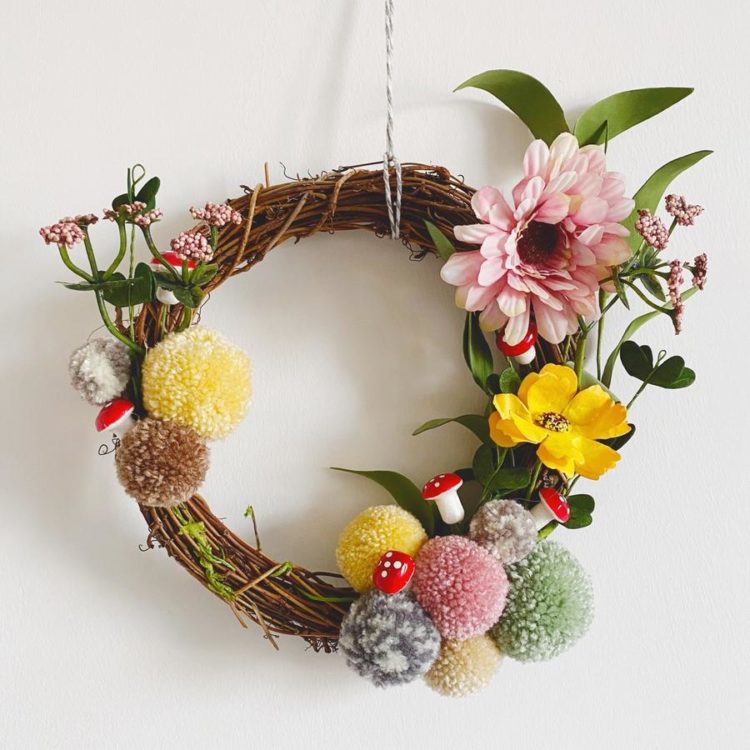 Color lovers and fans of the whimsical will be spoiled for choice with The PomPomporium's selection of joyful homewares and accessories.
This Fairytale Pom Pom Mini Wreath would make a beautiful statement door piece or wall hanging. It features Linzi's signature poms, while also adding a magical twist in the way of bright faux flowers, greenery, and mini toadstools.
Linzi (she/her), who lives with functional neurological disease, fibromyalgia, Addison's disease, and asthma, told me how her life changed dramatically when she was made to medically retire from her beloved job as a full-time English teacher. She described the heartbreak she felt going from teacher to being unable to leave her bed, as teaching was a huge part of her identity. As a form of mindfulness, Linzi began crafting and fell in love with the joy of pom poms, which gave her hand tremors a welcome respite, while also keeping her mind busy.
Much like myself, Linzi told me that her health is so unpredictable that being employed simply isn't feasible and that working for herself allows her to work to her "own wobbly schedule."
Follow her journey and enjoy a behind-the-scenes look at her colorful creations on her Instagram.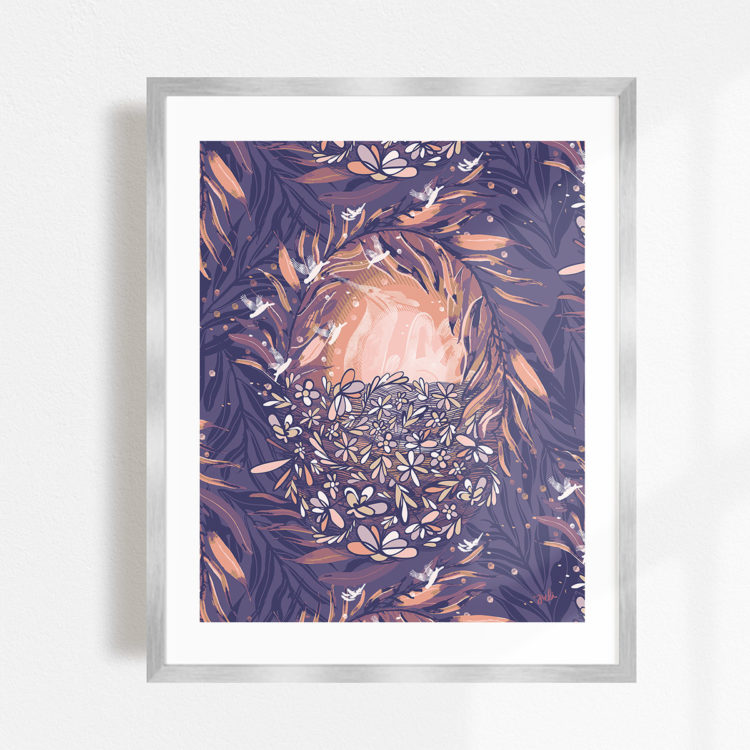 I am in awe of Juliana's work and, as such, struggled to choose which of her artwork or accessories to feature in this gift guide. Ultimately, I went with "Wondrous Heart" as the delicate calmness of the print speaks to me and echos my own healing journey through trauma.
The colors are beautifully whimsical and evoke a sense of hope, and while there is a gentle fragility to the image, it also conveys strength and power — perhaps offering the viewer a mirror in or portal through which to view their resilience. That's my interpretation, anyway.
Juliana (she/her) is an artist and surface designer from Bogotá, Colombia, now living in Houston, Texas. She lives with cerebellar ataxia and has been working as an artist for eight years now. She told me that, with her art, she seeks to create a connection to what matters most in our lives.
"Through the last five years in recovery from a neurological event that changed me and my motor abilities forever, I've continued pursuing my art business as a way to celebrate life and overcome hardship. I thrive to bring hope and courage so we can dream, grow, and connect with our strength and imagination and to honor our worthiness beyond our ability."
Follow Juliana on Instagram, where she talks openly about her healing journey through creativity.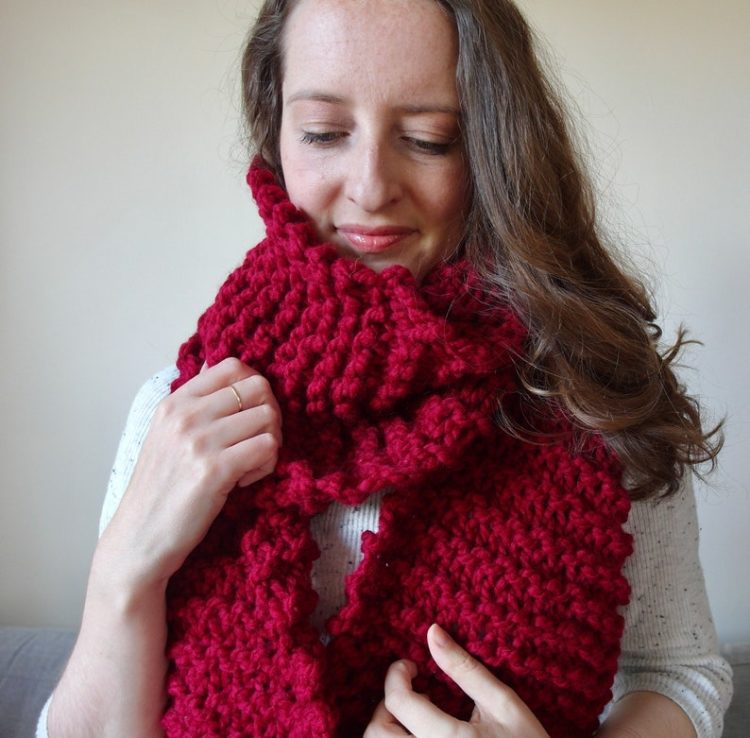 This soft and cozy knitted Wool Blend Scarf by Purl Knitting would make such a wonderful winter gift for all, but I think it will be especially appreciated by fellow spoonies, many of whom struggle to adapt to these colder seasons. Also, just how beautiful and rich is that red?!
Owner and knitter of Purl Knitting, Larissa (she/her), told me that she began knitting in kindergarten and picked it back up again when she became chronically ill in her 20s. She lives with multiple chronic illnesses, including ME, migraine, POTS, and mental illness, including PMDD.
Larissa said of her knitting, "I love to knit as it gives me meaning and purpose in my life and is something that's is accessible to me. I also love knitting things for other people which is why I started my shop, and also to have some extra income for medical expenses!"
Check out Larissa's Instagram for chronic illness talk and to follow her creative journey.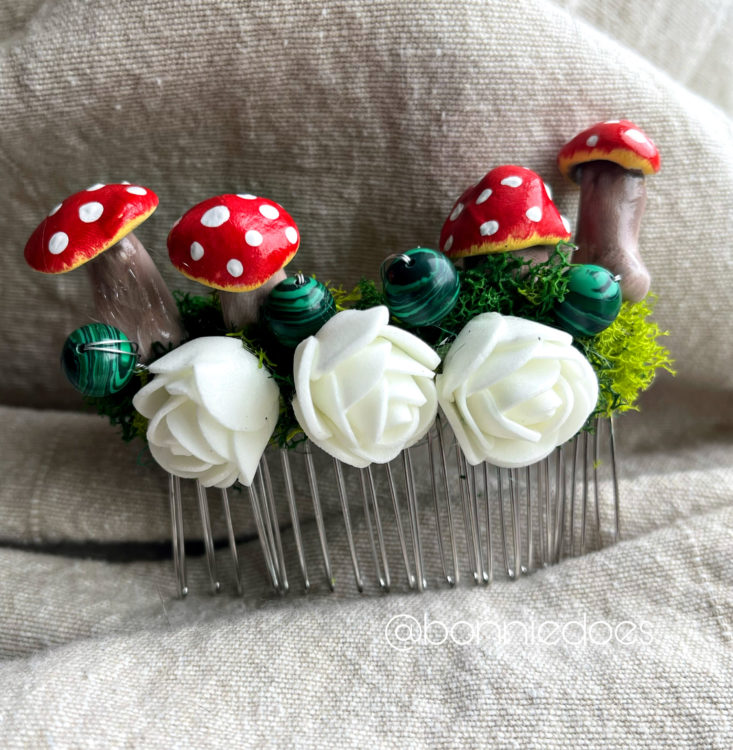 This fairytale Mushroom and Malachite Hair Comb would make such a magical gift for nature and crystal lovers, alike.
The creator, Bonnie (she/her), is a disabled artist and disability advocate who lives with multiple disabilities and chronic illnesses, affecting everything from her cognition to her mobility.
Like many of the artists I've spoken to, Bonnie told me that her art is not just a passion, but a lifeline: "Living with chronic illness and multiple disabilities means I am often unable to get out much, or sometimes even move much. Being able to create with my hands has been such a port in the storm for me. Even laying in bed I can daydream about what I want to create next; my mind is always conjuring up new projects. Even as I was recovering from my most recent brain surgery I was in the hospital bed, planning my next project."
Bonnie also told me that her work helps fund her medical care and schooling.
For more from Bonnie, including new projects and advocacy, check out her Instagram.
So, there you have it: 12 chronically ill, disabled, and/or neurodivergent business owners to shop with this holiday season. And if that's not enough, why not check out my gift guide from last year, too?
Should you want to, you can also find my own work via my Etsy store and follow my Instagram for acrylic jewelry and more chronic illness-related content, along with my musings on life with mental illness.
Are you a small business owner with a chronic illness, mental illness, or disability? Why not share your shop details with us below!