When I Decided to Love the Scars From My Crohn's Disease
---
Your body is a temple. It is yours to adorn, worship and protect.
And lately, my temple feels like a rundown shanty. During my journey, I've racked up my share of scars, poke marks, bruises, iron stains, stretch marks, moon faces, and bald spots. I've dropped pounds like bad boyfriends and regained them faster than I can blink. My body has had a traumatic five years with no end in sight. Crohn's disease has been a nasty case of termites that my temple just can't shake. It's demolished the drywall and ruined the plumbing, no pun intended. With each ding, my team of doctors and I team up to do our own styles of repair and renovation. Each "renovation" has almost always been met with a new problem. I finally have that hourglass figure, and Crohn's gives me a permanent ileostomy bag with a swollen right side. I receive a compliment on my porcelain skin, and my iron infusion infiltrates and leaves a nasty stain forever inked on my forearm. My surgeon completes my colectomy with tiny lacroscopic sites, and the pain medication makes me so violently ill, I tear my sites and end up with big, red scars.
For years, my body has been under siege by the fiery tyrant known as a faulty immune system. My life has been out of my control and at the mercy of whatever treatment we're hoping will work. Tests and medications, while temporary, can sometimes add to the list of scars that I love to make up crazy stories for. There are days nurses can place an IV within seconds without leaving a mark, but more often than not, I can guarantee I'll be poked and bruised handfuls of times before they wheel in the ultrasound machine. This has been especially true the past few weeks. My arm has been a lovely shade of bluish purple, courtesy of far too many blown IVs or rolling veins. And thanks to that faulty immune system and slow healing process, they've hung around for quite some time. On top of my battered arm, mystery bruises have taken up residence all over my legs. I look like I've survived a few rounds against Randy Couture!
These uncontrollable scars remind me that my vanity is alive and kicking. I take the extra effort to do my hair and hide my dark circles, even if it means I'll need to push back the outing and take a nap. I berate each selfie before ultimately deleting it and trying a new pose, angle, or giving up altogether. I do my own version of Jazzercise in the dressing room to make sure the potential outfit covers my bag. Looking "normal" is a painstaking process that requires much more thought than usual. It takes a lot of camouflage to mask the reminders of my battles.
Now, please, don't get me wrong. I am proud that each scar shows my will to survive and fight for a better life. But I don't always want them to be on display for the world. Some days there a reminder that what is supposed to help me heal can take its own toll on my body. There will always be scars and physical signs of my "invisible illness" that I can't avoid. There will always be storm damage or plumbing problems or missing shingles in my temple. But I am a pretty great architect.
I can't avoid the damage to my sacred home, but I can always adorn it to not only show the best me, but incorporate the cracks and dings into my style. When I was a kid, I was a pretty big tomboy. I knew nothing about hair and makeup and fashion. But with determination and good ol' Pinterest, I'm learning quite a lot! With the need to hide bald spots, I've become pretty great at styling my own hair. It's even made me realize that hair is just hair, it'll grow back, so take a chance! Chop it all off, dye it purple, try out a perm. While my closet may be full of revolving sizes, I've developed my own perfect mixture of comfort and country chic. My jeans may be stretchy, but they allow me to get through the day without my ever-bloating belly causing me hassles. After I had my colon removed, I had a purple one (the punctuation mark) tattooed on my wrist. It was my way of reminding myself of how strong I could be and that Crohn's can't take anything away from me without my consent. It's a great conversation starter!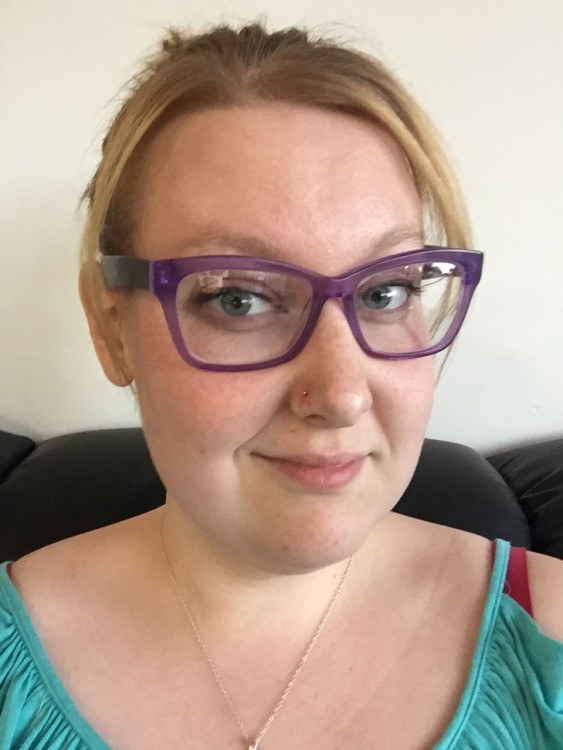 I've always been embarrassed my these little scars I've developed on my nose. After much thought, many discussions, and backing out a few times, my temple is now the proud owner of a new door knocker: a pretty little nose ring. I can't erase the damage, but I can accept it by making it my kind of beautiful. I can't avoid the scars that are going to happen to me, but I can learn to love them in my own way. If that way means tattoos, piercings or Prince purple hair, so be it. This is my home for the next 60 or so years, and I deserve to do whatever I need to love it.