It's Christmas time again, and I still have depression.
Every year a big part of me dreads the holidays. Not because I don't want to celebrate. Not because I don't like giving gifts. And not because I'm down on the magic of the season. Does having a mental illness mean I'm like the Grinch who stole Christmas? Not necessarily.
I'm beginning to realize it's hard to have depression and meet the many expectations that arrive with the holiday season. Take a look at this: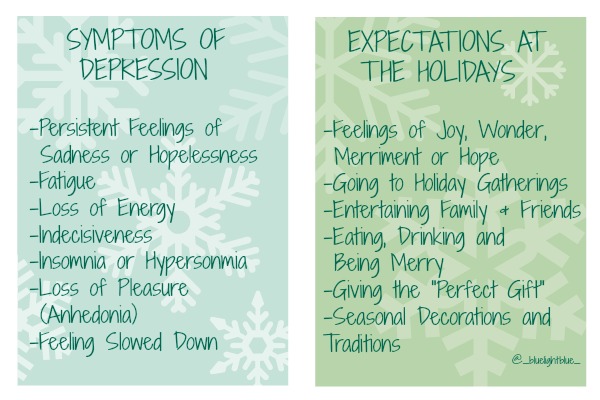 It strikes me the most common symptoms of depression – feelings of sadness, fatigue, loss of pleasure – aren't exactly conducive to celebrating the season. For those of us with a mental illness, the expectations to experience prolonged feelings of joy, go to party after party, decorate our homes and shop for gifts can be unrealistic. Being with (or without) family and friends can trigger a sense of hopelessness.
I often feel like I'm starting a grueling marathon when December rolls around — I feel the need to meet these expectations not just for a day or two, but for an entire month. I want to enjoy the holidays, but I also want to take care of myself. The reality is I have depression whether it's Christmas Eve or the Fourth of July. Depression doesn't vanish during the month of December.
So this year, I'm trying to celebrate the holidays in ways that are still authentic to who I am, which includes having major depression, generalized anxiety disorder and post-traumatic stress disorder.
This is what I've come up with so far:
1. I'm giving myself permission to feel sad.
It's not realistic for me to feel jolly, merry or bright from Thanksgiving through New Year's Day. Because I've suffered some traumatic losses, the holidays bring back memories of loved ones who are no longer here. Seeing Christmas trees and hearing beautiful carols make me think of my dad and of how magical everything seemed when I was a child. In the past I've tried to push away feelings of sadness, but this year I'm allowing myself to feel them. Because it's OK to feel sad on Christmas. It's OK to cry. In fact, acknowledging our true feelings can help us create new and more authentic ways of celebrating the season.
2. I'm limiting my holiday schedule.
I have a tendency to push myself and say yes to every invitation. Not this year. I know how important it is for me to have alone time to rest and recharge. Before accepting automatically, I'm thinking carefully about my time. I'm choosing to say no if I'm starting to feel overwhelmed. While this isn't easy and may mean letting someone else down, I know how important it is to take care of myself first.
3. I'm giving experiences instead of traditional presents.
I've had it with fighting my way through crowds at the mall. Hunting for gifts triggers my anxiety and I can get obsessively focused on finding the "perfect gift" (which doesn't exist). I've spent hours (probably days) on the quest to find incredible gifts for everyone I know. So this year, I'm shifting my focus and giving experiences to the people I love, rather than a million more things they don't actually need. Homemade gift certificates for day trips, tickets to museums, excursions or concerts will allow me to spend time with my family and friends. This will help us create positive memories together. It also gives me something to look forward to after the holidays are over.
4. I'm finding new Christmas music.
For a long time, I would listen to the same several Christmas albums I heard as a child. While those songs are still special to me, they can bring on additional feelings of sadness and loss. I'm using stations like Pandora to find new music that lifts my spirits. For example, I love Irish and Scottish music, so I'm discovering some fun Celtic Christmas albums. I'm also giving myself breaks from listening to Christmas music – while it's unavoidable in stores, I can choose to switch the channel in my car if I feel I'm getting triggered.
5. I'm doing things to help other people.
To me, the meaning of Christmas is about connecting with people we care about. It's about the possibility of hope in the darkest of winters. One way to honor the spirit of the holidays is to give something back to people who are suffering. I lead a peer-to-peer support group for adults with mental illness, and it runs right through the holiday season. This is a meaningful way to support others who share my own struggle, especially at this time of year. I also donate money (as I'm able) and clothing items to local shelters to assist people who are homeless. My mom has always told me one way to help yourself when you feel down is to do something nice for someone else, and I think she's right on.
My wish for this holiday season is to be more authentic in the ways I celebrate with my family and friends. I need to practice self-care, especially when the stress picks up. For Christmas, I'm giving myself the gift of self-compassion and the permission to be myself, even if that means feeling sad. While it may not be the most wonderful time of the year, it doesn't have to be the most miserable either. I'm working on finding that middle ground between sadness and hope. Between light and dark.
On my holiday cards this year, I wanted to share something that resonated with my journey to find a more authentic Christmas. This is what I found:
"May you be blessed with the spirit of the season, which is peace; the gladness of the season, which is hope; and the heart of the season, which is love."
Follow this journey on Blue Light Blue.
The Mighty is asking the following: As someone who lives with — or has a loved one with — a mental illness, what's one thing that's particularly challenging around the holidays? Why? What advice would give someone going through similar challenges? If you'd like to participate, please send a blog post to mentalhealth@themighty.com. Please include a photo for the piece, a photo of yourself and 1-2 sentence bio. Check out our Submit a Story page for more about our submission guidelines.