How Photography Saved My Life – and How It Might Be Able to Save Yours Too
---
Are there therapeutic benefits of photography? And can they help you with depression and anxiety?
Yes, I know that it does — photography saved my life by helping me finally start expressing, dealing with and eventually overcoming severe depression and anxiety that was prolonged by silence.
Since that time over five years ago, my mission has become to bring more awareness to the therapeutic power of photography through The One Project — the photography community for people suffering from depression and anxiety. We have a private online platform to allow a safe space for people to share these stories, while providing education about therapeutic photography (the healing power of photography) techniques through online courses and other resources.
Here are a few ways that photography can be therapeutically beneficial:
Motivation to get outside and connect with nature.

Provides a shift in perspective (you're literally looking through a new/different lens, often seeing the world differently).

You begin searching for and finding beauty in the world.

Photography acts as non-verbal communication, which can be huge when dealing .with issues like depression or anxiety that are hindered by stigma.

Many people experience a "flow" state with photography, but often it simply helps you to focus externally — rather than getting caught up in the thoughts racing through your mind.

You gain control of how you frame the world. 

Your photos can provide powerful self-expression and reflection.

Photographs often allow positive feedback from others, which can be huge when going through depression or dealing with anxiety.

Photography can be very social, helping to establish social bonds.

Photography can be a connection to your subconscious mind, helping you to discover powerful personal insights about the cause behind your depression. Often the answers we seek externally are found within us.
For many people, the act of taking or editing the photos is very therapeutic, and also working with your photos afterwards can be as well (asking questions about them, writing stories about them, etc.).
Your photos from the past can also provide powerful insights and reminders as you continue throughout life, showing you how your perspective of yourself and the world has changed over time and/or how you have grown as a person.
You can also watch my TEDx talk, How Photography Saved My Life.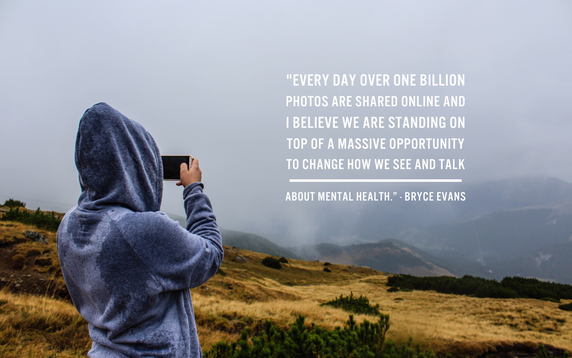 I hope that if you're struggling, you will try to explore using photography as a way to find hope and healing.
Do you know other ways that photography can be therapeutic? Share them in the comments below!
If you're interested in learning more about therapeutic photography and how it can be used to help with depression and anxiety, you can sign up for our next free webinar or try out our new online course.
The One Project is the photography community for people suffering from depression and anxiety. We teach how therapeutic photography (the healing power of photography) techniques can be used to better express, understand, and overcome these issues with our private online platform and courses. Sign up for free now.
Please note: I always encourage photography to be a tool within your "toolkit" of techniques and support if you're struggling with a serious issue like depression or anxiety. It's not a replacement for professional help.
All rights reserved. A version of this article originally appeared on PsychCentral.com as "Healing Power of Photography (for Depression and Anxiety." Reprinted here with permission.
We want to hear your story. Become a Mighty contributor here.
Thinkstock photo by Bryce Evans