How My Rescue Cat Rescues Me From Depression and Anxiety
---
For years, I have struggled with anxiety and depression, and I never tackled it full-on like I have done this year. By that, I mean medication, therapy and talking about my mental health to close family and friends. I dealt with it alone.
Earlier this year, I took a huge step in life. By the age of 29, I finally moved out into my own house. You may think, "29 years old and you've not moved out?!" But, let me get this straight: living with anxiety and worrying about every little thing to the point where you get so worked up about leaving your comforts takes a lot of preparation and thought.
My mother was worried about me living on my own, as my mental state wasn't exactly stable. I was irritable and constantly in a bad mood. At the same time, I wanted to challenge myself. I wanted to do something which made me feel better than I was feeling — something to focus on. The first thing that worried me was the loneliness, as my depression seems to rear its head when I am alone. (For some reason, I like being alone at times. Ironic?) I thought about moving very carefully, and then decided I would like a cat. Little did I know, this little fur baby would help me in more ways than one.
My fur baby — her name is Jelly — was a rescue. I thought at the time I would be rescuing her. She was moments away from being euthanized; she had just been through a mandibulectomy due to a car accident. (She now has half a jaw. I tell her she's just had plastic surgery and she is just like the other cats on the street. She seems happy with that!) Her owners didn't want her anymore, due to the mandibulectomy costing way more than anyone could imagine. Once her jaw was fixed, they still didn't want her. After a lot of love from the vet and a lot of visits from me, Jelly was ready to come home.
As soon as I got Jelly home, she was straight on my bed like it was her own. I soon became besotted with her, making sure she was happy and content. I had rescued her, of course.
In March this year, I relapsed with my anxiety and depression. I was beginning to feel better with my new house and cat, then out of nowhere, my mental illness reared. I slowly became withdrawn, only getting up to feed my cat and make sure her litter was changed.
Jelly would come into my room every given moment, cuddling up to me, letting me place my hand on her when I was crying in bed, which seemingly calmed me down. She didn't squirm or scratch; she just lay there, patiently waiting for my episode to finish, with me stroking her fur, holding a paw or having her stretch out to me and rest her paw on my arm — to tell me "everything will be OK." My mother saw how content I became when my cat was around me, and how anxious I got when I'd let her out of the house. She hates cats, but even she couldn't argue that the cat was keeping me content.
The more and more time I spent with Jelly, the more I became relaxed and the more in a routine I became. I was getting up at the same time every day to feed her. I was cleaning the house to make sure it didn't smell of cat, changing her litter and I even mustered the strength to build her cat tower.
When I step back now and think, Jelly has got me to do a lot during the sad times. For example, I've wandered around the streets looking for her when she's been out longer than normal, leading me to talk to my neighbors, which never would have happened otherwise. I would have run into my house and kept my head down. Even doing little things around the house. When my mind is saying, "no, stay in bed," she has got me out of bed.
During the summer, I had another episode. This time, she played with me in bed, followed me around the house and nuzzled me while I was crying. Weirdly enough, petting a cat and having Jelly nuzzle into my neck is comforting and therapeutic; I stopped crying and took a moment to breathe. My body started to relax and the panic attacks would soon fade, all because a warm ball of fuzz was on my lap or by my side.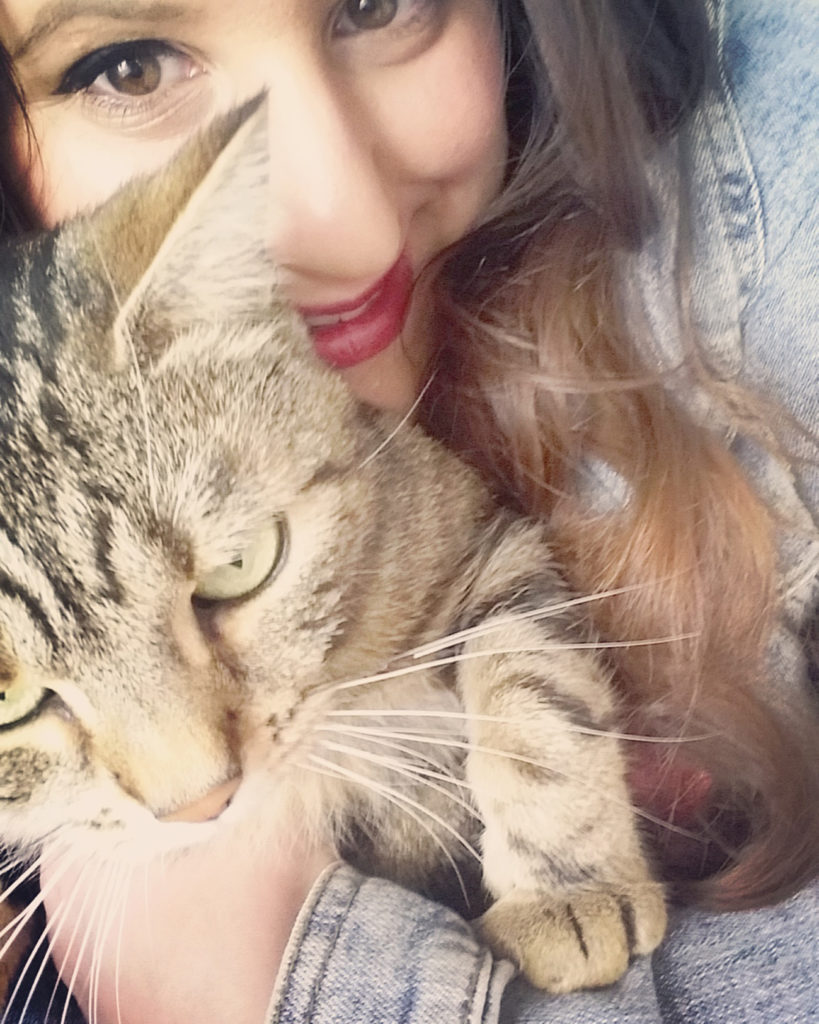 A lot of people around me say cats are selfish and not loyal like dogs. But my cat is wonderful, sensing when something is wrong, sitting for hours being petted. She even knows which guys are good for me and which guys are bad! She has a sixth sense.
So, when you feel down, sad or having a panic attack, close your eyes (if you don't have a cat) and think about stroking a cat. It really works! The world stops spinning for a moment, and the warm fuzziness is transferred from them to you with unconditional love.
In the end, I've realized I didn't just rescue my cat. We both rescued each other.
We want to hear your story. Become a Mighty contributor here.
Images via contributor