Disability Advocacy Group Runs Ad Slamming Hollywood for Using the R-Word
---
An ad running in The Hollywood Reporter is targeting the film and television industry for using language that mocks people with disabilities.
Family Member, the group behind the ad, is a nonprofit organization that hopes to eradicate hateful speech about people with disabilities in news, entertainment and social media, according to its website. The ad first appeared in THR on March 31, and it will run for the next five weeks.
Family Member founder, Hannah Jacobs, told The Mighty that Donald Trump's recent interaction with New York Times reporter Serge Kovaleski, who has a disability, was what provided the perfect push for the campaign. "We couldn't ignore the uproar over his mocking of the reporter, yet question why there is very little mention in the press when people with disabilities are marginalized in film, social media and in entertainment," Jacobs said.
"We targeted Hollywood specifically because that's where most of the content that both mocks and marginalizes people with disabilities is created," Jacobs told The Mighty. "We are calling on the Hollywood community of Standards & Practices departments, screen writers, producers, directors, actors and comedians to consider who they hurt when their content contains material that mocks and marginalizes children and adults living with special needs and disabilities. Mocking disability is not funny and shouldn't be tolerated."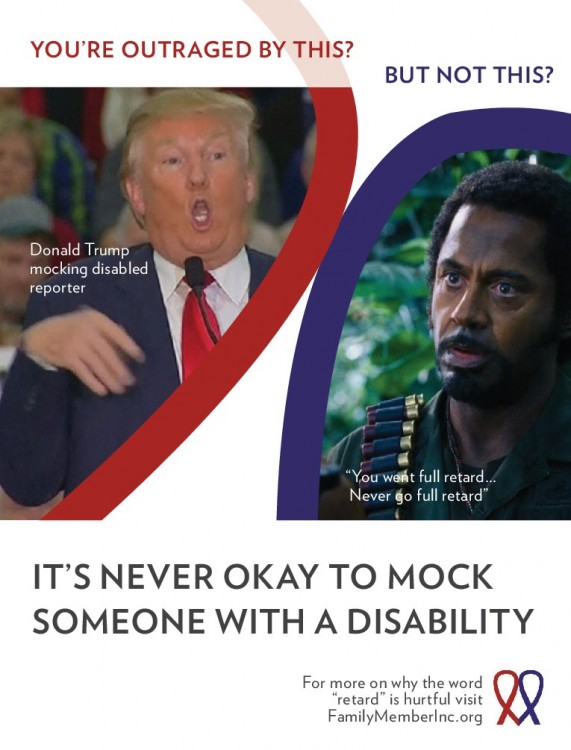 Jacobs told The Mighty that movies like "Tropic Thunder" and "The Wolf of Wall Street" made a mockery of people with disabilities.
"If Ben Stiller had a child with a disability, the character of Simple Jack in 'Tropic Thunder' wouldn't have been created," Family Member wrote on its website. "If Justin Theroux had a child with an intellectual disability, you can bet that the phrase 'never go full retard' would not exist today."
"We believe the ad says it all," the organization added. "If you were offended by Donald Trump's mocking a reporter with a disability, then you must take a stand the next time you see the same thing on film, in social media or in a comedy club, because mocking disability just isn't an option anymore."
h/t Disability Scoop
Take the pledge! Sign up to support the elimination of the derogatory use of the R-word from everyday speech and promote acceptance and inclusion.