George Augstell, Man With Down Syndrome, Opens Uncle Bill's Coffee Stop
---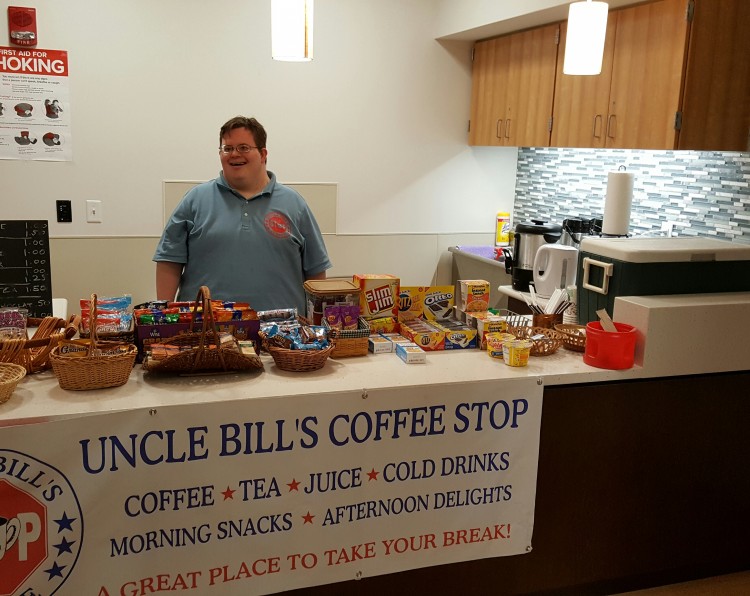 When William B. Gee Sr., died of cancer in 2013 at age 47, his nephew wanted to honor his memory.
George Augstell, 28, who has Down syndrome, decided to combine the legacy of his uncle with his own lifelong dream of opening a coffee shop, stemming from volunteer work in food service and a love for meeting new people.
And so Uncle Bill's Coffee Stop was born. Located in the lobby of the Golisano Center for Community Health in Niagara Falls, New York, the coffee stop opened recently with Augstell as owner and operator.
A partnership between Niagara Falls Memorial Medical Center and Rivershore Inc., the coffee stop got its start when Augstell, a longtime Memorial volunteer, told the hospital's CEO, Joseph Ruffalo, about his idea.
Ruffalo was all in, telling Buffalo News George's business plan "made all the sense in the world" for the Golisano facility, which offers services for adults with special needs.
And now, Augstell and a family friend who was hired as his employee serve snacks, pastries, soup, and, of course, coffee to Golisano employees and visitors, clad in polo shirts bearing the Uncle Bill's logo.
Augstell, who's gotten attention from several media outlets, makes a point of calling Uncle Bill's a coffee stop, not a coffee shop. He wants people to stop in for a visit — and that they have.
Uncle Bill's was also recently recognized by a local senator.
Susan Goodman, Governmental Affairs Director at the National Down Syndrome Congress, said Augstell is showing others the possibilities for those with Down syndrome.
"Augstell is an example of what we want for all people with Down syndrome — the opportunity to live a life he chooses with the appropriate support — including real employment on a meaningful job with a chance to achieve the American dream," Goodman told The Mighty.
And as a now successful business owner, Augstell had a few words of wisdom for others with Down syndrome.
"Be yourself and to not be afraid of failure or anything else," Augstell told The Mighty. "Also do not be afraid to pursue your dreams and never give up. I think it's important in life to have a good job that you love."
At that, Augstell has succeeded.
---
Have you seen the first film with a national release to star a person with Down syndrome? Check out the film "Where Hope Grows" today!