What My Sister With Down Syndrome Inspired Me to Do for a Mom
---
When I was 7, my parents explained to me that my sister would be different, I had no idea at the time what kind of impact she would have on my day-to-day life. But now I realize I see the world in a much different way, all thanks to her.
Throughout our lives, my sister has gotten stared at on multiple occasions because she has Down syndrome. There were times when I had to struggle with her, so people would stare at us even more. It can be hard enough to control a typical child, so my family could've used a little extra help when dealing with a child with special needs. I simply thought, "Everyone else is just staring and that's wrong. Someone should offer us help instead of staring at us like it's a circus act."
I had this in mind when I was traveling alone recently and saw a mother and a son with special needs at my airport gate. They had gotten off of another flight and were making their way to the gate for their second departure of the day. The mom was visibly stressed out and trying to keep her son clam while her unzipped backpack had items falling out of it. The son was also tugging on strangers' clothing, and she appeared to be embarrassed by it.
Then the boy burst out into a tantrum. He was screaming and looked very scared and confused.
What did the 40 to 60 other people in the surrounding gates do? They gave the son and mother strange looks, the same kind of looks my sister and I would sometimes get.
What did I do? I went up to the mother and asked if I could lend a hand or be of assistance. I tried to help calm the boy down by assuring him he was going to see his grandmother as his mom kept telling him.
When the boy finally calmed down, I sat back in my seat and an older gentleman turned around in his chair and said, "I thought about doing what you did, but I just thought about it. You did it."
I didn't even really think about what I did as something different or good. I just thought of it as the only option in that situation, especially when I think about the times my sister and I could have used a hand.
If you see anyone struggling with a child, it's important to at least offer a hand. It's especially helpful if you understand the kinds of challenges special needs families can go through.
Just go up and ask if there's anything you can do to help. Some parents may not want or need your help, but others will be very glad that you took the time to help them. This mother was so grateful someone was there to assist her. She would have left her iPad at the gate had I not stepped in and helped.
It's very easy to ask if there's anything you can do. It may be intimidating at first, but when it becomes a part of who you are, it becomes instinctual. Even if it's a stranger, you can be there to help them out a little bit when they need it.
I really have to thank my sister for my willingness to help others. She's the only sister for me. Even though my life hasn't been the most stereotypical, I wouldn't change it for anything in the world.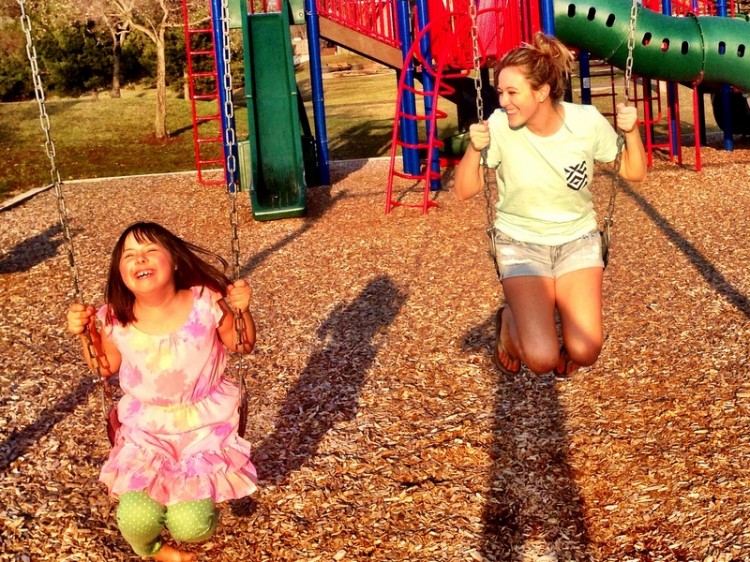 The Mighty is asking the following: What's one unexpected source of comfort when it comes to your (or a loved one's) disability and/or disease? If you'd like to participate, please send a blog post to community@themighty.com. Please include a photo for the piece, a photo of yourself and 1-2 sentence bio. Check out our "Share Your Story" page for more about our submission guidelines.
Want to end the stigma around disability? Like us on Facebook.
And sign up for what we hope will be your favorite thing to read at night.