What Inclusion Really Means
---
I can count on one hand the amount of people with disabilities I knew as a kid — a few from our church and a couple from the neighborhood. I did not know anyone with a disability from my Catholic school, my soccer team or acting class. I don't think anyone with a disability played tag with us or rode bikes with us to the pool. Even though I later worked at a summer camp with kid with disabilities, I still had very few relationships with people with disabilities. I originally studied special education in college until I discovered my other passion — writing. After a short career in television and a long career in child welfare, I returned to the work I loved, where I felt I most belonged — advocating for and with people with disabilities.
That singular professional role changed one late summer morning in 2014 when I was 12 weeks pregnant with my second daughter. A prenatal blood test revealed she had Down syndrome. When my doctor told me my baby had Down syndrome, she asked if I planned to terminate. Why was this the doctor's narrative? I wondered if it was because this doctor might not have gone to school, grown up with or worked with people with disabilities. I wondered if her own isolated bias impacted her worldview and her approach as our doctor.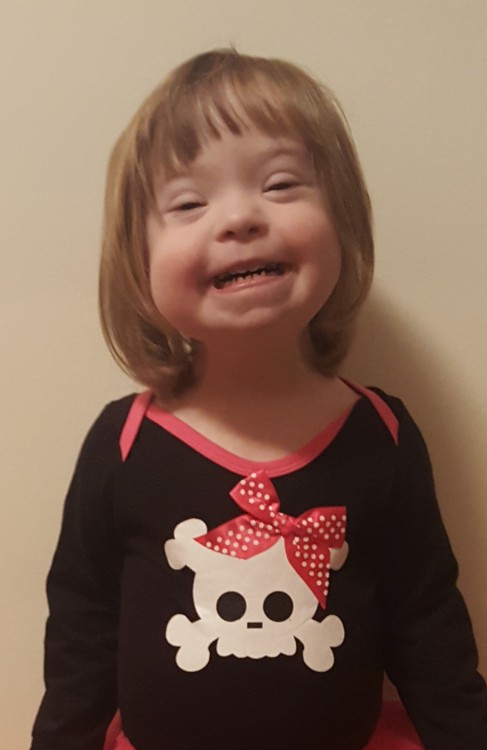 Picture a young boy who only sees people with disabilities occasionally when he is at the movies or grocery store, and a group of four to eight people with developmental disabilities, along with a paid staff, shows up. (Those individuals live in a group home and are on a "community outing." This type of outing is what some people call inclusion. But, when you go to the movies or grocery store, do you call it a "community outing?" Probably not. This is not inclusion.) What does that look like to this young boy? He probably sees them as different; not like him. He goes to the public school but there are no students with disabilities. The children with disabilities are bussed to a different school. He goes to college, gets a job, and he even laughs at and retells jokes about people with disabilities. He uses the "r" word when he's angry with his beloved sports team for screwing up a play. What will this boy's narrative be if he's told his unborn daughter has Down syndrome? In those early days of the diagnosis, he will probably be incredibly lost and confused. How many other mothers and fathers receiving the news that their child has a disability feel this way? If he reaches out to parents of kids with Down syndrome, his inexperience can turn to knowledge, and he can become a father with a purpose and a drive to change his community.
Today, expectant parents continue to be advised on Down syndrome by medical professionals who have little to no knowledge on what it is like to be a person with Down syndrome or a parent to a child with Down syndrome. Their "expertise" is often based on outdated and inaccurate information. Parents often trust their advice because they don't know any different. This is where loss begins and a society goes unchanged. This kind of ignorance is not just sad, it's devastatingly painful and unjust to me.
To merely judge our doctor is unfair. After all, she had mentors and colleagues, she read what she thought was the latest research. But, experience can have a much more profound impact on knowledge than words in a book. She was a fine doctor who delivered both our daughters and since delivering our second daughter, her narrative has changed. As we look toward the school years, we begin gathering research and preparing for a possible battle: the Individualized Education Plan (IEP) meeting. We hope we do not have to fight administrators whose society failed them too. We do not want our daughter included in the classroom with her peers just for her sake but for the advancement of all the children in the classroom. Children with and without disabilities grow up to become teachers, doctors, lawyers, business owners, community leaders, activists and moms and dads.
When a boy in our daughter's preschool class grows up and is told his daughter has Down syndrome, will he be scared or empowered? Will he have the experiences he needs to be the father and advocate he wants to be?
Will a young girl in our daughter's dance class grow up to become a doctor who someday tells expectant parents their beautiful baby has Down syndrome? Will she tell those parents they can still have dreams for her daughter — that she will go to school, work and live her life?
In a truly inclusive society, we see and nurture everyone's potential. We do not label and isolate. We embrace and empower everyone. In a truly inclusive society, children with and without disabilities see each other as classmates, teammates and friends. They are known by their names, not by their diagnosis.
In a truly inclusive society, no one could fathom a world where our children with Down syndrome should not exist.
In a truly inclusive society, I don't have to write about the importance of inclusion because it is simply a natural part of the human experience.
We want to hear your story. Become a Mighty contributor here.