The Day I Accepted I Was Disabled
---
The day I graduated high school, I jumped on a plane to Italy. I traveled Europe working odds-and-ends jobs for two years when all of a sudden, it was back. This unknown illness had started to take over. The nausea, dizziness, migraines, flu-like symptoms and, my goodness, the pain. It had been four years since the symptoms had subsided. I had been told my fibromyalgia was in remission. But this time the symptoms were back and stronger than ever.
I flew home to America to stay with my mom and sort out what was going on. After months and months and going from doctor to doctor, they finally diagnosed me with Ehlers-Danlos syndrome. Shortly after, the comorbidities were diagnosed as well: postural orthostatic tachycardia syndrome (POTS), MCAD deficiency, Chiari malformation and gastroparesis, just to name a few.
Then one day at my doctor's office, she handed me a handicapped placard for my car. I was stunned. Me? I am only 22 years old! I want to see the world! I want to finish university and do something with my life! Disabled? Me? I don't need that! I immediately started to try and work again, only to be let go due to absences from my illness. I felt like I couldn't work anymore — all the jobs I excelled in were gone.
A few months later, my mother and I attended the Ehlers-Danlos Society Global Learning Conference in Baltimore. Flying from the far West Coast all the way to Baltimore was quite a trek, so we decided to spend a few days in Washington, D.C. and Pennsylvania. The day before the conference started, my mom and I went to one of the Smithsonian museums, and my mom insisted I use a wheelchair. It was boiling, my POTS had been bad, and I knew walking would be so hard, so I agreed.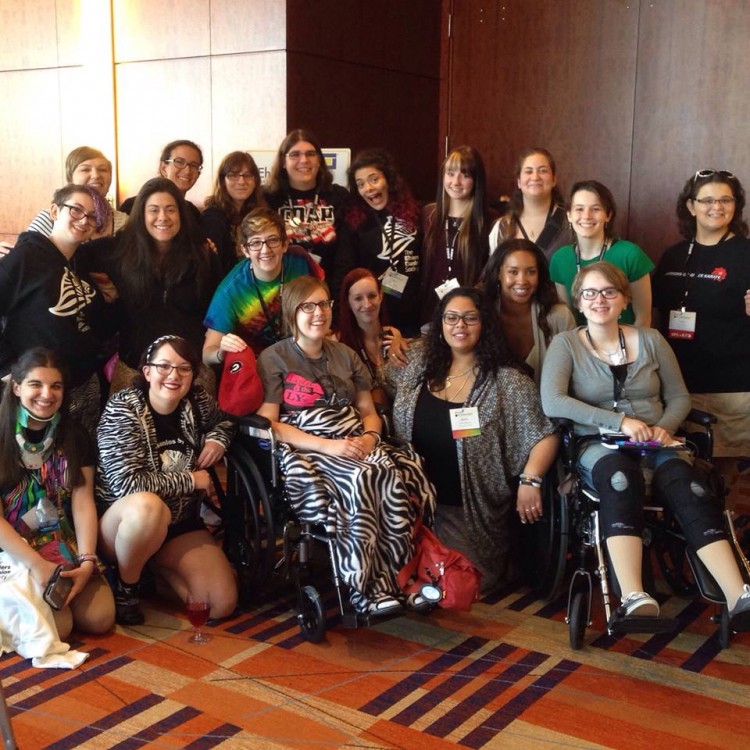 I was so angry and so resentful with myself. I felt useless, less than myself. I had to rely on someone to push me to an exhibit I wanted to see, when four years ago I was traversing Rome. I called my boyfriend that night sobbing. I had never felt like less. The following morning, we left for the conference. Pulling up, we saw cars decked out in zebra stickers and license plates, bags of huge pillows and heating pads, backpacks full of medications, protein shakes, and most importantly: people my age or younger grabbing their neck braces or walkers or wheelchairs or canes to get around.
Throughout that conference, I met some of the most inspiring people, and I felt something I hadn't felt since before I became chronically ill. I felt like I belonged. I felt like I was worth something. I felt understood. And that changed everything.
After the conference, my mom and I went back into Washington, D.C. for another few museums. Only this time,  I was happy to sit in the chair. I didn't feel trapped or codependent. I didn't feel less than. I felt like just "me." That day, I accepted that no matter what part of my "invisible illness" or "disability" could be seen, I was still me. And I was not alone. And neither are you.
The Mighty is asking its readers the following: Share with us the moment, if you've had it, where you knew everything was going to be OK. If you'd like to participate, please send a blog post to community@themighty.com. Please include a photo for the piece, a photo of yourself and 1-2 sentence bio. Check out our Submit a Story page for more about our submission guidelines.