Endometriosis ROSE Study Hopes to Create Diagnostic Tool Using Menstrual Blood
---
In the quest to better understand endometriosis and find a less-invasive way to diagnose and treat the condition, one research team is going where few others dared to go — menstrual blood. Welcome to the Research Out-Smarts Endometriosis (ROSE) study, which its team hopes are a series of breakthroughs for a notoriously debilitating condition.
Endometriosis affects approximately one in 10 people born female and is associated with 40% of female infertility. The condition causes tissue similar to the lining of the uterus (the endometrium) to grow outside of the uterus, most often in the pelvic cavity. The resulting lesions lead to a variety of symptoms such as abnormal periods, pelvic pain, leg, back and shoulder pain, gastrointestinal (GI) issues, and infertility. Currently, the only way to make a diagnosis is through laparoscopic surgery, and treatment options outside of excision surgery are limited.
Helmed by researchers Christine Metz, Ph.D. and Peter Gregersen, M.D., the ROSE study, which was launched five years ago, aims to create a way to diagnose endometriosis sooner, without surgery. From there, the ROSE team hopes their data, collected from menstrual blood samples, will shed light on the progression of endometriosis, its genetic basis, why it leads to infertility and new potential treatment options.
According to Metz, professor at the Feinstein Institutes for Medical Research at Northwell Health, all possible ROSE study discoveries start with menstrual blood. Menstrual blood (or effluent) has never been seriously considered for medical advancements. For Metz and her team, however, this seemed like an obvious place to start.
"There have been almost no studies of menstrual effluent in the literature for the purposes of endometriosis, or uterine health in general," Metz told The Mighty. "There are just very few reports analyzing menstrual effluent and we thought based on this difference between women with and without endometriosis, it seemed like a no-brainer that there would be differences."
Approximately 5.5 million women and girls suffer from endometriosis in North America alone. Join the #ROSEstudy to help scientists study this debilitating disease: https://t.co/4DN1ksVEQm pic.twitter.com/SnRV3c2FpW

— Northwell Health (@NorthwellHealth) May 30, 2018
The reaction many doctors and researchers had to collecting menstrual blood samples, despite its potential for research, was "yuck," said Metz. She speculates this is one reason it took so long for researchers to pursue this avenue. But once the microbiome got popular and collecting feces specimens became normalized, it seemed like patients would be on board with menstrual blood too. And, as Metz said, "It's not yuck, it's their body."
When the ROSE study first began collecting menstrual blood, it found a partner in Diva International, the company that manufactures the Diva menstrual cup. Participants receive a kit with a DivaCup to collect menstrual blood, which is then mailed back to the research team. Since so many women with endometriosis experience pelvic pain, however, the DivaCup often isn't an option. So the ROSE team developed a pad-like sponge to collect menstrual blood from study participants, which is now included in collection kits.
Once ROSE researchers have menstrual blood samples in their lab, the team pursues several avenues of research. One of their early aims focuses on diagnosing endometriosis earlier by comparing menstrual blood samples from people with and without endometriosis. So far Metz and her team discovered key differences in the "cellular composition" of menstrual blood from endo patients as well as differences "in the functional activity of a subset of cells called stromal cells."
By identifying these differences, Metz is confident they will be able to develop a more effective diagnostic or screening tool so women with endometriosis get a diagnosis much sooner. The ROSE team already has a clinical study underway to prove the efficacy of a diagnostic test or screening tool to predict endometriosis risk, which Metz said they'd like to get FDA-approved within the next two years.
"We've tested women with confirmed endometriosis versus controls, and we think we have a pretty good handle and can tell the difference," Metz said. "But we don't want to be able to tell the difference between people who have already been diagnosed, we want to be able to diagnose people much earlier than that."
Long delays and difficulty getting a diagnosis are major issues many women diagnosed with endometriosis face. On average, women wait eight to 10 years to get a diagnosis. Jenna Zraick, a Brooklyn, New York-based ROSE study participant with endometriosis, told The Mighty she first experienced endo symptoms at age 8 but didn't get a diagnosis until she was 30 years old. During that time, patients face debilitating symptoms that disrupt their lives, from school to missed professional opportunities, lost social time and expensive medical bills.
Metz said "there seems to be a lot of reasons for that" diagnostic delay, like fear of having surgery or a lack of understanding about endometriosis. Often gynecologists won't ask women many details about their period, which means they're not assessing for heavy flow or abnormal pain that could signal endometriosis. But the delay may start with how the medical profession as a whole treats — or rather doesn't treat — the pain women experience.
"There is plenty in the literature substantiating that the dismissal of pain among women versus men is real," Metz said, adding of the other barriers to diagnosis:
The fear of undergoing surgery for a diagnostic, most people don't think about having surgery to diagnose something. People don't realize what their symptoms may be. So they end up in the GI clinic and the GI physicians aren't thinking about endometriosis. And other women don't have symptoms that are consistent with endometriosis and then all of a sudden in their 30s they're confronted with infertility.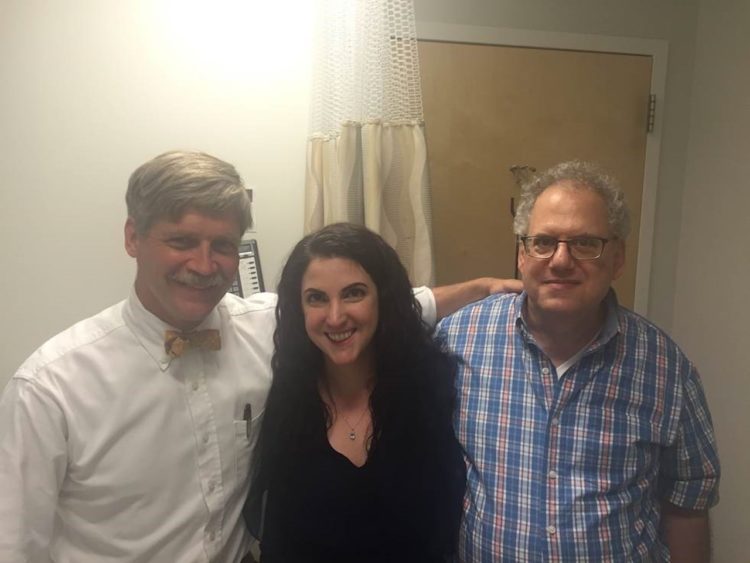 Like Zraick, ROSE study participants explained their initial endo symptoms started when they were young. With this in mind, Metz and her team will soon recruit adolescents as young as 9 years old into the ROSE study to prioritize getting an early diagnosis.
"If we can bring [diagnosis] down to adolescence and make it so that we can find an answer and give them guidance without these cells growing and causing such havoc, I think it would be such a wonderful, positive thing," Margaret DeFranco, RN, senior research nurse at the Feinstein Institutes for Medical Research at Northwell Health, told The Mighty. "Many women will say, 'I want to be part of this study because I don't want this to happen to my niece, my potential daughter, my granddaughter, I want there to be an answer.'"
So far the ROSE team has enrolled about 500 patients with endo and 100 controls without the condition. To expand their research to understand disease progression, genetics and explore better endometriosis treatments, Metz and DeFranco are recruiting additional patients to participate in the study.
"The first thing that we're doing is enrolling women who think they may have endometriosis, and are at the point where they may undergo the diagnostic invasive surgery in a month or two," Metz said. "We'll get the results from that and then … we'll learn from those samples whether we can actually predict or diagnose the disease."
If you're interested in participating in the ROSE study, DeFranco explained you can fill out the interest form on the ROSE study's website. Participation is open to anyone in North America. After an initial screening, the team will contact you with next steps, which usually includes menstrual blood collection and either a regular blood test (if you're in the New York tri-state area) or a saliva swab.
Are you living with endometriosis? The #ROSEstudy wants YOU! » https://t.co/fN2EJqXS3y pic.twitter.com/JHsJDpFtyX

— Northwell Health (@NorthwellHealth) June 9, 2018
And if you're unsure about participating, Zraick stressed the ROSE study is one way for patients with endometriosis to take their health into their own hands and change the course of living with the condition for future generations.
"I hope no other women will have to go as long as myself and so many others have gone without a diagnosis, and they won't have to be gaslit and traumatized every time they go to the ER or the doctor because they will have a diagnosis," Zraick said, adding:
By participating in such research, we can help ourselves and other women get diagnosed and show the medical industry that we are not only here but we're educated and will not be ignored any longer. We are empowered and we are taking our care into our own hands since the medical industry has failed us long enough and one way to help advance endo research is simply by participating in the ROSE study.
To learn more about the ROSE study and to get more information about participating, visit the website here.
Header image via Jenna Zraick