We all know those friends  — the ones who think they know everything. The ones who will give unwarranted advice, even about topics they know nothing about.
That friend can come off as kind of a jerk sometimes — especially if you're trying to talk about serious issues like mental illness. A new social media campaign, "Don't Be A Dick," encourages college students to be a good friend, not that friend. The campaign, launched Tuesday, calls on everyone to educate themselves about mental illness so you're prepared if a friend reaches out.
One in five young adults have a diagnosable mental illness, according to the National Alliance on Mental Illness. The Don't Be a Dick campaign wants to show the four out of five people how they can help.
Created by summer interns at MRY, a creative and technology agency, the campaign includes funny videos featuring different personas and a pledge. The clips depict different friend types, such as the friend who only cares about going out and the friend who relates everything to their own life, and then give advice on how to not be that friend.
But through all the humor, the campaign has a serious message: If a friend approaches you about a mental health problem, there are ways you can help.
If you're ready, you can take the pledge yourself and pinky swear you'll be there for the one in five college students who might need your help. To participate, share your pinky swear on social media with the hashtag #DontBeADickPic.
"I'm going to make this promise that next time my friend needs help, I'm going to listen and hopefully be able to help them," Morgan Klovens, a MRY intern who worked on the project told The Mighty. "It's a pledge to take mental health more seriously."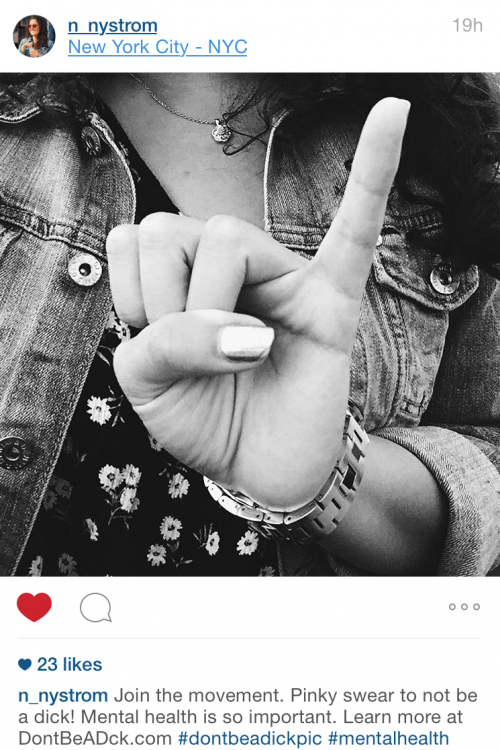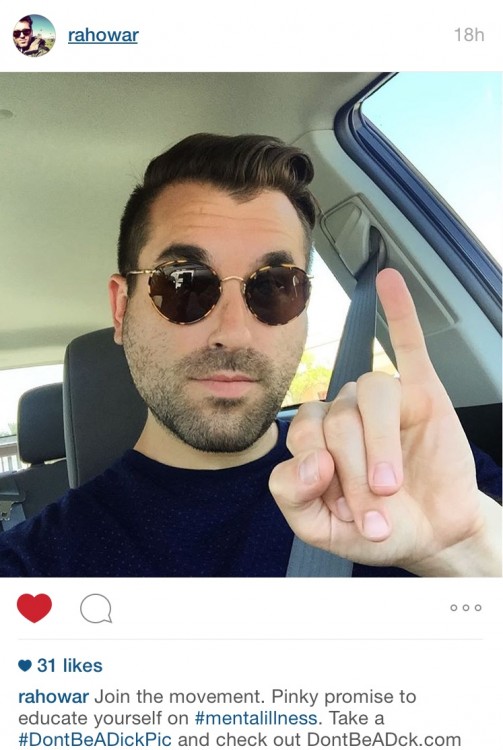 According to Klovens, the ultimate goal of this campaign is to reduce the number of students dropping out of college due to mental illness.
"People aren't prepared to talk about it and they need to be because it's becoming a huge issue," Klovens said. "We should be prepared to help our friends get help."
See the campaign's tips below.
Relating one friend's symptoms to another's? Learn more here: http://t.co/nJT7VU7lQA #MentalHealth pic.twitter.com/NRLs8brSQb

— Don't Be A Dick (@dontbeadck) July 28, 2015
Comparing your stress with your friend's mental illness? Learn more here: http://t.co/hIts2iI5Nq #MentalHealth pic.twitter.com/DjEZBsViif

— Don't Be A Dick (@dontbeadck) July 28, 2015
Providing advice about #MentalHealth based on a quick Internet search? Learn more here: http://t.co/sR5HO09SOz pic.twitter.com/4iMXoN7NY0

— Don't Be A Dick (@dontbeadck) July 28, 2015
Making yourself unavailable to talk? Learn more here: http://t.co/fzXBeO0wfC #MentalHealth pic.twitter.com/0qyDCTOAmg

— Don't Be A Dick (@dontbeadck) July 28, 2015
Think you have all the answers on your friend's mental health? Learn more here: http://t.co/LRiZmI7QHj #MentalHealth pic.twitter.com/ZrmhSAN1SC

— Don't Be A Dick (@dontbeadck) July 28, 2015
Guilty of saying,"I'm depressed,"when you're just a lil bummed? Learn more here: http://t.co/DoKaHJkvHg #MentalHealth pic.twitter.com/Vz6kHvUWeF

— Don't Be A Dick (@dontbeadck) July 28, 2015