My Daughters Inspired Me to Wear This T-Shirt — for a Whole Year
---
I have two beautiful daughters, 6-year-old Ashley and 4-year-old Emily. Emily has Phelan-McDermid syndrome, otherwise known as 22q13 deletion syndrome. It occurs from a deletion on chromosome 22q13 to the end of the chromosome. There are more than 1,300 registered cases of Phelan-McDermid syndrome worldwide, so Emily is 1 in 6,080,883. That makes her very special!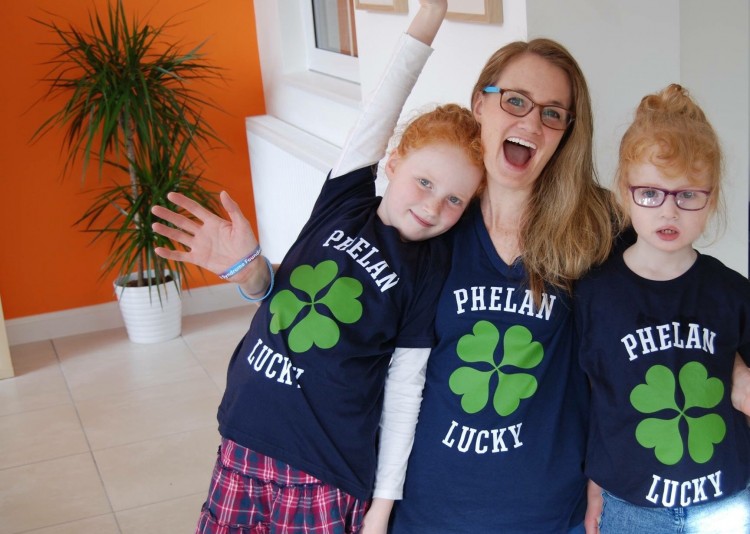 Phelan-McDermid syndrome affects many aspects of Emily's life. She has low muscle tone, which can make it difficult and very tiring for her to move and walk. She has developmental delay and is functioning at about the age of a newborn to 11-month-old. She has difficulty with both fine and gross motor skills, making attempts to communicate through signing a challenge. She is nonverbal and may never talk. Emily has a lower immune system, and she makes regular trips to the hospital due to seizures. But she is a total joy to be around; she's taught us so much as parents, she makes us laugh and has so much love to give. She's a complete sweetheart.
Every achievement Emily makes is massive and a wonderful celebration in our house. Instead of hitting milestones, we call them "inch stones," and when she gets to them, the joy in our house blows the roof off. Not only does this joy explode from us, her proud parents, but also from her very loving older sister, Ashley. Ashley is wonderful with Emily. They interact with each other so beautifully, and it's lovely to see them playing.
When my husband and I were first given Emily's diagnoses, we felt like it was an advanced science lesson, learning about chromosomes and proteins. So I was completely caught off guard when one morning out of the blue, Ashley asked me why Emily couldn't talk, why she was still like a baby and why she has to go to the hospital regularly. It was hard enough for us to understand, let alone a then-5-year-old girl. I tried my very best to explain Phelan-McDermid syndrome to Ashley in a language she could understand. I told her that we're all made up of building blocks, like Lego pieces. These building blocks are inside us, and each color block can make up a different part of our body, like red for eyes, blue for hair, and yellow for heart. Emily is missing a very important part of the building block that helps her talk, move and do certain things. Right away, Ashley wanted to find her sister's missing building block.
"Let's find her building block then, Mommy. I've got a whole box of them in the play room. What color is it?"
I really had to try to hold it together after that. It was a beautiful moment of pure sisterly love that was completely devastating at the same time. I want to find her building block, too. I had to stay strong and continue trying to explain that it's not a block that can be found, and it won't grow back. Emily was born with it missing, and unfortunately it's not something that can be added.
"Is that why Emily has to go to the hospital sometimes, Mommy, and gets sick a lot? What happens if I lose one of my building blocks?"
So many more questions followed, but I took my time with each and kept asking her if she wanted to know more and if she understood. I also wanted her to know that no matter what happens, we love her and Emily both so much, and nothing stops us from being a family and loving each other.
After our conversation, I went to the laundry room and bawled my eyes out. It was an overwhelming moment, but Ashley now seems to understand, and she has so much compassion for her sister. It has made me even more keen on raising awareness, so others can understand and have more compassion, too.
I feel it's my mission to tell people about Phelan-McDermid syndrome, for my daughter and others like her. That's why I started the 365 Days of Phelan Lucky campaign. My challenge is to wear my "Phelan Lucky" T-shirt for one whole year, all day every day, every event, any occasion! I've been documenting the campaign with a daily photo and reaching out to the media to raise awareness and funds for PMSF UK, the support group for the syndrome. Together we can raise awareness about Phelan-McDermid syndrome, and help Emily and her PMS brothers and sisters.
Support Victoria's journey at 365 Days of Phelan Lucky.
The Mighty is asking the following: How would you describe your disability, disease or mental illness to a child? If you've done this before, tell us about that moment and the child's reaction. If you'd like to participate, please send a blog post to community@themighty.com. Please include a photo for the piece, a photo of yourself and 1-2 sentence bio. Check out our Submit a Story page for more about our submission guidelines.