Runway Model Continues to Challenge the Mainstream Definition of Beauty
---
Chantelle Winnie is a fashion star. In recent years, she's become the new face of the clothing store, Desigual, and competed on Tyra Bank's reality show "America's Next Top Model." Last Thursday, February 12, she was part of the Desigual runway lineup on the opening day of 2015 New York Fashion Week, CTV News reported.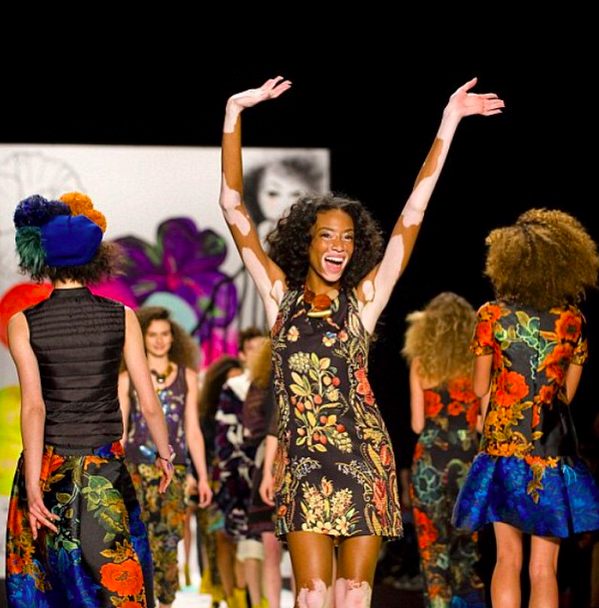 Besides killer confidence, Winnie has something that makes her modeling presence unforgettable — she has vitiligo, a rare condition that causes the loss of skin pigmentation in sections all over her body. The Toronto native was diagnosed at age 4, according to her website. Her big modeling break came when she was invited to walk in the Fashion Art Toronto shows in 2013. She caught Tyra Banks' attention shortly thereafter, who recognized Winnie's potential and invited her to compete in the 21st season of "America's Next Top Model." Winnie was the second contestant eliminated, but her presence on the mainstream modeling platform caught the attention of runway directors, designers and photographers.
Winnie has numerous options to treat her vitiligo symptoms, such as skin dye, UVA treatments or surgery, but she chooses to enjoy her skin exactly as is, according to The Guardian. Still, she resists being deemed a spokesmodel for vitiligo.
"If one day I'm all black, I'm still a model. If one day I'm all white, I'm still a model," she told The Guardian. "I am not my skin. I am a model with a skin condition."
See incredible behind-the-scenes footage from Winnie's Observer photoshoot in the video below.
To see more of Winnie's amazing work, check out her Facebook and Instagram pages. Check out The Mighty's previous coverage of her work here.
Want to end the stigma around disability? Like us on Facebook.
And sign up for what we hope will be your favorite thing to read at night.