To the Target Employee Who Treated My Son With Down Syndrome With Dignity
---
Dear Target Employee,
As I walked past Target today on a mission through the mall with my three little ones in tow, thoughts flashed through my mind. Your employers have been in the news a lot lately with the announcement of the closing of all Target stores in Canada and the politics that have been dredged up as a result. Doing my best at multitasking — handing my children fishy crackers by the fistfuls, coaxing them to sit in the stroller while dashing in and out of stores — I thought of you. Not of you specifically, but of you, the Target employee. I wondered where you would go, what you would do for work, how this would affect your life, your family, your livelihood. I felt bad for your situation.
On my way back past your store, my oldest son took a detour from the path well-traveled, darting into your store and yelling "Ready… go!" at the top of his little lungs, as he pretended he was in a race against the fastest legs in town. And when I ran to turn him around and usher him out, he proceeded to have an epic meltdown. In the middle of your store. With everyone watching, staring, judging. Since he doesn't have a large vocabulary, he was unable to use his words to explain to me where he was headed, but I knew. Your escalator was calling out to him, drawing him in with the memory of the thrill he'd experienced on its hallowed stairs just a couple of short days earlier.
I feel for my son. He often gets frustrated that he can't express himself better. He doesn't always understand my decisions. He knows what he wants, and he gets mad if it doesn't come to fruition. Part of that is natural for a 3-year-old. Part of that is exacerbated because he has Down syndrome. It must be an incredibly difficult place to live. It's also hard to have to deal with the fallout. Especially in public.
Enter… you.
You saw my situation. You looked at my other two children, sitting alone in the stroller, waiting for their mommy to restore order and security. You noticed the exhaustion on my face as I bent down to my child's eye level and attempted to reason with him. You must have recognized that my son has a visible disability, one that would cause many to turn a blind eye or shy away from an already escalated scenario.
And yet you entered. You called out to my son. You walked over, bent down, talked to him and took him by the hand. You led him over to the checkout and let him scan the items just for fun. You diffused the situation for me. You distracted him, calmed him down and gave him back. You saw the situation for what it was — the temper tantrum of a 3-year-old who wanted his own way — and not for what is often read into similar situations — the misbehavior of a child because of a disability.
And most of all, you treated him with dignity.
From the bottom of my heart, thank you. Thank you for superseding your own situation to step into mine.
You will never know how much your gesture meant.
Sincerely,
The frazzled woman with the runaway kiddo.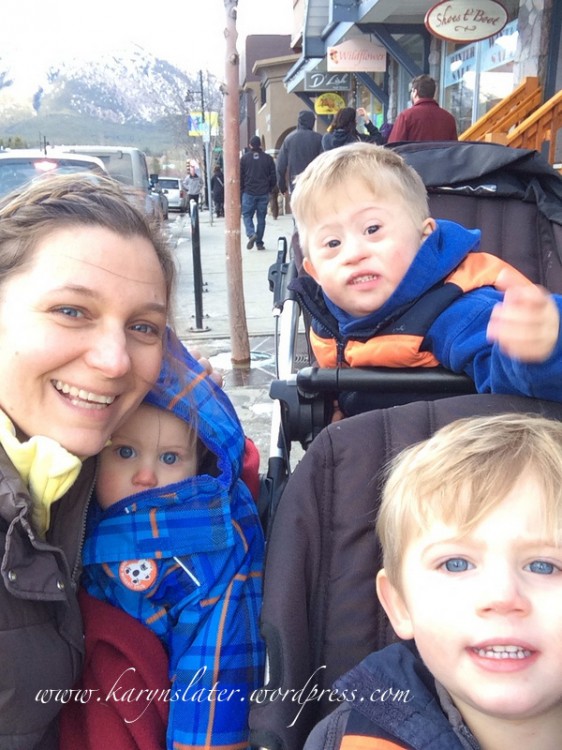 This post originally appeared on Our Epic Story.
For all of February, The Mighty is asking its readers the following: Describe the moment a stranger — or someone you don't know very well — showed you or a loved one incredible love. No gesture is too small! If you'd like to participate, please send a blog post to [email protected] Please  include a photo for the piece, a photo of yourself and 1-2 sentence bio.
Want to end the stigma around disability? Like us on Facebook.
And sign up for what we hope will be your favorite thing to read at night.