How I Find Eternal Light in the Darkness of Rare Disease
---
Dear Rare Diseases,
I'm almost 25, yet I've spent nearly 10 years as a victim to all your destructive, lethal and horrifying ways. But I have yet to know each of you by name, for more rare and unknown illnesses lurk in the shadows, already attacking my fragile body as it desperately clings to life.
Unworthy are your 10 assailants, whose names I refuse to speak, for together you're an evil monstrosity, causing nearly 100 deplorable symptoms, leaving me bedridden, writhing in agony, tangled in lines and tubes and often hospitalized with serious complications.
Like savages, you threw my delicate body to the unforgiving ground, but unbeknownst to you, I could see the stars shining above, lighting my way through the darkness. Your vicious assaults on my body have left me too frail to be helped, leaving my medical team of world-renowned specialists sadly perplexed with tears in their eyes.
Though your malicious intent was to wound and murder, it strengthened and ameliorated, causing personal growth, provoking my determined mind, fueling the passionate fire in my heart and igniting a sparkle in my eye.
At a time when I've never felt so close to death, I've never felt so alive. My blessings have never been more evident, my heart so open and my dreams in full bloom. Regardless of the perils I face, I prefer to see the heaven above instead of the fiery hell beneath my feet.
You did unspeakable things to my body, inducing its failure. Light stings my eyes, water feels like acid on my peeling skin, slight sounds are deafening and gentle hugs are abrasive. Potentially fatal and erratic vitals, incessant nausea with vomiting and shortness of breath leave me unwillingly motionless. Although cracking nails and fistfuls of hair fill my bony hands as my shockingly gaunt body withers away, my dignity does not fade.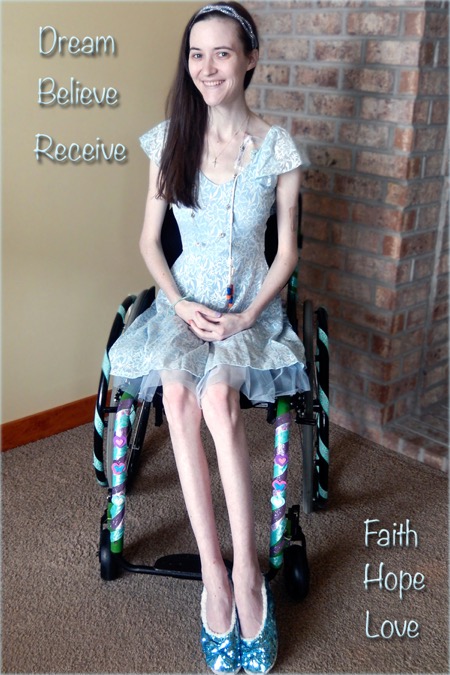 Though life is fragile, it's stunningly beautiful, though sometimes heartbreakingly so. Despite bodily suffering, my mind will never suffer the same debilitating fate, for I will remain fortitudinous in my fight, persisting onward to become the medical miracle who not only survives this all, but thrives through it all.
Your insidious tactics influenced my peers and relatives to intentionally abandon me and spew hateful words. Nevertheless, I emerged stronger, forming unbreakable bonds with people who listen intently with understanding, envelop me with their sincere love and compassion, encourage the pursuit of my wildest dreams and hold my hands and heart in prayer. People continue to persecute and stare with disgust, but I now continue on with a self-satisfying smirk, content with who I am and all I've overcome.
You selfishly stole my talents, abilities and identity. Until you invaded my life, I was a dedicated dancer twirling gracefully on stage, a musician in the school orchestra, an artist who worked until 3 a.m., an athlete who ran 35 invigorating miles a week and an adventurous girl who camped in the mountains. For years I found fulfillment and joy while assisting children with special needs and taking care of my cousins' children.
But as you crippled my body, I strengthened my mind, earning a 4.0, serving on education boards and pursuing a double major in Special Education and Spanish. Collapsing on the ground, needing to be carried across campus and sleeping 10 hours a week became routine, which unwillingly led to several medical leaves, preventing graduation.
Nevertheless, I, Allie, remain as a proud young woman who's honest, loyal, loving and sincere. I know my lack of physical abilities does not detract from my identity, capabilities and ability to appreciate life each day. Grief is a fleeting moment. Every day I wake, I choose life, love and God. I may no longer be a student or teacher in the traditional manner, but I still seek to learn and try new things each day, just as I hope to teach others what I've learned along the way on this journey.
Because of your cruel ways, I have a broken body, but my courageous fight has given me an unbroken spirit. Dream. Believe. Receive. Dreaming keeps my hope alive and enriches my faith, granting me the opportunity to live fully, for happiness is independent of varying abilities. Believing is a lifesaving hope. When you walk by faith, have eternal hope, dream of miracles and have sincere gratitude, you will receive.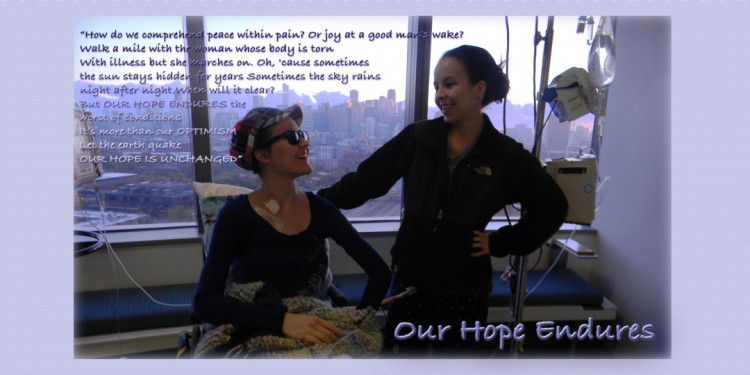 I'm fed by tubes and TPN, but receive an even greater nourishment from love of family, friends and life itself. I cannot stand alone on my own two feet, but I can stand my ground. I can breathe the fresh air and feel the sun on my face even as I'm curled up in bed, gazing out my bedroom window. I smile as I close my eyes and dream of the future.
Though darkness may encroach, there is an eternal light that shines. My hope endures.
Sincerely,
Allison Healy
The Mighty is asking its readers the following: If you could write a letter to the disability or disease you (or a loved one) face, what would you say to it? If you'd like to participate, please send a blog post to [email protected] Please include a photo for the piece, a photo of yourself and 1-2 sentence bio.
Want to celebrate the human spirit? Like us on Facebook.
And sign up for what we hope will be your favorite thing to read at night.