Doctors Said She Might Never Walk. But That Day, I Watched Her Surf.
---
We arrived in Galveston, Texas one day early. My husband, John, and I knew Samantha would need a day to adjust to this new environment. We checked into the hotel and then took off to visit a local surf shop where we met Josh and introduced him to Sam. Josh was at the counter with his laptop and told us he would be surfing with Sam. He had Sam's biography so he knew she was 10 years old, nonverbal and deaf. Josh traveled all the way from Southern California for this event and I was stoked to find out that he would be surfing with Sam.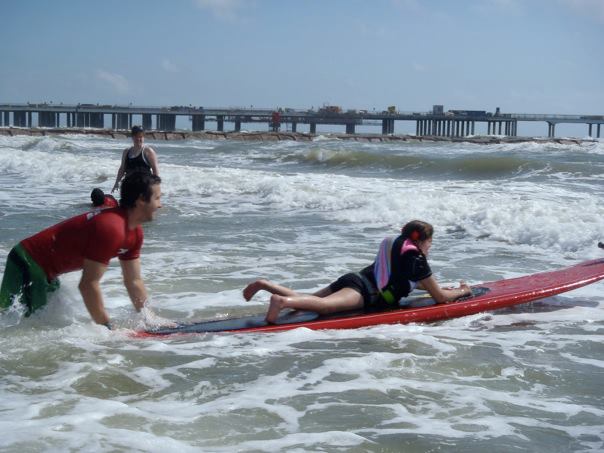 I knew Sam was a little nervous when we entered the shop but I liked the way she reached out to touch Josh's hand when he came around the counter to speak to her. This meant a lot. It wasn't long ago when Sam would withdraw her hand from others as they reached out to touch her. Now, here she was holding her red basting brush in one hand and reaching out to Josh with the other – an instant connection. We told him how much Sam loved to swim but how she had never been to the beach. Surely, this was going to be an entirely new experience for her but we had faith in her ability to adapt.
It isn't easy traveling when you have to bring your entire house on a vacation. Sam is a creature of habit. She likes structure, familiarity and wherever we go we need to make sure we have access to a refrigerator, microwave and a few comforts of home (i.e. favorite blankets and toys). We also need diapers, wipes, foam bath soap, medications, several extra clothes, favorite snacks, sippy cups and spoons. Okay, maybe it is not the entire house but when I am packing for Sam it sure feels like it.
Sam finally settled down, took a bath and went to sleep. John and I watched television for a bit and then we decided to call it a night. As I was lying in bed, all I could think about was tomorrow. I couldn't sleep. I was too excited. I imagined Sam surfing and how or if she would surf. I had been waiting for this opportunity for a few years. My dream for Sam was finally coming true in Texas. I felt like a child waiting for Santa at Christmas.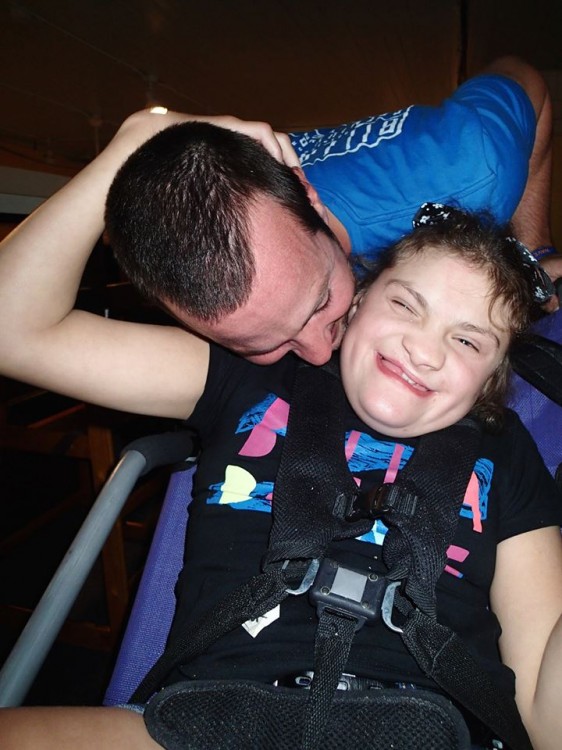 Morning came and, at last, Sam was awake. John bought breakfast and we went through our usual morning routine. I dressed Sam in her Billabong swimsuit, rash guard and board shorts and made sure she looked extra cute for her big day. We were all ready to go to the beach and, suddenly, Sam grew fearful. She was crawling around the hotel room and refused to stand up or get into her stroller. I thought, "Oh no! She's having a meltdown. She's scared."
We told Josh that Sam was fearless. Did we have too much faith?" John and I gave Sam a little time to calm down and then managed to get her into her stroller. She was kicking her right leg nervously and wanted to hold my hand as John pushed the stroller to the car. Sam reluctantly got into the car and I strapped her into her car seat as she fussed. I prayed that she would be okay by the time we got to the beach…and she was. Once Sam saw the sand and the water, everything became okay. She sat for a little while, observed and then decided to run towards the salty beach water, sit, eat sand and chew on seaweed. Sam was happy. I was happy.
When it was Sam's turn to surf, Josh greeted her. He got his surfboard ready, I put Sam's life jacket on her, and then the most amazing thing happened – Sam was on the surfboard, taking off on her belly with Josh right behind her. Everyone cheered.
I am pretty sure my heart smiled bigger than it has ever smiled before. I felt like I was surfing! John shot over 700 pictures as Sam surfed with Josh that day. She loved it! We loved it! There was so much happiness and gratitude in our hearts as Josh and all of the awesome volunteers helped Sam surf.
Doctors once told us Sam might never walk, but here she was surfing!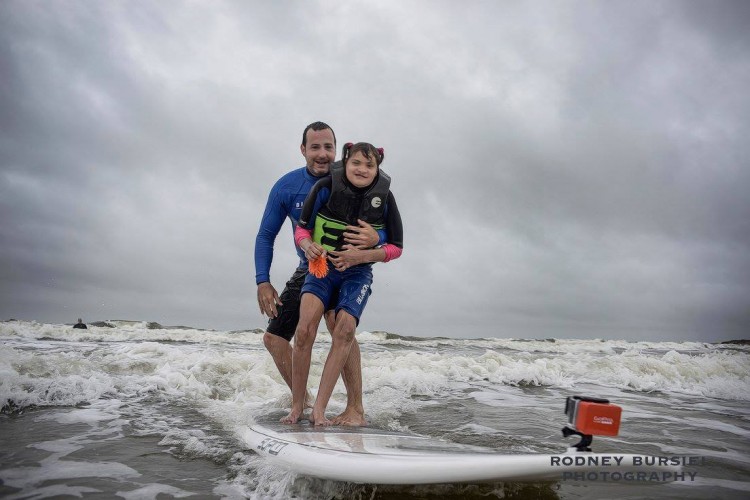 Since this spectacular day, four years have passed. Sam is still surfing and we have grown very close to Josh Harper and Keith Lovgren, co-founders of Waves of Impact. They visit us in Texas and we visit them in California every year. They are a HUGE part of our lives. They are our family.
Want to end the stigma around disability? Like us on Facebook.
And sign up for what we hope will be your favorite thing to read at night.