The Lifeline That Helped Me Find My Way Out Of an Eating Disorder
---
A year ago today, I graduated from treatment.
Treatment. It's a funny word, isn't it? Treat. Although in my case it's appropriate. Nearly every day for over two months I was prescribed ice cream for my recovery.
The journey began when I was 14. I was at summer camp in Colorado getting ready for the camp dance. All the girls in my cabin were trading outfits and I realized, disappointingly, that I couldn't fit into anyone else's clothes. I spent the evening shyly resting against the wall while the other girls flirted and danced and disappeared in the dark with boys from the neighboring camp. I couldn't wait to get home to hear all about their night.
The next day at lunch I was halfway through my meal when I looked around the table and noticed that I was the only one eating a burger; every other girl had ordered a salad. Clothes, boys, burgers… and the lightbulb was on. I don't know where I got the idea, but when I finished my food I went straight to the bathroom to throw it up.
Quickly, this became the way I funneled all my feelings, managed all my stress. Too much homework? Eat, throw up. SATs? Eat, throw up. Feeling left out? Eat, throw up. Too excited? Eat, throw up. I always thought each time would be my last. Throughout high school, my friends and I would make fun of image-conscious girls with obnoxious eating patterns. "Small salad, please, dressing on the side?" Blech. What a bunch of superficial losers. So I'd eat my Chipotle burrito like all the cool kids, and then…
When college began I promised myself a clean start. I don't know how long that lasted, a month, maybe two? I got assigned a roommate with another eating disorder: anorexia. She'd pick on one bowl of cereal all day long. While I was doing my best not to over eat, I found myself feeling envious of her self-control. Eventually, the embarrassment of being so much bigger (in retrospect, a perfectly healthy size) than my tiny beautiful roommate got to be too much. I devoured her box of cereal and then some, and threw it all up.
And on it went. School. Sports. Jobs. Relationships. Family. Everything that could possibly trigger my insecurities did, and I managed them all the same way: day after day, alone in a locked room, binging on foods I wasn't allowed to eat and then hunched over and clutching a porcelain bowl, begging for help from a God I didn't even believe in.
I didn't tell my parents until I was 25. My boyfriend at the time had been amazing at helping me keep it together, but when we broke up, I had a full relapse. I was so scared I finally called my mom and dad to ask for help. They did their best for me, but I quickly retracted from them, too, promising I'd gotten a therapist and everything was under control. The therapist only lasted about 10 sessions before I was back at it.
By the time I was 30, I had enlisted many more people to help me. My best friends knew, and were doing everything they could, I finally found a therapist I loved, and even though my outward behavior hadn't changed much, my internal commitment was growing. When my dad's illness had taken its toll and he was in his final days, I made the decision to make his death mean something. If he wasn't going to be here to look after me anymore, the least I could do was to look after myself. I made a vow never to make myself throw up again. Ever.
And I kept it, mostly. One and a half times over the next two years I slipped up and I immediately told my support people. Though the purging had finally stopped, my recovery was tenuous at best because I was still restricting my food regularly, making excuses for skipping breakfast and lunch because "I ate too much yesterday." Or "I'm going out to eat tonight." I over-exercised and dieted. Except for throwing up, I did whatever I could to keep myself from gaining weight.
But it didn't work. The internal struggle for permission, for myself, from myself, eventually got to be too strong, and I found myself acting out everywhere, sneaking food when people weren't looking, binging late at night, and absolutely totally unable to stop myself. And hating myself for it.
One day, in October, 2013 I was with a group of friends who support one another to live a conscious life. It was my turn to receive feedback and one of the members, Jim, said the words I had apparently needed to hear: "You are a beautiful woman. You are a powerful manifestation of feminine essence, but you are f*cking it all up somehow. Maybe it's your food thing, I don't know, but I want you to find the best place in the world that deals with this stuff and get it taken care of."
By December, I found myself standing on the doorstep of Monte Nido Eating Disorder Treatment Center, about to turn over every ounce of control in my life to receive the help I needed.
A year ago today, I graduated from my residential treatment, stepping down to receive three more months of out-patient care before moving back to the Bay Area in May.
When I woke up today, I had no intention to share this story publicly. I wasn't sure if I ever would. "You're not really one to hide things," a friend said to me recently (about something else). I laughed. So much of my life has been lived in hiding.
But I don't want to hide anymore.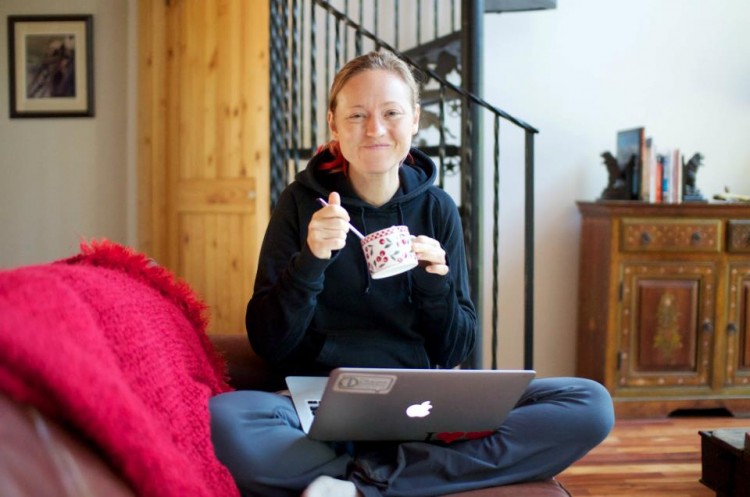 I believe I was literally loved back to life by the people close to me. No matter how much I pushed them away, my mom and Sue never stopped asking how I was doing. I've lost count of the number of times I fell completely to pieces in Scott and Joanna's arms. And so many others who have tried to love me over the years helped get me to the place where I could finally receive that support.
If someone you love has an eating disorder, don't try to fix them; they already feel broken. And if you have the courage, don't ignore it either; silence is shame's best friend. Ask. Listen. Tell them you see them and you love them as often and in as many ways as you can. Even if it feels like the message isn't getting through, the person you care about is trapped in there somewhere, starving for love.
It may take years, it probably will, but that love is the lifeline they will use to find the way out.
The Mighty is asking the following: Can you describe the moment someone changed the way you think about a disability or disease? If you'd like to participate, please send a blog post to [email protected] Please include a photo for the piece, a photo of yourself and 1-2 sentence bio.
Want to help celebrate the human spirit? Like us on Facebook.
And sign up for what we hope will be your favorite thing to read at night.