Taylor Swift Had a Beautiful Message for a Fan Who Lost Her Mother
---
Taylor Swift really cares about her fans.
Further proof of that is the compassionate note the pop star left on Tumblr for a young woman who reached out to her.
It's me, iced coffee girl," the fan wrote, "and I could really use a hug." She went on to explain that last January she lost her mom, so Mother's Day is particularly hard for her.
Swift took the time to write back.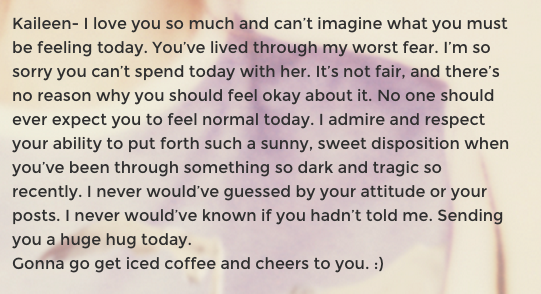 Swift's Tumblr message read:
Kaileen – I love you so much and can't imagine what you must be feeling today. You've lived through my worst fear. I'm so sorry you can't spend today with her. It's not fair, and there's no reason why you should feel okay about it. No one should ever expect you to feel normal today. I admire and respect your ability to put forth such a sunny, sweet disposition when you've been through something so dark and tragic so recently. I never would've guessed by your attitude or your posts. I never would've known if you hadn't told me. Sending you a huge hug today. Gonna go get iced coffee and cheers to you.
The singer's act of compassion clearly struck a chord.
"I'm so happy and it's all because of you, Taylor. I hope you know you completely changed how I was feeling today, and I love you immensely for that," the fan later wrote on Tumblr.
We love that this celebrity-fan relationship looks more like a close friendship. Thanks for using your fame for good, Taylor.
Want to celebrate the human spirit? Like us on Facebook.
And sign up for what we hope will be your favorite thing to read at night.