The App Everyone Should Have to Help Encourage Wheelchair Accessibility
---
In 2004, SOZIALHELDEN e.V., a German nonprofit created Wheelmap, a free interactive map that allows anyone to highlight wheelchair-accessible locations. Registered users can also add comments and photos.
Locations are ranked as "wheelchair accessible," "limited accessibility" or "not accessible." "Limited accessibility" means most rooms at that location are accessible but there may be an entrance step.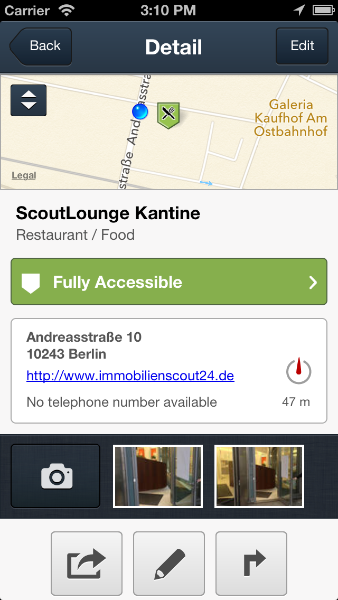 The app combines technology and community to raise awareness about accessibility and hopefully encourage more places to become wheelchair-friendly. According to the Americans With Disabilities Act, passed in 1990, buildings in the process of being built must be wheelchair accessible. Building design regulations were again updated in 2010 — you can view those guidelines here.
Wheelmap is available in both iOS and Android apps and comes in more than 22 languages. Since 2010, when the app launched, there have been more than 470,000 data entries by users across the globe.
Download the free app on Google Play or on iTunes.
h/t Gizmodo
Want to end the stigma around disability? Like us on Facebook.
And sign up for what we hope will be your favorite thing to read at night.