Dear Mom,
I'm not writing this to berate you, judge you or curse you out. I've been there so I get it. Honestly, when I was told upon arrival at pick-up that there had been a biting incident and I needed to sign a report, I had assumed my child was the biter. I know when you heard the news that your precious angel had bitten someone, you immediately felt a bit of shock and probably a little guilt. I get it because I've felt it, too. I've been through numerous discussions over my child's behavior, and I've felt the immediate need to declare that I didn't teach her to hit other children.
I know you want me to know he doesn't do this at home and you didn't teach him this. Not to worry. I know there are many reasons why children bite, but it would be a rare occasion when it's because they were taught to do it by their parents. I know you aren't teaching your kid to bite, hit or be aggressive to other kids because that would be weird. This might be the first time it's happened or maybe it isn't. I don't know. I'm sorry if it isn't an isolated incident because I'm sure you're trying to figure out what's going on and you might be feeling a little overwhelmed.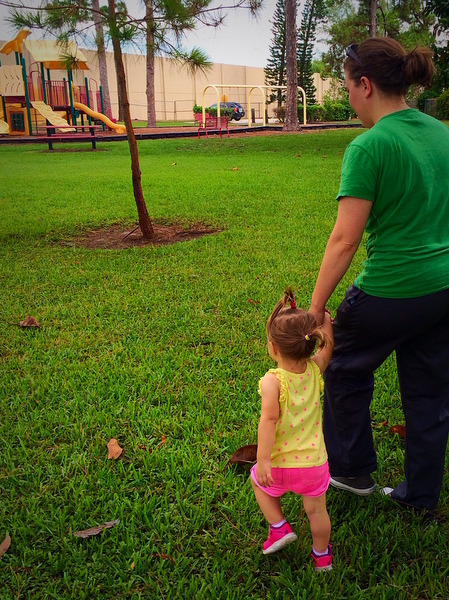 What I do ask of you is that if it has happened before or continues to happen, please don't ignore it. Children bite for many reasons, including speech delays, sensory input issues, to get attention or out of frustration. Sometimes kids grow out of it and sometimes they need a little help. Don't be embarrassed to ask for help if you don't know how to fix it.
Our little prince and princess were fighting over a red cushion called a Disc'o'Sit, which has been incredibly beneficial for my child and for me. I donated the cushion to the classroom for Bumbi to use when she's seeking sensory input through bouncing or rocking. It also helps her stay seated for story time and lunch. But it's bright red and has a cool texture on one side so I get why your kid took an interest in it. Now I'm not saying anything is wrong with your child or that a Disc'o'Sit will solve all your problems. My daughter happened to have a few issues that we continue to work on, but it doesn't mean yours does, too. It is actually common for kids around the age of 2 to bite, and they usually grow out of it. I'm sure that's likely the case here.
So cut yourself some slack. I won't be the mom demanding your child go somewhere else because of this one incident. I promise. And if you need some help or an ear to listen, I'm here. Don't worry about avoiding me because you're worried I'm going to unleash the fury of an upset mom on you. I know it isn't your fault and I know this whole motherhood thing is tough enough without being judged and criticized by other moms.
Here if you need me,
Bumbi's Mom
Follow this journey on Bumbi's Mom.
The Mighty is asking the following: Share with us the moment you stood up for yourself or your child in regards to disability or disease, or a moment you wish you had? If you'd like to participate, please send a blog post to community@themighty.com. Please include a photo for the piece, a photo of yourself and 1-2 sentence bio. Check out our "Share Your Story" page for more about our submission guidelines.