To the Doctor Who Said the R-Word While My Son Was Seizing
---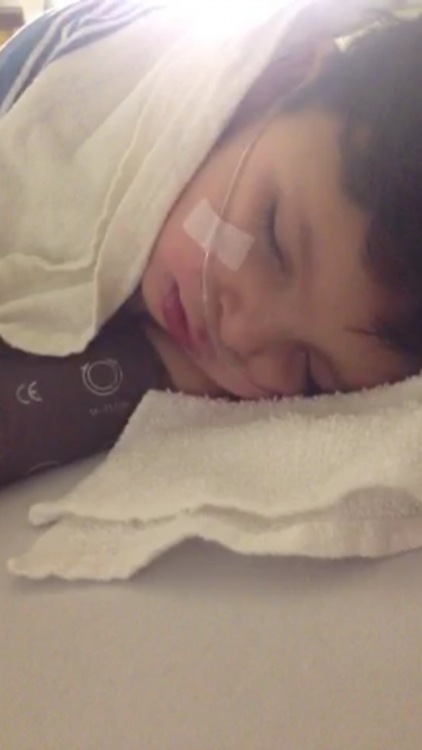 As you were aware, based on the report from myself and the nurse, my son had gone into absence status epilepticus (continuous seizures). It was a scary moment because the seizures have never been this bad. At home I gave him Ativan and debated calling an ambulance since I was near tears, holding my child and doubting my confidence to drive us in a legal fashion to the hospital.
While in the trauma room, I explained his epilepsy condition, Lennox-Gastaut syndrome (LGS) using medical terminology that not everyone understands. According to most medical dictionaries, LGS is a severe form of epilepsy resistant to many interventions, accompanied by developmental delays, cognitive delays and "mental retardation."
I'd already explained to the nurse how incredibly difficult it is to get an IV on my son. His pediatrician says he has junkie veins and is the hardest poke she's ever seen. Everybody struggles. They'd done four pokes on his ankles and feet with no success. So the doctor went to his hand to try for a vein.
The doctor and the nurse began having a conversation about some sort of coating on the IV needles and how nurses aren't allowed to use them because their license doesn't cover it. The doctor was shocked. "Who cares? Just do it anyway," he said. The nurse explained that if she hurt herself in the process, it wouldn't be covered. The doctor then replied with, "Wow, that's retarded."
My eyes shot to make eye contact with his to give him my "are you f*ing kidding me?" look. I was astounded. Not only am I standing right beside you watching you try to get an IV on my son, who has special needs and is still seizing, but you're a doctor. If you meant to imply that something was ridiculous or making no sense, that's the wrong word choice, especially for an educated person.
In most scenarios, I'm an avid advocate for not using that word, and many of my friends and family listen to my rants about how much I hate it. But I was in no state to stand up to you for your improper use of language. As a medical professional, words like this should be absolutely prohibited. I was deeply offended on behalf of my son, but I was also embarrassed that somebody who saves lives for a living uses that sort of language. At that moment, you lost my respect and my confidence.
You unfortunately didn't have a visible name tag, but I'll be filing a complaint against you with the hospital. When I do have your name, I'll also be contacting the College of Physicians and writing a review on your RateMDs page.
What you said should never happen, and I can only hope that from this you gain an understanding of offensive slang. Please, grow from this and continue to save lives — much like how you helped my son become medically stable while waiting for the pediatrician.
Spread the Word to End the Word! You can head here to pledge to stop using the R-word. It's a step toward creating more accepting attitudes and communities for all people.
 Do you have a story about your experience with epilepsy? Please send it to [email protected] and include a photo for the story, a photo of yourself and a 1-2 sentence bio. Check out our "Share Your Story" page for more about our submission guidelines.