Bride's Family Portrait Honoring Her Late Son Is Heartbreakingly Beautiful
---
Anna Bozman Thompson lost her son, Lake, in May to leukemia. He was just three weeks shy of his 9th birthday, according to the Prayers for Lake Bozman Facebook page.
Thompson recently married her longtime boyfriend, Travis Thompson, in Colbert, Georgia. The couple had put their wedding on hold for years to focus on Lake's health, Fox News reported, although their wedding was something Lake had always wanted. Despite plans for the beautiful outdoor wedding, Thompson was not looking forward to the family photo portion of the big day — taking pictures without Lake would be understandably difficult for the grieving mother.
But Thompson's friend, photographer Brandy Angel, not only photographed the wedding, but made sure Lake would have a way of being there. Angel worked with a man named Paul Woodward to photoshop Lake into the family portrait.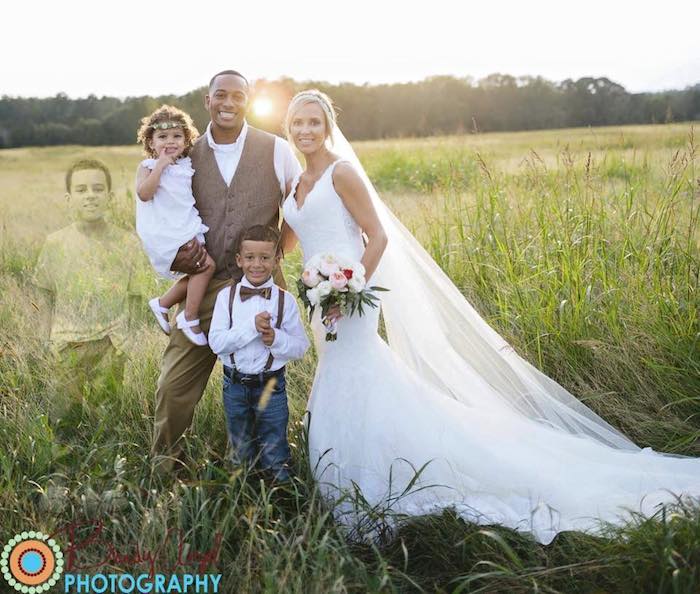 "Although my family will never be complete here on Earth, we will be in Heaven," Thompson told Fox News. "I do know that ️Lake has been watching over us especially when we got married. He made sure that it would be a day that none of us would forget. Although I felt his presence that day and I was actually happy, it was almost unbearable to take family pictures without him."
Now, when Thompson looks back at her big day, she'll be able to see, and feel, Lake's presence.