A Peek Into the Mornings of a Chronically Ill Mom
---
I believe parenting can be hard in all situations. Wanted to get that out of the way, first off. My kids are little angels sent straight from heaven, but they are also horrible monsters who daily chip away at my tiny bit of sanity.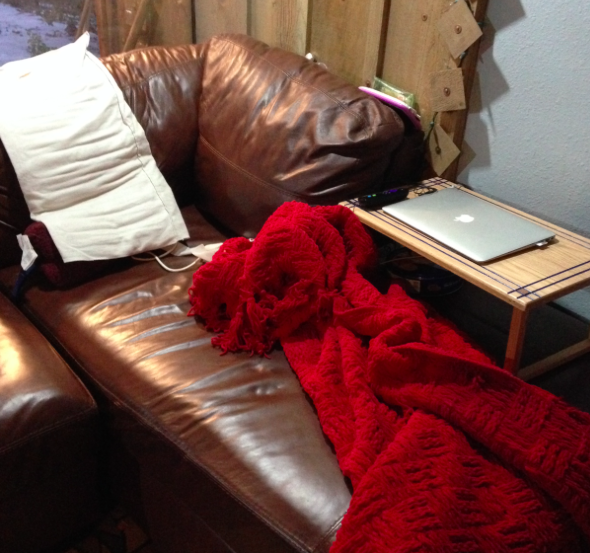 So, most mornings, we get up, have the eternal battle of whether or not my kids have to get out of bed (yes), get dressed by themselves (mostly no) and brush their teeth (most definitely yes), followed by the shoe and jacket debate/debacle. Sometimes I can actually do some of this stuff to help them, and sometimes they have to suck it up or sucker their dad into doing it.
Then, on days when I can drive, I fight the kids into the car (unless I can talk my husband into taking that fight) and drive the short drive to my eldest's school. Then unpack, argue with the 2-year-old about why she can't just stay at school, find whichever station of the classroom she's hidden herself in so I'll totally forget her (not happening), and pack back up in the car. Get home, eat the easiest thing that qualifies as breakfast (Clif Kid bars, cereal, yogurt or some combination thereof), then rest. For reference, that photo above is of my own personal nest.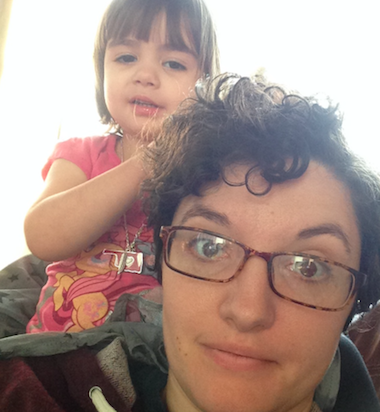 Unfortunately, my little one, Emeline, does not need a rest after that small amount of physical exertion. Since I quit work last year, we've developed a few fun things to do on or near the couch, which basically includes coloring, reading books, doing learning exercises, dressing up and playing doctor or hair salon.
Because I am also living in constant brain fog (I'm not entirely sure if it should be attributed to parenting, rheumatoid arthritis, medications or all of the above), my kids also get away with some things in the meantime. This morning, it was lipstick. The picture isn't super clear, but it is a shimmery pink shade all over her little lips.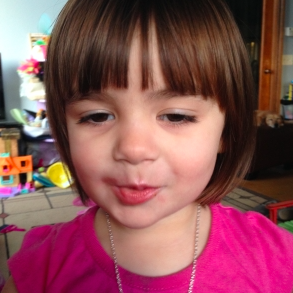 I am assuming my other daughter, Nora, looked similar this morning, but her teacher didn't mention it and it was gone by the time I picked her up, so… I'm going to pretend she didn't.
Then my husband Ben comes home and makes us lunch because he is an awesome cook and I am still recovering from drop-off.  Sometimes there is a little laundry or dishes or vacuuming in there, but mostly my day is just recovering and resting up for things.
Just a little morning in the life of a chronically ill mom.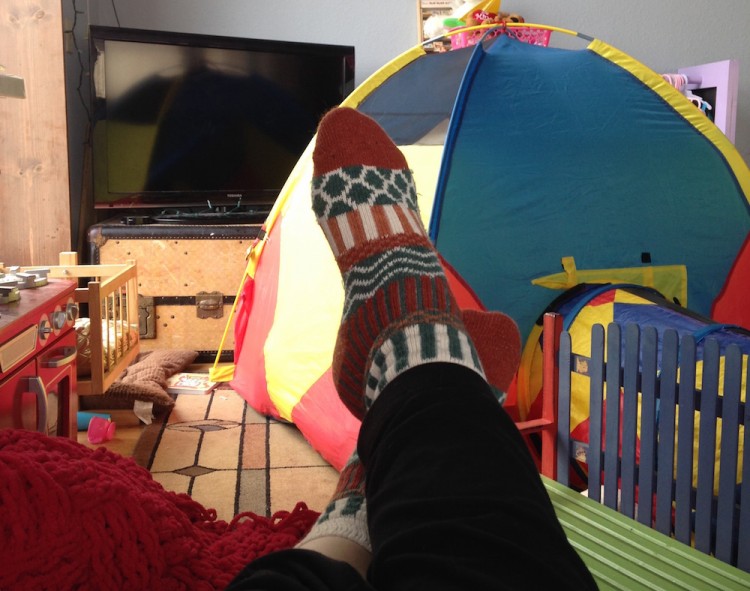 Follow this journey on Positively Rheumatoid.
The Mighty is asking the following: What's one thing people might not know about your experience with disability, disease or mental illness, and what would you say to teach them? If you'd like to participate, please send a blog post to [email protected] Please include a photo for the piece, a photo of yourself and 1-2 sentence bio. Check out our Submit a Story page for more about our submission guidelines.