January 12, 2016
When Room Service Gave My Son With Food Allergies an Extra-Special Gift
---
To the room service delivery person,
You brought my family breakfast at the Hershey Lodge in Hershey, Pennsylvania, on December 29, 2015. You have no idea how much more you brought us.
You brought compassion into a world that is lacking it.
You brought kindness into a world that desperately needs it.
You brought joy into my my son's life, as you made sure to bring him some candy on the breakfast tray that was safe for him.
He has life-threatening food allergies to tree nuts, peanuts, sesame and Stevia. At 5 years old, he is already used to sacrificing, compromising and feeling left out and different due to allergies.
You made him feel special by bringing him some Hershey-ets candy he could eat after breakfast. Then you went out of your way — during the busy morning rush — to come back 10 minutes later with six more candy canes full of it!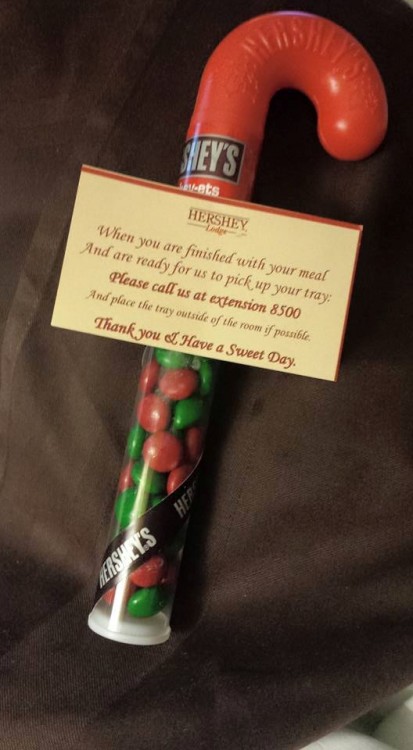 I couldn't believe it and wanted to hug you but thought it would be weird, especially while in my pajamas.
You didn't do it for a tip, as I had already tipped you. You did it because you are a good human being.
You are an exceptional woman, and I'm sorry I didn't take the time to ask you your name.
You went out of your way to make a little kid happy. You really cared that he wasn't able to eat a lot of the treats at the sweetest place on earth, so you made sure he had enough of the ones he could have. You went above and beyond, and for that I'm so grateful.
You deserve to be commended. You deserve much more praise than I was able to give you that morning.
More people should care about their jobs, and people, the way you obviously do.
I'm glad both of my children witnessed your generosity and act of kindness. I hope they will grow up to perform many thoughtful acts themselves.
Thank you for teaching them an important lesson, and for making my son feel extra-special.
In a world that often can be hostile toward those with food allergies, your cup runneth over with kindness.
Thank you from the bottom of my heart,
The food allergy mom from Room 1120

Follow this journey on Poetologie.
The Mighty is asking its readers the following: Describe the moment a stranger — or someone you don't know very well — showed you or a loved one incredible love. If you'd like to participate, please send a blog post to [email protected] Please include a photo for the piece, a photo of yourself and 1-2 sentence bio. Check out our Submit a Story page for more about our submission guidelines.
Lead photo source: Thinkstock Images