When My Daughter Could No Longer Ignore the Whispers About Her Alopecia
---
A legacy is something handed down from one generation to the next. When you think of leaving behind a legacy what comes to mind? A business? Money? Property? Or perhaps a name?
What legacy do you intend on leaving behind? How will it affect your children or grandchildren? How will it change the world? Do you have a legacy? Do you worry yourself with such thoughts?
I am currently pregnant with my third child, and my husband and I are already thinking about the next. We decided we wanted a large family. Our first child was diagnosed with Down syndrome at birth and later came to lose all the hair on her body. She has now been diagnosed with a severe form of alopecia.
Alopecia is an autoimmune disease where your immune system perceives your hair follicles as foreign. The body then attacks and kills the hair follicles. My first concern was, could this be threatening to her health?
There are typically no serious health problems related to this condition, which is a relief to any parent. Somehow I was so celebratory in that fact I forgot about any future confidence issues that may arise for her. She is put together perfectly in my eyes. She is a beautiful, happy soul, and up until recently, she rocked her bald head with a fierce attitude. As Airiana grows into more self-awareness, it is becoming harder to ignore whispers and stares.
I listen to people apologize for my daughter on a daily basis. People still apologize even when they find out she does not have cancer. I explain she is healthy and only has alopecia or Down syndrome, yet the response is still, "Oh, I am so sorry." Is it just me, or do other parents get offended when someone apologizes for your child having special needs?
My husband called me this morning with a heart-wrenching story. He began by telling me how wonderful his morning was with Airiana. He took her on a daddy-daughter breakfast date. Spending quality time with her dad always puts an extra pep in her step. They arrived at school, and he said she happily greeted a group of girls passing in the hall.
He then proceeded to tell me that the girls ignored Airiana, and as they got farther away he heard one whisper, "See, that is the girl with no hair." He then told me he looked down at Airiana and her shoulders dropped, followed by her head. He saw her peppy step disappear, and she sank into sadness.
These types of situations happen to Airiana weekly. Today crushed my heart more than any other because we just celebrated Ariana's 10th birthday, and with this birthday has come so much maturity. She is a responsible big sister, a true friend, the best hugger on earth, but now it seems she feels the need to be more.
She has requested a wig this past year, so we are in the process of going through wigs for children. I have watched my fierce, bald little girl turn into a fierce young lady who would like to be a redhead.
I know our story does not end with a wig. The students who are familiar and accepting of Airiana will now have questions about how she suddenly has hair. Curious children will more than likely talk about her wig. Dozens of strangers are still likely to approach us.
Starting today, these interactions will have a different outcome. I plan to make an elementary-level pamphlet. This brochure will be full of information and pictures. I will give them to curious parents so they may share it with their children. I will give them to children so that they may share with their friends. I will offer them to teachers in hopes that they educate their classes.
I also plan to raise money in order to make these pamphlets available to other parents. The idea would be that you could request a number of pamphlets from IAM21 and pass them out if you ever find yourself in this situation. The brochures will not be specific to Down syndrome or alopecia. It will be for the special needs community as a whole. We advocate for everyone.
Schools spend time during the year educating children on drug awareness and pushing them to do fundraisers. Do schools ever take the time to educate children on the diversity of special needs? I would like to see a special needs education week, just as I see a drugs awareness week.
What legacy do I want to leave behind for my kids? Land can be sold and money spent, but you can never take away character. My children and their children will have a profound respect for diversity amongst humanity. I hope to inspire them to hunger for knowledge in the unknown and feed their curiosity by asking questions. I hope my great-grandchildren will know about diversity and how beautiful it makes the world.
Again, I ask: What legacy are you leaving behind for your children?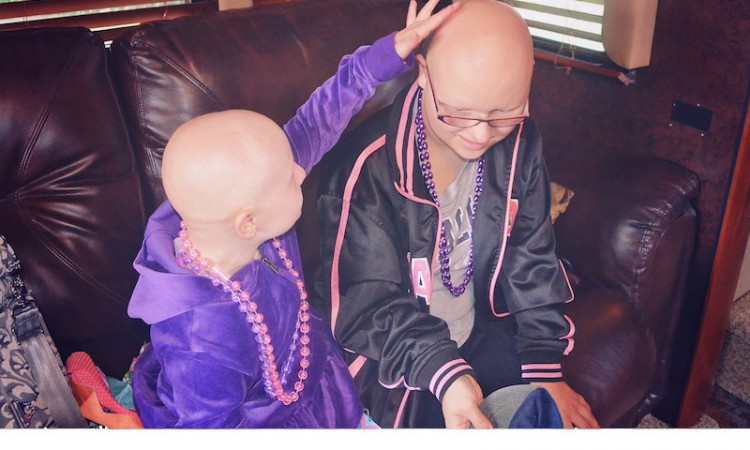 A version of this post first appeared on IAM21.
The Mighty is asking the following: Tell us about a time someone in your community went above and beyond (or did the exact opposite) for you or your loved one with special needs. If you'd like to participate, please send a blog post to [email protected] Please include a photo for the piece, a photo of yourself and 1-2 sentence bio. Check out our Submit a Story page for more about our submission guidelines.