To My Dog, My 'Best Friend' Through My Fight With Chronic Illness
---
It's a little weird to be writing a thank-you letter to my dog, since she can't read or understand English. But I'm hoping that somehow, my furry little caretaker knows just how important she is to me. This is what I want her to know.
Dear Juno,
As one of those "dog people," I've loved many dogs in my life. I'm the one who cries harder when the dog dies in a movie than when the person dies. I have to change the channel when those ASPCA commercials come on TV.
So when your "dad," Andrew, and I brought you home from the shelter, I knew you'd be so, so loved and incredibly important to us. But I never guessed just how important you'd be.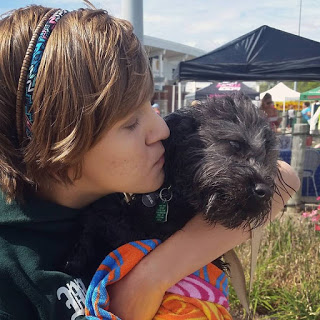 I was diagnosed with endometriosis just a few months after bringing you home. I remember my mom being worried about us training a puppy before our wedding, but it was a breeze. We never imagined another, much more difficult hurdle would await us soon after that big day.
Leading up to my diagnosis, I was so sore and exhausted. I limped around the house while working from home and took naps as soon as I was off the clock. It was an effort just to hook you to your leash and take you outside, but thankfully, you learned housebreaking easily and minimized the accidents I had to clean up.
After my surgery, when I learned I definitely had endometriosis, you curled up next to me on the couch while Andrew made me soup. You brought me your favorite toys to snuggle with, which I appreciated, even if they were covered in slobber. Although I know you didn't understand what was wrong, you obviously could tell I was miserable, and in your own little puppy ways, you tried to make it better.
I know I'm not much fun on my bad days. You push a lot of tennis balls into my hands while I'm under an electric blanket. Sometimes I ask Andrew to take you outside when it's my turn, because my pelvic pain makes it hard to walk. I'm not very good at chasing you around the house when you want to play with me, but you don't hold it against me. Instead, you take advantage of the warmth from my heating pad to take your own nap. You'll chase me when I'm feeling better.
I remember one day when I was home alone, and the burden of my chronic illness was way too much. I crumbled to the floor and buried my face in my hands, sobbing loudly. I immediately felt a cold, wet nose push under my chin and a bunch of puppy kisses wiped away my tears. It was hard to feel sorry for myself when you were climbing into my lap and showing me it'll be OK.
Every morning, I look forward to seeing your big, bright eyes and tongue hanging out of your mouth. You help me climb out of bed when the pain makes me want to stay under the covers, and you boost my energy when chronic fatigue threatens to take the last bit of it away. Your funny faces and silly sounds make me laugh on my worst days, and you know exactly how to turn a flare-up into a snuggle party.
Even though you're a dog, and you may not be consciously helping me fight my daily battles, you give me the courage to face my illness every day. You're my caretaker, my best friend and better than any medicine the doctor could prescribe.
I love you, Juno, and I hope you know how much I love you. Thank you for brightening my life.
Follow this journey at Still Sunflowers.
The Mighty is asking the following: What was one moment you received help in an unexpected or unorthodox way related to disability, disease or mental illness? If you'd like to participate, please send a blog post to [email protected] Please include a photo for the piece, a photo of yourself and 1-2 sentence bio. Check out our Submit a Story page for more about our submission guidelines.