Advocates in the disability community are blasting online dating site OkCupid for posing a question in its screening process some are calling "inappropriate, offensive and discriminatory" — "Would the world be a better place if people with low IQs were not allowed to reproduce?"
Mencap, a UK charity that works with people with learning disabilities, has started a campaign calling on OkCupid to apologize and remove the question. A question like this, they say, contributes to the public's current perception that people with learning disabilities can't lead lives like everyone else.
Ciara Lawrence, a spokesperson and campaigner for Mencap, started the petition asking OkCupid to remove the question from its site. The petition has almost 1,000 signatures since it was posted Thursday morning.
"As someone with a learning disability who is married and thinking about maybe having children in the future, I find this question inappropriate, offensive and discriminatory. It should not matter who you are when you have children, just that you will love them and do everything you can to raise them in the right way," Lawrence said in a press release put out by Mencap. "I know how important it is for people with a learning disability to have positive role models in their life, and be encouraged to fulfill our dreams."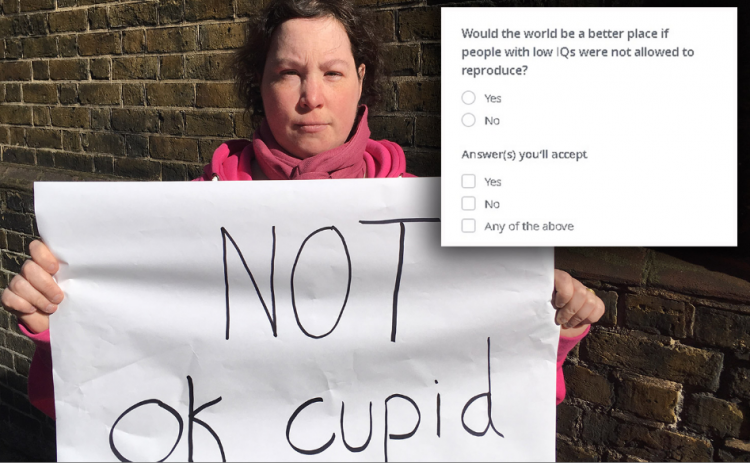 Amy Clarke, also a Mencap spokesperson living with a learning disability, said in the press release, "By asking the question, they are making it seem like it is OK to say yes, which it is not. If they had asked the same question about people of different races or sexuality, there would be outrage, and it should be the same for people with a learning disability."
When asked to comment, an OkCupid spokesperson told The Mighty, "Our question system is designed to help potential matches understand the interests and values of other users. Questions range from mundane to provocative, and they specifically allow you to determine your potential compatibility with someone else and to avoid people whose viewpoints you strongly disagree with." 
What do you think about OkCupid's question? Tell us in the comments below:
h/t The Sun