There's No Place Like a Food Allergy Community
---
The week of May 8th – May 14 is Food Allergy Awareness Week. There is no better week to express my thanks to the food allergy community and all the wonderful people who support us. Please help me by sharing this letter with anyone you know who has food allergies, or with anyone who has helped you in your food allergy journey. Let's spread thanks. Let's spread awareness.
So, to all involved in the food allergy community:
I discovered I had life-threatening food allergies after eating a huge plate of shrimp scampi. I was 28 and had eaten shellfish my whole life. Until this point, I was fine. Then I wasn't. I haven't eaten shellfish since.
Despite all of this, I did not become a full-fledged, all-in, member of your community until my 4-year-old son reacted after eating pecan brownies. I knew a little about food allergies and about how deadly they can be, but nothing can prepare you for seeing your small child react. As his hives increased, so did my panic. After he threw up, we knew he must get to a hospital fast. I worried that I could lose my son.
I was one of the lucky ones. I survived my anaphylactic event. My son survived his, too. But I still worry every single day: Would we be so lucky next time? If there is a next time?
If only I had a crystal ball.
That's where all of you came in. After my son's reaction, I sought advice from friends on Facebook right away. I was desperate and needed answers fast. I wanted to know what I could feed my son safely before his allergist appointment, which was weeks away.
You certainly came through. You pointed me to the Food Allergy Research and Education website, and to a few wonderful Facebook groups for food allergies such as No Nuts Moms Support Group.
Thanks to your input and knowledge, I was able to find these resources and do a lot of reading. I was able to ask a lot of questions about being a beginner mom of a child with food allergies.
I was able to start my long journey down the teal brick road. But I was no longer alone. I had some friends with me. Some friends who had more brains than thousands of scarecrows with a degree, more courage than a hundred fierce lions, and more heart than the most loving tin man in the world.
I took my first steps with trepidation. I had a lot on my mind: I had a son to protect and a Wizard to find. I found some safe lollipops via the Spangler Candy Company. Spangler would be the envy of the Lollipop Guild, and they welcomed us into Food Allergy Land. Then I found some great books, and some nice Kyle Dine tunes that would help my little boy have sweet dreams, just like the Lullaby League.
Some lovely people on the Internet act as kind Fairy Godmothers. They are as generous as Glinda, and offer many words of wisdom. They helped me keep on the right road – they steered me away from the flying monkeys.
The road of a food allergy mom/family is full of struggles. It is never easy. But you in the food allergy community taught me how to call companies to make sure the food my son consumes is safe, and that each of those companies operates differently and follows its own rules. You taught me to never leave home without our EpiPens or auto-injectors.
From time to time, I encounter some wicked witches. These are the types of people who do not try to understand, or who refuse to acknowledge, the fact that people are dying from food allergies. These people are a part of the haunted forest. They taunt you, they mock you, they care not at all about keeping our children safe.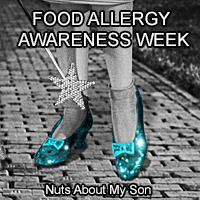 Some have said that peanut butter sandwiches or nuts on planes are worth more than my child's life, or that he is not meant to survive if a mere nut could take him out. Almira Gulch has nothing on these people, and they are swept up in a tornado of hate. I can only hope and pray that they do not get food allergies, and that they may see the light someday. May this light pour some water over the witch, and throw the broom into a ditch.
You in the food allergy community help me gain peace and balance after such unpleasant encounters.
You are my rainbow.
I thank you for all the information you have given me, for all the tears, for all the smiles, for the bond that only food allergy families understand. I also want to thank those family members, educators, doctors and friends who are a part of our community and everyday lives. You care so much about us and our children. You walk this road with us voluntarily. There are no better people than you.
You have helped me keep my son safe for over a year now. There is no way I can ever repay you or thank you enough.
You are always in my thoughts and prayers. You are all in my Hall of Fame.
There's no place like a Food Allergy Community.
There's no one like you.
Thank you for making my skies blue again.
The Mighty is asking its readers the following: Write a thank you letter to someone you realize you don't thank enough. Check out our Submit a Story page for more about our submission guidelines.