'Cassie Q' Comics Take a Hard Look at Life With a Disability
---
Body images issues, financial woes and concerns about dating – Vanessa Krubniki is taking the issues people living with disabilities face and drawing them.
"Cassie Q," the 23-year-old's comic series, presents a variety of life experiences from the perspective of Cassie, a young woman in a wheelchair.
"I think Cassie is an alter ego for my deeper self," Krubniki told The Mighty. "I'm not a very outwardly emotional person, so Cassie is the complicated part of me that is more hidden from sight."
Krubniki, a Brazilian student in her second year of university, lives with spinal muscular atrophy (SMA), a progressive condition that requires her to use a wheelchair. Many of Krubniki's comics represent her own frustrations with her body.
"When I drew myself for the first time, my first instinct was to draw a pretty girl with a slender, symmetric figure, just like I had my entire life," she writes under her comic titled "Pretty Is Always The Default."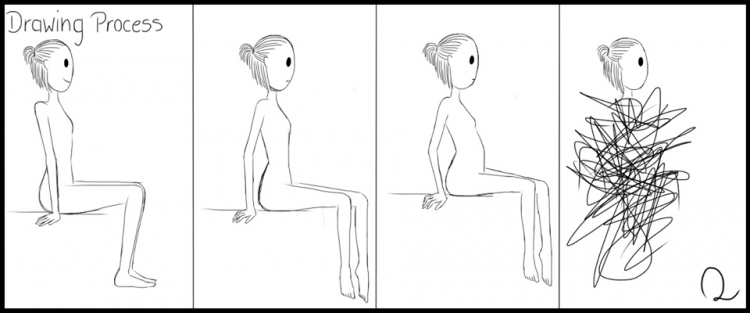 "When I started drawing Cassie, I wanted to be honest about myself," Krubniki said. "The squiggles were a moment of rage at the way my body looked. Back then I still didn't know how to draw my wheelchair, and felt upset. Then I looked at the squiggles in my head and thought they represented well both my rage and the crazy shape of my body."
Squiggles aren't the only way Krubniki represents her body.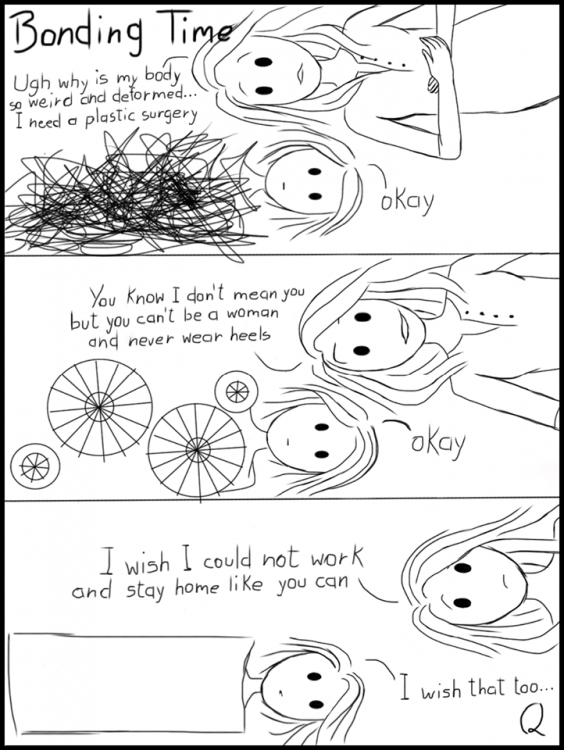 "The box represents both my immobility and feeling stuck in it, and the flowers are always expressing sexual dimensions," she said. "The wheels came in later to express my actual identity as a disabled woman, a social minority."
"Cassie Q" provides an outlet for Krubniki. "The comics bring me so much relief," she told The Mighty. " She started the series in September 2015 and has been posting weekly ever since. "I found a lot of joy doing them so I continued and developed the character on it."
As part of her character development, Krubniki has placed Cassie in a number of tough settings – insensitive conversations, family gatherings – situations that Krubniki faces in real life.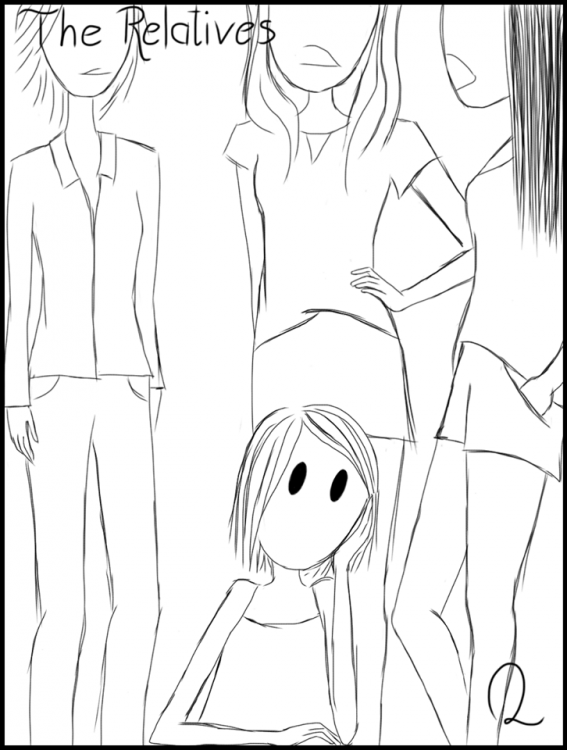 In addition to her drawings, Krubniki pairs each comic with a thought out description detailing the emotions behind each piece.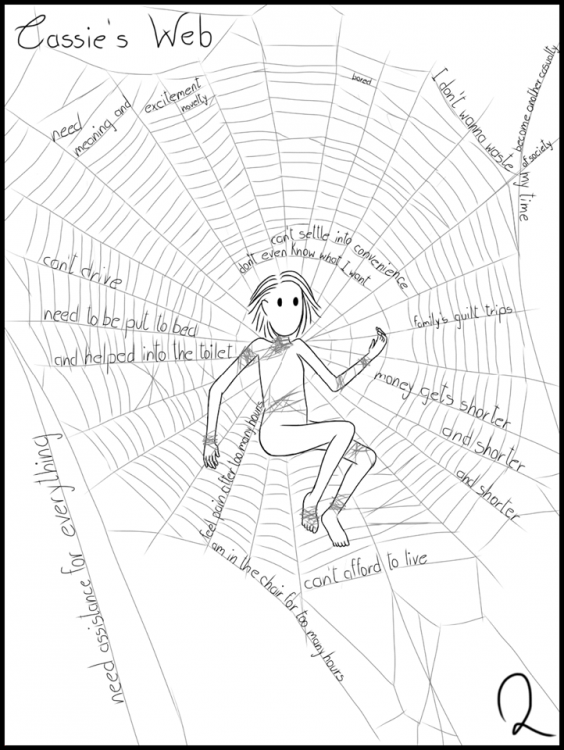 The Complicated Life Of A Bug

Everyone has their little web of aggravators, things that stops them from moving forward and forces a detour. Sometimes with disabilities, this web gets so detailed and so layered that it might seem impossible to move. I fear that one day it will be impossible to move.

So many times I jumped to decisions because I just didn't have the space to explore myself. So many times I didn't hang out after class because I had no idea how to fix the need to pee and it just seemed easier to go home. I write this because we never know what kind of ridiculous issues are holding people back. Money must be the most common web that gets people stuck, but most people don't quite know what it means to pay someone to be their legs and arms, knowing that allowing your family to do it would make space for a messed up family dynamic that you would never get out of again.

Sometimes patience and creativity can rip certain issues apart, but I've always had to deal with hundreds of traps, and that is something established in my life that is fine as long as I can still find a way to live my complicated life.
Many of those emotions are tied to wanting to feel loved and be in a romantic relationship. "This is a difficult subject to talk about," Krubniki writes in her comic titled " It's A Love Story, Baby."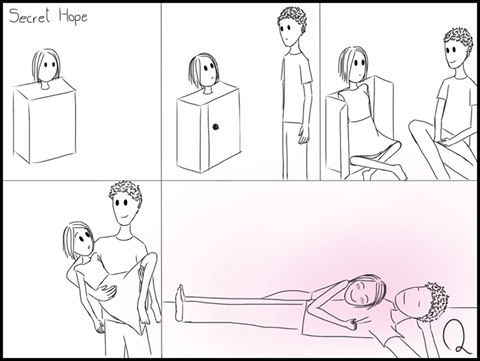 In my experience, people tend to feel uncomfortable talking about love and sex in the context of disability. I for one feel like there's a knife cutting through my throat. This subject is so taboo that people aren't even aware of it being taboo.

I remember being a kid and already being deeply concerned about the implications of my disability in my sexual life. I have thought of sex as an expression of emotional intimacy for as long as I can remember thinking of it, and have longed for deep connections since pretty much forever. Did Disney mess with my brain as a child? Possibly. Probably. But the point is, it's a big part of my secret thoughts. I don't think for one minute that love could ever happen for me, and I honestly feel ridiculous saying I want it, but there you have it.

And even though I already know how this goes, I can't stop my own dumb hopes of someone taking my hand and leading me out of this loveless life, even if just for a little bit.
Through her drawings and captions, Krubniki sends a powerful message. "I wish everyone remembered [disabled people] are full humans, not necessarily children, not inspirational angels, not objects," she told The Mighty – a feeling addressed by many of her comics.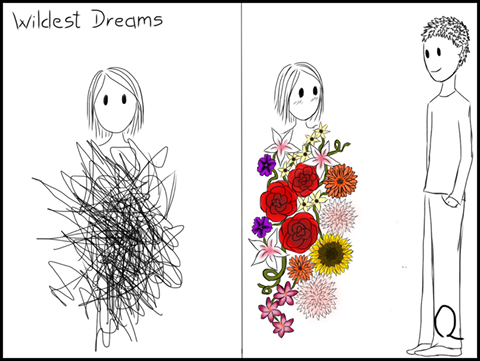 I would like to feel desirable, feel good about myself. To know what bliss is. I want my colors to be seen and loved for what they are so they are free to bloom. I want to be in love. It doesn't sound all that crazy, but there's a reason why I named it this way. This is the wildest dream.
As she continues to develop her comics, Krubniki hopes that Cassie can help facilitate an empathic connection between people. You can see more "Cassie Q" comics on Krubniki's Facebook page.