When I Watched My Brother Take His First Steps With a Rare Condition
---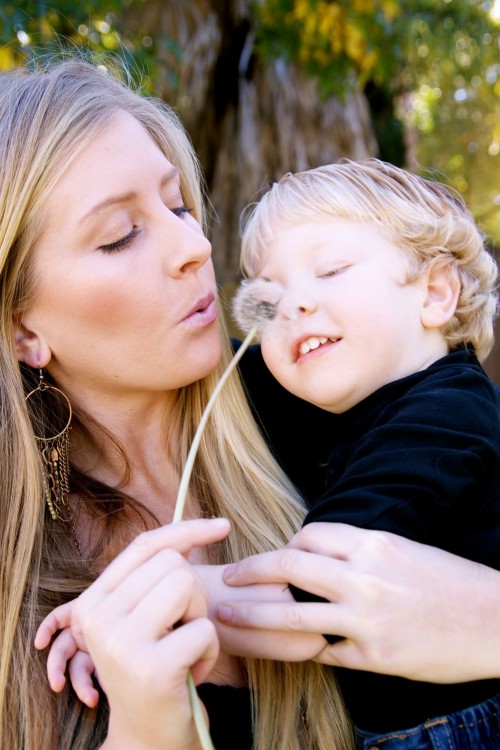 When I wake up, I place my feet on the cool, hardwood floor, and I shuffle to the bathroom, I feed the cat, and make breakfast. I begin my day. A lot of us begin our days this way. By walking.
But not my brother, Gavin.
He doesn't choose when he places his feet on the ground.
Gavin is a quadriplegic, meaning he cannot walk. He also cannot talk or eat solid foods. He needs help to do everything. He is nine.
Every morning, one of my parents carry his 40-pound body down the stairs. He is getting taller, standing over four feet. His legs dangle as they bounce against my parents' thighs.
He is placed into a white, egg-shaped chair, where the soles of his feet can hit the floor. He shuffles and kicks them along the beige carpet of the rec room, and laughs to his morning cartoons, usually "Sponge Bob" or "Sid The Science Kid."
He hangs out, with his feet planted, close to the world, while an immersion blender is blending his breakfast in the kitchen, and his seizure medications are being pulled.
Gavin will let one of us know when he has to use the restroom, wants water, or wants to go outside and play with his eye-gaze machine which we call his "talker." Sometimes he will shriek or coo, and it is up to us to decipher, by pitch and tone, what he means and what he wants.
And what he usually wants, like any 9-year-old boy, is playtime.
He wants to go in his walker.
When he was 6 months old, his incredibly rare, genetic disorder, Aicardi-Goutieres syndrome (AGS) was ravishing and trying to destroy his brain. My mom took him in the pool, even though he was in hospice care. She thought, one day, if he were to "beat" the disease and "beat" hospice, she would try to see if he'd be able to walk. She would want him to live as "normal" of a life as possible. The water, she believed, would strengthen his legs.
When Gavin was one, he was taken off of hospice — a graduate. He would live. But his life would be different.
At two, although, he had been rescued from hospice, Gavin had not been rescued from brain damage. To continue to strengthen his body, my mom put him in a "stander." This helped train the muscles in his legs, to help teach them you are strong, even if his brain wasn't sending the right signals.
When he was four, he received his pacer, which we call his walker. In it, he is strapped in, like he is riding a horse. His legs float, and his toes gently brush the Spanish tiles of the first floor of our home. The front half of his torso hangs over the front of his blue walker, to propel him forward. And then, he begins.
Left foot, right foot.
The first steps are always beautiful. For him, and for us, his family.
He is able to be vertical. Upright. His favorite activity is downhill racing. We bring him out to our driveway, and send him off from the top, and he glides, or rather runs. Left, right. Left, Right. Left, right.
At the bottom he shrieks, "Ooore." We all know this to mean "more."
People ask us, will he ever walk on his own?
We don't know. We can't know. But we hope so. I know physical therapy can be magical, though. It's a place where hard-working bodies like Gavin's, have a chance to strengthen themselves and reach goals.
Earlier this week, my dad took him to his elementary school, where he sees a physical therapist named Steve. Dr. Steve has introduced him to many playtime activities, like the trike, which Gavin adores. And most recently, the Upsee harness.
The Upsee harness is genius. It's the closest Gavin gets to walking on his own.
When children are very young, they often learn how to ski by making a "pie" slice with their skis, a triangle. They straddle the wet snow, between the legs of their parents, as the two slowly guide down the bunny hill. The Upsee contraption is kind of like that.
My dad and Gavin work as a team. Both of their feet are strapped, almost together. My dad holds Gavin's torso, and begins walking. Left foot, right foot. The Upsee is a thin strap, so small at times, I wonder if Gavin even knows his feet are strapped in parallel to my father's at all. Or I wonder if he lets his heart and mind go, I'm walking.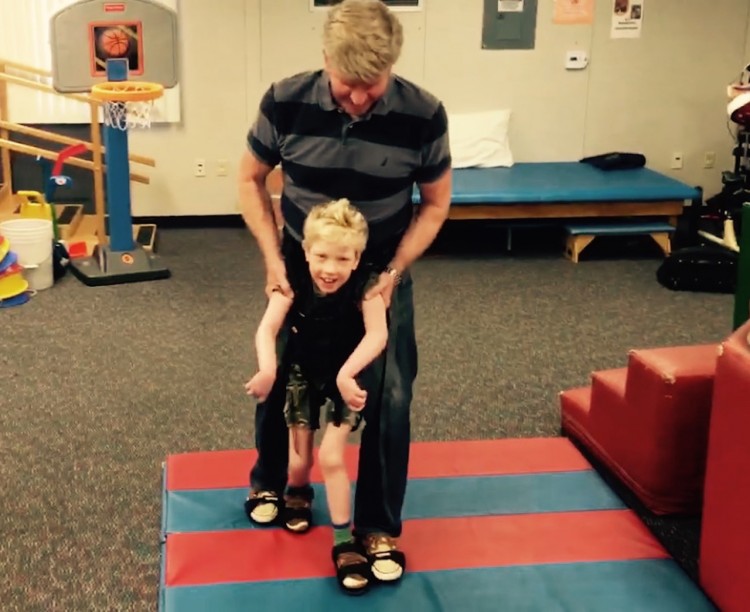 I can see it in my little brother's eyes, as he approaches Dr. Steve, who is calling for him from the other side of the room.
"Come on Gavin! You can do it!" Steve says.
Gavin's mouth opens like a clam, and the corners of his mouth weave to the side of his face. His smile becomes a big slice of summer watermelon. And he yells, out of his sheer excitement, from the feeling we all get when we accomplish the impossible. The thing doctors told him, when he was dying, he would never do. The endorphins sprint to his brain, that has been damaged by AGS. And it seems, even for the moment, undamaged.
Because joy doesn't get a label – it is neither damaged nor undamaged. It's neither "normal" nor abnormal. It simply exits or doesn't.
And with Gavin, it does.
So when people ask, "will he ever walk?" Which is to also ask, "will he ever be normal?"
My answer is: he already is.
Follow Gavin's journey on Facebook
We want to hear your story. Become a Mighty contributor here.