To the 3 Women Who Rallied For My Rare Disease at the Women's March
---
I write this piece on a harsh day for disabled students in our public school system as Betsy DeVos' nomination becomes a stark reality, even as it flouts opposition from national education organizations, students with special needs and disability advocacy groups, American parents' demands for a qualified candidate, and the demands of many American citizens.
As odd as this theme may seem today, I want to write about the reality of courage, of compassion, of how three brave women who did not even know me marched for me and for raising awareness of my rare neuromuscular disease during the Women's March on Washington through Suffering The Silence and their brilliant #MarchingWithMe campaign.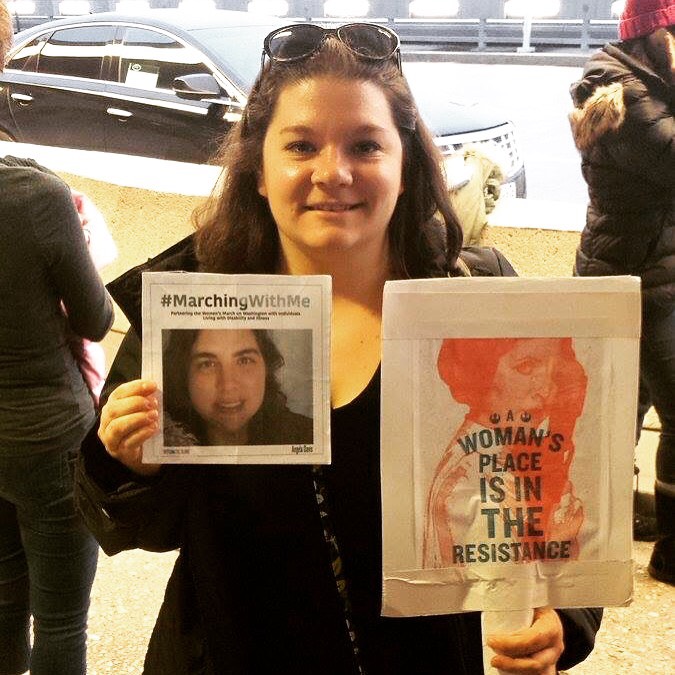 These three women stood up and literally marched for me when my wheelchair and my deterioration would not allow it. They all volunteered out of the greatness of their hearts not only to march with my banner pinned to their generous works of art they carried and created, but also to raise awareness of my rare disease during the March in D.C. and Toronto. They even sent me videos and posted them on social media during the March! It is so difficult to grab the attention of the general public regarding rare disease needs, suffering, and battling for medical help, so what these women did for me is remarkable!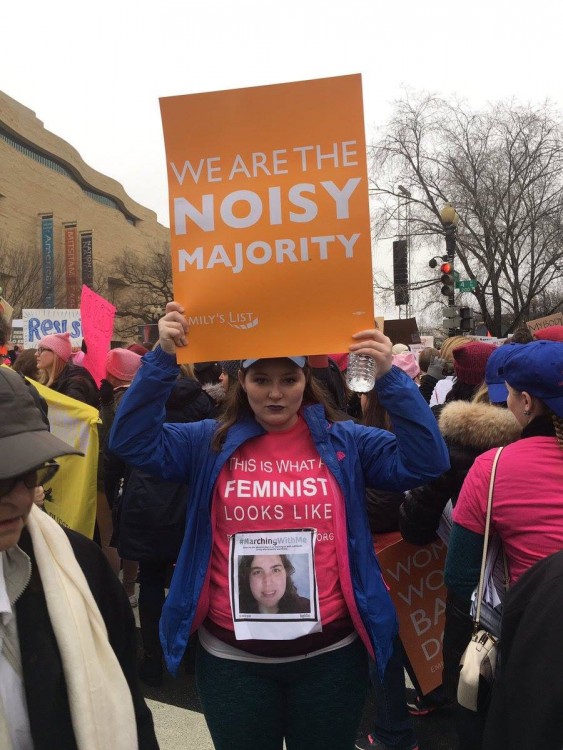 This month is Rare Disease Awareness month and February 28 is #RareDiseaseDay for the U.S., officially sponsored by N.O.R.D., and globally #WRDD2017 as sponsored by Global Genes. I am honored both organizations have featured my rare disease Mighty articles! I am even more excited this year because I have the profound honor of three women #MarchingWithMe every day and all through this month of rare disease awareness! They have posted all about my rarest and most incurable form of stiff person syndrome or Moersch-Woltman disease across their social media networks.
Before Suffering The Silence partnered me with Mariah, Amy, and Donelle, they did not even know about my rare disease or how it turns my body into a rigid, blindingly painful pretzel every day with no cure in sight. These extraordinary women leapt into action and created their own artwork to accompany my photo banner during the Women's March and shared their devotion on my behalf all over social media, well beyond one day. As we rare disease warriors say, it is Rare Disease Day for us every single day!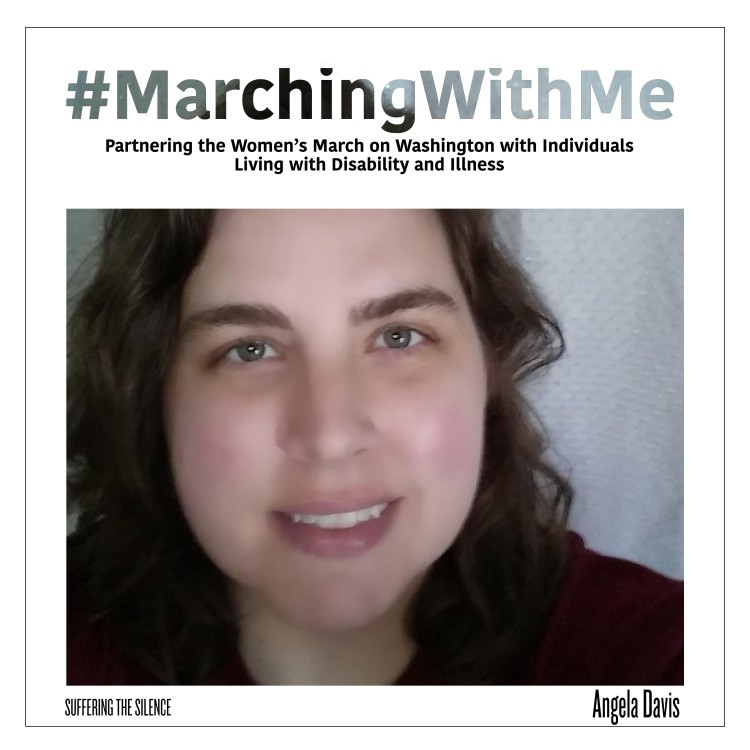 I am tremendously fortunate to have this infinite support from these women who became my unconditional friends. Rare disease patients need this kind of fiercely loving support to fuel our endless fight for our lives and to know we are not forgotten despite the current hostile political atmosphere, especially hostile against disabled, rare disease folks who are often mocked and discarded in many ways at an alarming pace. There are dedicated, exceptional, and talented women and men who embody empathy and courage as they literally put their bodies in the fight for their sisters and brothers who live in the merciless grip of rare diseases.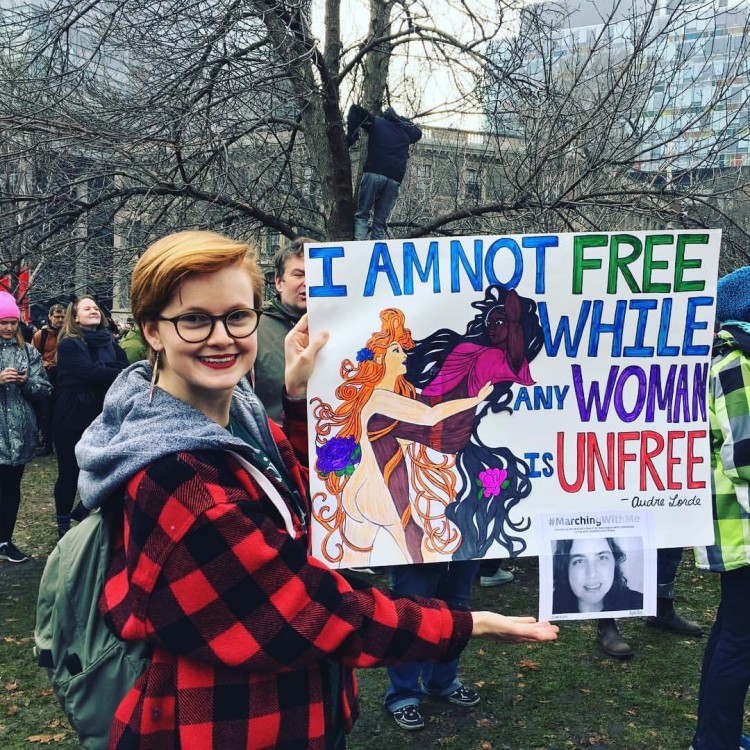 There are kind, amazing strangers who quickly become friends, who do fight alongside rare disease patients and their families, in my case just my husband and me, as our biological families discarded us because they are too frightened to face my progressive disability and suffering, afraid not to see me and experience me as an able-bodied person about whom they do not need to worry. Fear and a good dose of cruelty creates this abandonment so many of we rare disease warriors endure.
So, on this stark day particularly for disabled students in public school, I want to use this tangible example to prove we, the people, we, the rare disease warriors and our allies, are here for you. We fight alongside you. There is great power in reaching out and asking for help.
Suffering The Silence responded immediately to my plea. The fantastic women who run this organization are all chronically ill and fighting for medical help and social understanding, too. They refused to leave me out. Mariah, Amy, and Donelle refused to forget me and, as a result of all of us working together, we rallied for all of us. We all spread the dire need for equality right now and always! We continue to fight for rare disease truth and courage, and we continue to raise rare disease disability awareness as rare disease can affect anyone at anytime. All of us working together will and do create very real and very welcome change for the better, better chances for rare disease relief and cures and a better, truly beautiful world for all of us.
Editor's note: This story reflects an individual's experience and is not an endorsement from The Mighty. We believe in sharing a variety of perspectives from our community.
We want to hear your story. Become a Mighty contributor here.