My St. Patrick's Day Reflections, After Getting My Son's Genetic Testing Results
---
As the smell of corned beef and cabbage fills our house this St. Patrick's Day, marking the traditional start to my all-time favorite holiday and celebration of the nationality I have always been so proud to call mine, this year's aromas are masked with a pit that lies deep in my heart. After genetic testing of these very genes highlighted mutations in our littlest leprechaun, it revealed the possible source of the last four years of challenges, which has subsequently placed a bitter taste in my Guinness this year.
The irony of this news is that today marks the four-year anniversary of the day I dressed our then-18-month-old in his "Lucky Charm" shirt, walked into the doctor's office and insisted something was very wrong, as he had taken 3-inch divots out of his crib with his teeth due to a vitamin deficiency we were about to unveil. Four years ago tonight, I put that little, pale baby to bed in his Irish pajamas, unaware that the blood test the very next day would change the course of the next four years and ultimately our family's life, forever.
As  Joseph dressed himself today in his "Kiss me, I'm Irish" T-shirt, unaware of the significance it holds, I would like to know what happened to the baby who was once before me. Four years filled with blood tests, scans, infusions, biopsies, hospital stays, anesthesias, thick black iron, sleepless nights, and huge question marks that have overshadowed many of the moments I feel I never really enjoyed. In what has not felt like a blink of an eye, in this diagnostic odyssey, I wonder where has all the good time has gone?
Reflecting on the past, I wonder if I would have done anything differently if someone told me all these years later there would be a team of top doctors researching and corresponding with doctors all over the world with just a trail of tiny shamrocks leading to a needle in a haystack somewhere in Ireland. Small genetic clues indicated this is not an everyday disease and this is certainly not just in our heads.
While the past years have been filled with many regrets, I know I cannot go back and need to focus on the positive. I am proud of the parents we have been and our determination to push forward to help him despite the toll it has taken on all of us. I am proud of the documentation we were able to give to the National Institutes of Health which got him accepted into the Undiagnosed Disease Network. I am proud of our ability to push forward despite the few doctors who did not make it easy for us. Mostly today, regardless of some of the realities we have been given about our genetics, I am proud to be Irish.
If I could go back, I would tell myself not to miss those little moments, as regardless of where we are in the process and although the answers may not come, those moments will in fact pass, leaving us looking at a four-year-older little boy with the same challenges. Rare does not get diagnosed overnight. Rare challenges science and some of the best, most caring doctors. Rare raises questions that may not have any answers. Rare is real. Sometimes rare is on the inside. Especially on this day, it is important to remember, rare does not discriminate on nationality.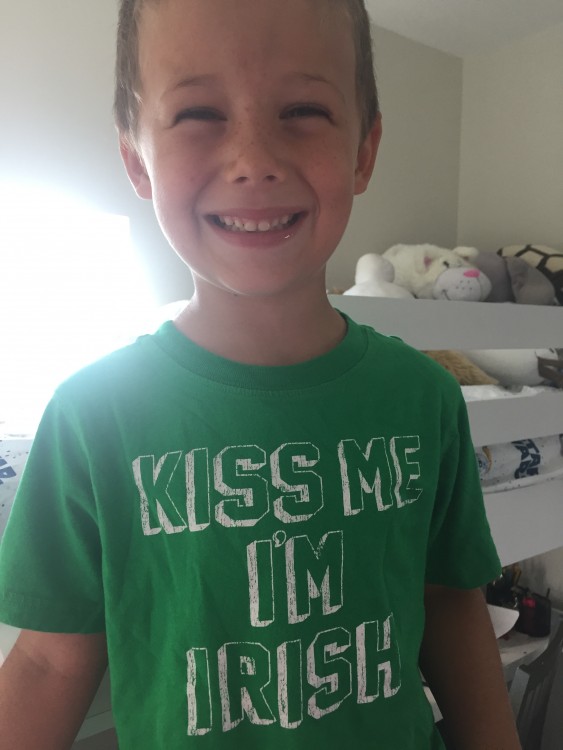 May the luck of the Irish be with us this year to once and for all discover how to help this vibrant, freckled-face, Irish, but struggling little boy. As everyone can be Irish today, may the luck of the Irish be with you all diagnosed, undiagnosed, rare and beyond. We all walk different roads, but with similar emotions, feelings and a common bond that can give of a better quality of life no matter what challenges we may face. While your situation may not change from year to year, don't let those little moments pass you by, because those are the moments worth living for.
We want to hear your story. Become a Mighty contributor here.