May 31, 2017
How My Dog Helped Me as Someone on the Autism Spectrum
---
I have always been an animal lover. When I was a kid, my parents couldn't take a walk around the block without me petting every dog we encountered. I didn't always remember people's names, but I knew their animals.
In fifth grade, I started struggling a little bit. I was still undiagnosed as on the autism spectrum. To cope with the issues no one understood how to help me with, I focused even more on animals, and even tried to act like I was a dog. My peers played along at first, but as I grew older, they were less accepting.
Finally, on January 13, 2000, the best day of my childhood came. My parents broke down and adopted an English Shepherd dog for the family. We named her Sadie.
Sadie became my best friend. She got me out of the house when it was my turn to take her for walks. She helped me to become more social with others. Sadie gave me a reason to get up in the morning. More than that, she gave me unconditional love.
Once, someone asked me why I love animals so much. I knew exactly what to say. "People in life have let me down. Animals never have."
It was as simple as that. Some of my peers had made fun of me. They would call me names or mock me, and it only got worse as I moved into middle and high school. However, Sadie was always there. Some days I would come home from school crying, but then I would see my best friend greeting me with her tail wagging and I'd forget about my problems for the moment.
I wouldn't have made it through those years without her, and she passed away just days after my 23rd birthday.
My dog truly helped me. She never passed judgment. Sadie showed me how to connect with the world around me and provided unconditional love. She was definitely more than just a good dog, and she will always be my best friend forever.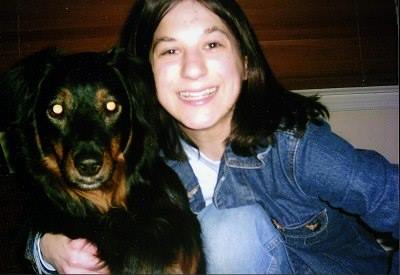 Erin with her dog, Sadie.
We want to hear your story. Become a Mighty contributor here.