When Lyme Makes You Discover Yourself... All Over Again
---
I am a people person. I have been my entire life. I mean, I grew up in an old-school Italian family – at Sunday dinners, huge holiday gatherings and any other event you could think of there was a million plus people, and it was never just family. It was friends, neighbors and anyone else we could think of.
Those traditions and that atmosphere have always dictated my life. Growing up I was surrounded by friends and always the host or the party planner through the years. No wonder I chose a career in the Hospitality field to continue with the tradition of meeting new people, conversing with them and planning parties. Being in the center of it all was all I wanted. It was everything to me.
But then I got sick – and that all changed. Completely.
Learning to live a new life where most of it is alone has been one of the biggest challenges of this disease for me.
Going from that life to one of what feels like solitary confinement some days has taken a major toll on my mental state, and finally I'm not afraid to admit that. It's OK to struggle, it's OK to be angry and upset, it's OK to not love what is happening – because some days it sucks. Some days it hard to deal with the fact that your old life is gone, that your health is gone, that your young adult years are being spent in the hospital and doctors' offices and not at work or the bar with friends. The life you worked on for years, the life you created for yourself, the life you were proud of, is now something that you don't even recognize some days.
Since my Lyme and co-infections diagnoses (Babesia, Bartonella, relapsing fever and Rocky Mountain Spotted Fever), I have also developed severe anxiety and panic attacks, which in turn lead to depression sometimes. These were never things that I had to deal with in my prior life, as I like to call it. I never experienced the debilitating effects that anxiety and panic disorders could have on someone, let alone myself.
Life of the party? That was me. Problem solver at work? That was me. Meet new people wherever I went? That was me. Live alone? That was me.
So from that to being afraid to be by myself, or take a bus ride alone, or be in a major social setting has made me lose sight of things quite often, and made it basically so that I have no idea who this new person is. The mental state and the physical symptoms that come along with the anxiety and panic are unlike anything I have ever experienced before – simple tasks can leave me basically feeling like I am fighting for my life.
Learning to like – nay, love – the new me has been a serious struggle, clearly, and I am angry sometimes at what Lyme has done to me physically, mentally and emotionally. But when I take a moment, sit down and take a deep breath, I can remember the old me. I remember how strong and outgoing she was, I remember how determined she was, I remember the grace she had, and although she may never fully resurface again, those qualities still exist in me; she still exists in me. Those thoughts make the tough times easier. Those are the thoughts I push forward when I feel anxious or depressed. Those are the thoughts I put in my head when I need the reminder to keep going.
Being alone is difficult, not working is difficult, not driving is difficult, having my family hours away is difficult – but honestly, who said life was easy? That's just something we want. But these are the lessons that make us better people, better communicators, better mentors, better leaders. I don't like everything about my life right now, but I have the confidence and the hope that all of this will make me better – not just health-wise but better in general.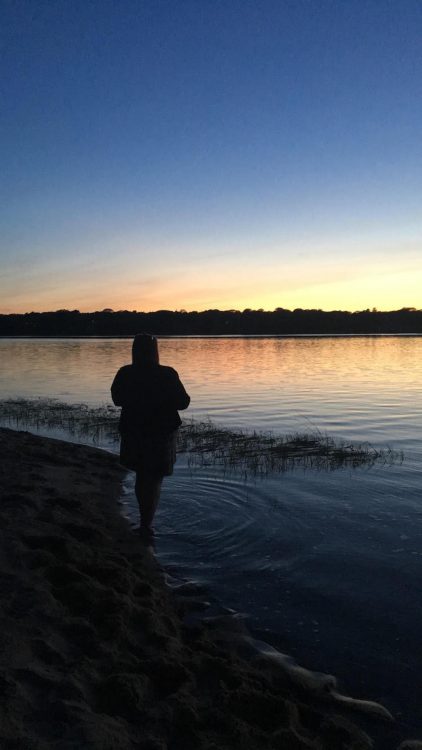 So as much as Lyme has taken from me, it has also given me much more than I ever thought. New friends, new hobbies, the ability to see the strength I posses.
While my old life may be gone, I have a whole new one to explore, discover and figure out. It's the little things and the positive things that we need to keep our focus on to help get through this journey.
We want to hear your story. Become a Mighty contributor here.